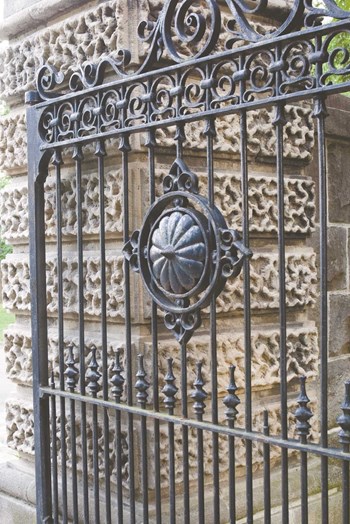 When most of us think of New York City architecture, skyscrapers and brownstones are probably what spring to mind most readily—but there's a lot more to New York City's beautiful buildings than just plate-glass and bricks. The city is home to thousands of examples of decorative exterior metalwork, from ornate grates and gates to fences, balconies, and railings.
If you're lucky enough to manage or administer a building with a significant amount of exterior metalwork, you're likely already aware that it takes a certain amount of TLC to keep it in attractive and in good repair. Tough as materials like cast-iron and bronze may be, the urban environment is tough too, and it presents certain challenges when it comes to maintaining metalwork.
Ironclad Architecture
To get an appreciation for the city's exterior armor, a good place to start is Soho in Lower Manhattan, which is widely regarded as being home to the greatest collection of cast-iron architecture in the world. Of the 250 buildings with elaborately detailed decorative cast iron facades still standing in New York City, the majority are in Soho, and were constructed between 1840 about 1880.
Cast iron was an American innovation. It was cheaper than stone or brick, extremely strong, and a cast iron building could be erected in as little as four month's time. Cast iron ornamentation were prefabricated in foundries in New York City, including the major firms of Badger's Architectural Iron Works on Duane Street, James L. Jackson's Iron Works, and Cornell Iron Works, whose New York City foundry was established in 1829. To this day, Cornell produces a full line of metalwork from its factory in Northeastern Pennsylvania.
A godsend for architects, cast iron was much more pliable and moldable than bronze, the metal they'd used previously on facades. Iron's pliability cut down drastically the time and effort required to produce the Classical French and Italian architectural designs popular on facades at the time. Its superior strength allowed owners to build windows to unprecedented heights and widths, suddenly flooding previously dim, gas-lit interiors with brilliant natural light. It enabled developers to produce a more attractive and functional building, containing generously proportioned rooms.
Bronzed and Brassy
While cast iron remained popular in the late 19th century, American architects also became enamored with bronze for its strength and the ease with which it can be cast. They used the metal increasingly for the decorative detail of large neoclassical public buildings, museums, libraries, banks, stores and universities. Columbia University, designed by McKim, Mead & White, used bronze ornaments produced by the Hecla Iron Works, whose headquarters was one of the most significant industrial buildings in Brooklyn. Hecla not only produced a vast amount of bronze and other types of ornamental metalwork, but operated a school for training metalworkers.
Bronze—an alloy of copper and other metals—is a versatile material that can be left matte or polished to a mirror finish, and lends itself well to gilding with gold (the brilliant gold-leafed "Prometheus" above the ice skating rink at Rockefeller Center being one excellent local example). Bronze is still used in doors and windows, frames, railings, elevators, escalators, lamps and hardware—though more decoratively than structurally.
Residential buildings in the early 20th century designed in the Beaux Arts and Neoclassical styles featured brass ornamentation. Closely related to bronze in composition, brass is still used for hardware, plumbing fixtures, doors, windows, elevators and escalators, in a variety of finishes—it can be highly polished, stained or brushed. Brass tarnishes easily, and is usually protected with a lacquer coating to reduce or eliminate the need for polishing.
The early 20th century also saw the rebirth of wrought ironwork, which had been used to decorate mid-to-late 19th-century buildings across the United States. Wrought iron was used increasingly through the first half of the 20th century in every type of building from residences to Art Deco office buildings and stores. Indeed, today, while bronze, brass, stainless steel and aluminum are conspicuous decorative components on facades and interiors throughout New York City, wrought iron and steel (which is composed mainly of iron), remain the most predominant metals in the city's streetscape.
Caring for Iron and Steel
According to Larry Kaufman, fourth-generation head of the family-owned J. Kaufman Iron Works, founded in 1907, "ninety percent of the metal work in New York is steel or wrought iron." The most common materials used in gates, fences, stair railings, decorative tree guards, fire escapes, child safety window guards and exterior burglar bars, iron is everywhere, he says.
Which is both good and bad news for residential building managers and boards of directors in the city.
Prone to rusting, steel and wrought iron require constant vigilance by the building's maintenance crew. "As soon as the rust starts," warns Kaufman, "it's like a cancer. When you see something that's really old and has been neglected and is rusted, it almost peels away your hands. Once it starts doing that, you're done. The cost to fix it gets way up there."
Now for the silver lining: vulnerable as they may be to oxidation and rust, steel and wrought iron elements are actually pretty simple to maintain. They are in fact the only materials on-site maintenance staff can care for without extensive training, the only metalwork professionals concede do not require a professional vendor for maintenance. Indeed, says Kaufman, whose company specializes in restoration, "I have buildings call us from time to time to do maintenance but I recommend they do it themselves."
The trick: regular painting. "Whomever maintains your building, whether it's your super or your handyman, just let them take a wire brush and knock off anything loose and peeling and put on another coat of paint," says Kaufman. "If continually painted, whether it's on an annual basis, or semiannual, it will last forever. There are iron [window] guards on the fronts of buildings that have been there for 80 years"— with some 50-plus coats of paint.
Should replacement be necessary, management must choose between a close and perfect match. If the building has, say, "a railing that is 12 feet long, and half of it is missing or rusted, if I can find something stock that is pretty darn close, you might be talking hundreds instead of thousands" of dollars to repair the problem, says Kaufman.
Kaufman adds that he's almost always able to find a suitable stock item for clients, but when the building is a landmark, "It can get very crazy. Where the Landmarks Commission becomes a real issue is on the front façade—the railings around the moat that take the stairs down into the basement, the front windows, the ground floor." For those types of jobs, he recommends hiring an architect specializing in landmark restoration.
A Craftsman's Work
Leaving aside wrought iron, the care of most other metalwork should be left to the professionals, according to Raymond Saleeby, president and CEO of the 80-year-old Long Island City based Remco Maintenance, LLC.
"Bronze, brass and copper have to be refinished periodically," explains Saleeby, "and maintained on an ongoing basis," and by trained metalwork specialists. "It's a craftsman's work—not something I have my junior people do. It takes a great deal of care and craftsmanship to remove scratches on stainless steel, copper or bronze. You could not only lose the luster by doing it improperly, but you could damage the metal."
According to Lina Gottesman, owner of Altus Metal Marble & Wood, which installed a good portion of the bronze at Grand Central terminal in 1995, including all the handrails, "Bronze is difficult to maintain because it needs a coating of lacquer or some sort of sealant—otherwise it will oxidize very quickly. It should generally be stripped down and the new protective coating should be applied on an annual basis, especially handrails and things that people touch."
Gottesman also advises leaving bronze to the professionals: "I've seen bronze destroyed and damaged so many times by staff who think they're going to try to polish it up and wind up causing more scratches and more damage than anything else."
Because it does not oxidize, stainless steel is much easier to maintain. According to Gottesman, "More and more of the entrances and interiors are being made with stainless steel, because it's a much easier element to care for, it lasts longer and is stronger then bronze."
"When you get a big scratch with stainless steel," adds Gottesman, "as long as it's not a gouge, we can send it out and re-grain it to look brand new. You can't do that with aluminum because aluminum is a man-made metal composite. The minute you scratch the surface, you're going into different layers."
Aluminum, especially coated aluminum, became wildly popular in the 1960s and early 70s on new construction. The World Trade Center, completed in 1973, had a bonded aluminum façade. "They went crazy for it," says Gottesman, "and also used a lot of it on entrances, until they realized it only lasted about 10 years [in that type of high-traffic] setting. Then they start falling to pieces."
To touch up a painted aluminum facade, Remco uses "a metallic coating, like car paint, very carefully sprayed on, using a specially-designed type of spray gun," says Saleeby.
Enemies of Metalwork
According to the pros, weather is probably the greatest threat to decorative elements on building facades, primarily rain and the snows in New York's bitter cold winters and the salt used to melt ice, spread by snow plows and building maintenance staffs.
"The whole island of Manhattan is pretty much surrounded by water," explains Robert Coffey, Remco's senior account manager, "and copper and bronze will oxidize near the water." As an example, he adds, "A good piece of unprotected copper, such as a gutter, will have a brownish statuary finish within five years. In 10 years, it will start to look like the Statue of Liberty."
There are culprits closer to home as well. The oil on human hands will cause some metals on doors in high traffic areas to tarnish or corrode over time. And speaking of the damage done by human hands, says Kaufman, "Unfortunately, in a city like New York, people will try to steal brass. That little brass finial on the corner post of a tree guard weighs maybe two pounds, and sells for a lot more than the cast-iron one."
And then there are dogs.
"We did a beautiful multimillion dollar brownstone renovation at 72nd Street right off Central Park with beautiful custom fencing," recalls Kaufman. The finish lasted six months. "Some neighbor or multiple neighbors let their dogs start doing their thing on the fence posts," adds Kaufman, "and there's nothing I can do. You can paint and paint and paint, but dog urine is just too strong for anything."
And it's not always negligent curbing that causes issues between mutts and metal, says Gottesman. "I was in a building where they were getting funny marks on their bronze elevators and could not figure out what these marks were." After some investigation, Gottesman nailed it: "Dogs, when they want to get out of the elevator, they can't wait. They get excited, and their noses run and drip onto the edge of the door where it opens, causing the metal to tarnish."
First Impressions
According to Gottesman, "A good portion of residential buildings do have a professional company doing the metalwork in their main lobby and elevators."
But to those who are tempted to do it themselves, she says, "You never get a second chance to make a first impression. Before you even see the space if you don't like the entrance or the lobby you're not going to look at the apartment. It affects the value tremendously."
Steven Cutler is a freelance writer and reporter living in New York City and a frequent contributor to The Cooperator.