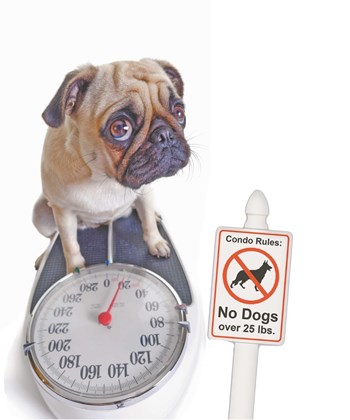 Just take a walk around the streets and parks of the city, and it's easy to see that New Yorkers love their pets. But not everyone loves animals, of course—and this can be problematic when it comes to a board deciding if pets should be permitted in their building.
"Boards allow pets because many shareholders and unit owners want pets," says Lynn Whiting, director of management for The Argo Corporation, a Manhattan-based residential property management firm. "It's a quality of life issue, and of course many board members are animal lovers/pet owners themselves. Many owners may have specifically decided on purchasing in a particular co-op or condo because it is pet-friendly."
Although the data isn't officially kept, many real estate agents in the city estimate that about 50 percent of the co-ops and condos in New York City are pet-friendly. Yet every building has its own requirements and set of circumstances that makes it unique.
"Each building decides for itself what their pet rules are going to be, but there's not a hard-and-fast set of rules by any stretch of the imagination," says Barbara Fox, president of Fox Residential Group, a residential brokerage located in Manhattan. "Every building is different, but I think the fewer restrictions a co-op or condo puts on the tenant, the more people are likely to be attracted to the building."
"One big benefit when you have people who have pets [living in your building] is that pet owners are often very joyous, happy people," says Linda Cohen Wassong, a broker with Prudential Douglas Elliman who often matches luxury clients with pet-friendly buildings. "It's always a benefit to have people who live in your building from all walks of life and diversity."