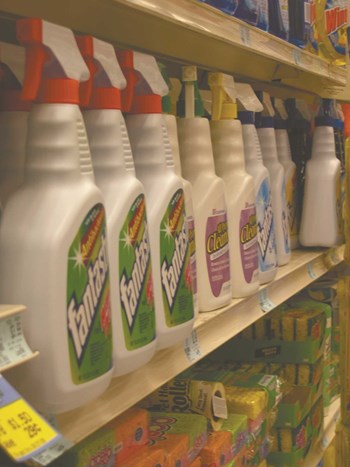 Along with big-ticket items like boilers, HVAC systems, and the like, residential buildings also have to purchase lots of little, everyday things like cleaning supplies, light bulbs, and paper products to keep up with day-to-day maintenance and operations. Though not necessarily expensive in and of themselves, costs for these small things can definitely add up over the course of a year. As the ones charged with ordering and inventorying these supplies, it's up to managers and building staff members to keep a lid on costs and be conscientious about limiting waste.
Nickels and Dimes
Every time the lights are turned on, dust settles, or somebody tracks some mud into the hallway, supplies are needed. The day-to-day operations of a building will consume products that need to be replaced on an ongoing basis, says Jerry Blumberg of Kew Forest Maintenance Supply in Queens.
"On a daily basis, the list of things residential buildings use include cleaning supplies, carpet cleaning equipment, plumbing supplies, light bulbs, replacement parts…those are your dailies." He goes on to say that other items such as filters and trash cans will need to be replaced less often, but still must be replenished on a regular basis. In addition, seasonal items such as sidewalk salt, shovels, sand and other season-specific supplies should be considered in the overall picture of necessary purchases in the yearly budget.
According to Ira Meister of Matthew Adam Properties, Inc. in Manhattan, all of these products are purchased out of the maintenance budget, and over the course of a year, the total can add up, especially in larger buildings with more traffic.
"Cleaning supplies and products make up the majority of the supplies budget," says Meister, "although it's generally not a large part of the overall budget, except when there is a major repair being done. In that case, especially if the building is doing the repair itself, there will likely be more money spent on these supplies."