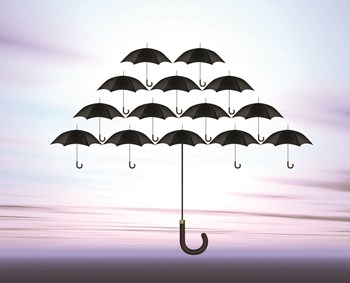 Just like in our own personal budget, it seems that the everyday expenses of a co-op or condominium building just keep going up. Among the most prevalent cost hikes, as readers surely know, are fuel, salaries, repairs and the price of materials.
Also increasing has been the cost of insurance—or has it?
Co-ops and condos typically buy a variety of insurance policies. These can include general liability, umbrella liability, property, equipment breakdown, workers' compensation, directors and officers, professional liability and fidelity bond coverage and disability benefits law coverage.
On a long-term basis, insurance premiums have indeed risen, with a spike in rates especially noticeable after 9/11. During the past few years however, the market has become "soft" and premiums have actually gone down.
"If you had asked me this question two years ago, I would have said that insurance costs had increased probably 50 percent, but currently the market is soft and competitive," says Sharon Emek, managing director of CBS Coverage Group Inc. in Manhattan and Plainview, and a member of the Independent Insurance Agents and Brokers of New York. "Rates have decreased to almost where they were 10 years ago."
"What has happened is that the marketplace is very soft, and carriers want to hold onto the business," says Nancy Gelardi, a senior vice president with Arthur J. Gallagher & Co. in White Plains. While a "very select number" of firms still write policies solely for condos and co-ops, "it has become a very competitive marketplace."
The insurance experts polled by this writer point to several reasons that premiums have gone down.
For example, points out Martin Koles, president of the Professional Insurance Agents Association of New York State, the state Workers Compensation Board enacted revisions earlier this year that reduced the rate applied to two types of building operations. Also, property rates in general have gone down severely. "Owners who were previously paying rates of 10 to 12 cents per $100 of building value are finding deals at seven to eight cents."
And, of course, says Koles, insurance companies are competitive by nature. "One firm says, 'For this type of policy, I'll throw in this extra incentive.' A second company, learning of this development, might then say, 'OK, not only will I throw in that extra incentive, I'll throw in a second incentive, too.'"
The main reason that insurance costs often seem higher to co-op and condo board members and managers, says Koles, who is also the principal of M. Koles and Associates in Forest Hills, is that they are typically buying a greater amount of insurance coverage than they did the previous year.
"A few years ago," he says, "a building owner might have purchased one or two million dollars of umbrella and excess liability and felt comfortable. Today's owners are buying five to 20 million dollars of excess coverage. The cost of litigation and the size of awards, coupled with the increased affordability of this coverage, has made this a prudent choice."
Building Replacement Costs
If rates in general are going down, building replacement costs, which are a factor in property insurance, have skyrocketed, and the time required to rebuild has increased.
"Typical Brooklyn, Bronx and Queens buildings that were insured for $150 per square foot currently are being insured for $250 per square foot," says Koles. Needless to say, the rates are much higher than in Manhattan.
All in all, he explains, "Steel prices are up 40 percent since December 2007, construction labor costs are higher, and the cost of replacing ornamental building features continues to rise."
Of course, most condo and co-op buildings are not expected to fall down overnight, but some insurance contracts may require building managers or boards to insure to the full replacement cost. But other times, they insure to a partial amount, various estimated as anywhere between 70 and 90 percent of value.
"Keeping pace with current construction cost increases for underwriters to be sure the limits are adequate and for insureds that have to pay for higher limits to avoid coinsurance penalties is a tough issue that won't go away soon," sums up Raymond Guerin of Kingston Risk Management in Kingston.
In general, if co-ops and condos get a substantial increase, their boards and manager have to see why this is so. "Not every policy I write is the same, and not every building has the same risk," says Barbara Grimaldi of Grimaldi & Associates in Manhattan. "You might get an increase because you have a higher risk in liability exposure, you might get it if your repair or replacement value is higher. Repairs cost more if real estate is higher in a particular place, and if that's the case, you get an increase on the structural side."
Reducing Costs
There are steps that a building's manager or board can undertake to reduce the cost of insurance coverage, although professionals may disagree on which steps are most important.
It goes without saying that maintaining the building and making sure that plumbing, electric, HVAC and roofing systems are in good working order are just good common sense, not to mention keeping fire escapes and other exit routes free of clutter. These factors will help your broker or agent view the building as less of a risk.
"Installation of alarm and fire suppression systems will reduce insurance rates," adds Guerin, "but the cost of installing these systems generally is greater—usually much greater—than the resultant premium savings." In such a case, it's a question of what your priorities are.
Gelardi stresses water damage as well as cracked masonry in her remarks.
"One area where insurance companies make recommendations is to fix slippery areas or water damages or broken steps. Taking care of water damage problems immediately, repairing cracks in the sidewalk or any problems with the building to avoid slips and falls, making sure that the exterior of the buildings is pointed are all important," she says.
Grimaldi also mentions the necessity of replacing "problem pipes" in older buildings, and, if the building is near a chemical spill, making sure that spill is cleaned up.
And of course, in this day and age, when people still remember 9/11 and earthquakes and floods are on the increase, a good disaster and evacuation plan is also important.
Shop Wisely
These types of maintenance issues, as important as they are, aren't the only way for a building to reduce their rates of insurance coverage. Koles outlines some of them:
Shop wisely. An independent insurance broker, he says, "is your representative, and has an obligation to advise you correctly." Most owners of single buildings can rely on the services of one qualified insurance broker, but owners or managers of a group of buildings may want to use two different brokers.
Ask your insurance representative to check your policy for appropriate discounts and credits. Check the building construction classification on the policy. For example, if it is a non-combustible building and is classified as "joisted masonry," he says, you may be paying too much.
Check for credits for having sprinklers, alarm systems, security cameras and 24-hour doormen. Verify that the number of residential units you are paying for matches the actual occupancy. If you have commercial tenants, make sure the classification matches the actual business description.
Establish a policy that prohibits contractors from entering the building unless they have provided you with appropriate evidence that they have the necessary insurance.
Larger buildings or developments (or management companies that manage 100 buildings, for example) can opt to hire an insurance consultant. That consultant in turn can engage brokers to approach insurance companies and angle for better deals. However, each broker should be assigned to approach specific companies with whom he or she has a good business relationship—more than one broker should not approach the same insurance companies. That can lead to confusion, since each broker will present your risk slightly differently.
Another useful idea is to secure workers' compensation coverage from a "safety group" comprised of other building owners and managers.
Emek adds that a building's management or board can also reduce the cost of insurance coverage by increasing the amount of the deductible on the property and adding a self-insured retention on the general liability for small trip-and-fall claims.
Another way to save on costs might be for buildings to band together and buy insurance in bulk to save on costs. However, most of the experts polled for this article weren't too keen on this idea (the aforementioned workers' comp "safety group" being an exception), although such a concept could work for a group of buildings with the same management.
"There are a number of co-op and condo insurance programs that are very competitive, so a risk pool has never evolved," says Emek. "When there is a limited market with escalating prices, a risk pool might be an option to explore, but not in a soft market."
"One can form risk purchasing groups but can only buy liability insurance if they're not managed by the same managing agent," says Gelardi, "even if they [the buildings] have the same profile. I don't think we're at a point in the industry when just because you happen to be a condo in the same block with other condos, you can band together and buy insurance that way."
Speaking of liability insurance, Guerin adds that risk purchasing groups do increase the cost of umbrella liability insurance "dramatically," but these groups are currently more expensive for general liability.
All in all, the age of lower prices might be coming to an end. However, if you manage your insurance prudently, taking the advice of qualified professionals, you have little to fear. The best policy is to consult your licensed insurance broker or agent, preferably one who specializes in co-ops, condos and multi-family buildings in general.
Raanan Geberer is a freelance writer and editor living in New York City.