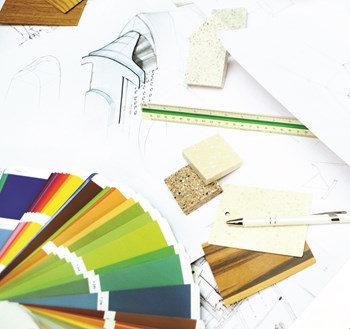 Throughout New York City, some of the most sought-after apartments are located in prewar buildings (those built prior to World War II), such as the Central Park West's Dakota or the stately maisonettes located on the Upper East Side. On the outside, these majestic structures reflect a bygone era rich in detail and master craftsmanship matched only by the ornate moldings, solid wood mantels, grand marble staircases and other design elements which impart an old world charm to the apartments within.
Unfortunately, in some cases much to the disappointment of the buyer in the market for such an apartment, poorly-planned and executed renovations could very well have stripped a once magnificent home of all its charm, leaving a bland shell of its former self, sadly lacking in character.
It's more or less a given that a new kitchen or bathroom will increase the overall value of your co-op or condominium. However, these renovations or those done to other areas of the home such as the living and dining areas or bedrooms, should be well-thought-out and executed, taking into consideration the period and style in which the building was built. The same holds true for renovations done to the lobbies and other common areas of these residential buildings.
"We know that when people buy a home, they do so from an emotional standpoint," says Marilyn Harra Kaye, president of Prudential MLBKaye International Realty, a full-service brokerage firm in Manhattan. "They go with their gut instincts. When they first walk into the potential home, they tend to either love it or hate it."
According to Kaye, "These days, just about everyone goes for prewar apartments and this has almost always been the case with many European and South American clients who don't relate to the austere look of more contemporary buildings."
If you currently own a prewar apartment, and are thinking about doing a major renovation, Kaye cautions against stripping the interior. Retaining original features such as light fixtures, moldings, arches, French doors, built-in shelving, stained glass, pedestal sinks or cast iron claw-foot tubs can translate into an additional $100,000 to $200,000 to the market value.
Restoring an apartment's prewar features and design elements may entail hiring artisans and preservation/ restoration specialists. This can be a costly endeavor, but the investment pays off. As Kaye points out, "Undertaking a massive renovation could be a waste if the next owner attempts to put things back the way they used to be." She continued, "As a general rule, when you maintain the old touches it keeps the price and market value up. Two exceptions are the kitchen and bathrooms, where some things cannot be used indefinitely and must be replaced. But here again, you should strive to stay as close to the original as possible."
Karen Fisher, president of Design Previews, a Manhattan-based consulting company, agrees with Kaye. "Unlike modern high-rise buildings, prewar buildings have a lot of character and charm to begin with," says Fisher. "You start your project with a good home. Ideally, you keep the character of the period-or you can start fresh." She adds, "A luxury high-rise may potentially lack a certain amount of character. The apartments do not possess those fine appointments such as the antique moldings, or have nice hardwood floors."
"There are many reasons one would want to restore a prewar apartment. One reason may be because most of the touches within a prewar such as the woodwork, tubs, faucets, moldings, and so forth show signs of wear and tear and are disintegrating," Fisher continues. "The owner wants to restore the woodwork or the ceramic finishes on the tubs or faucets to their original state. If they have the means, they should restore the original finishes and stick with the authentic pieces."
Fisher goes on to say that another reason for renovating a prewar might be a poorly-executed previous renovation. Perhaps the previous owner hired a designer who didn't understand the period and style and ended up ruining the décor.
"At that point, you basically have to tear it all out and start over. What adds insult to injury is the cost of the botched renovation may have been built into the price of the home. The new owner is paying for the poorly-done renovation and a subsequent renovation to correct the problem," she explains.
Alex Herrera, director of technical service for the New York Landmarks Conservancy, a Manhattan-based non-profit organization whose mission for the past 30 years, according to the organization's website, is to dedicate itself to preserving, revitalizing, and reusing New York's architecturally significant buildings. The Conservancy aims to ensure that New York's historically and culturally significant buildings, street-scapes, and neighborhoods continue to contribute to New York's economy, tourism, and quality of life. Herrera strongly echoes Fisher's and Kaye's perspective.
"There are prewars and then there are Prewars," says Herrera. "Some of the prewar apartments are just adequate, while others are simply magnificent. In my opinion, from 1920 to 1940 was the 'Golden Age' of prewar architecture here in the city. Architects had figured out the ideal layouts for the apartments. There was a strong sense of geometry in each of the rooms. Additionally, the procession of spaces-the concept of traffic flow from entryway to the parlor and other rooms, made sense and flowed nicely," Herrera explains. "Architects and designers back then studied the art of confinement and knew how the shape of the room, window placement, etc. affected the feeling of the space and made it more pleasing to be in. This is of tremendous value to preserve. There is nothing more wonderful than to walk into a prewar apartment and it has been restored to its original state. Knocking down walls could be a huge mistake."
It's Time to Renovate-Now What?
OK, so you are convinced you want to restore your prewar apartment or lobby to its original state. What steps must you take in order to ensure the success of your renovation project?
Before you pick up the phone to call a designer, the first step is to do some homework. Research the history of your building. Find out when it was constructed and learn about the architectural design and style of the original building. Then, you or your building design committee may want to visit other buildings in the area which were built during the same era; preferably ones that have not seen a lot of renovation over the years. This will give you a good sense of what your spaces looked like originally and what you should strive for-and can also brace you for the process of navigating through the city's landmark preservation/alteration process.
"In the larger buildings, like those on the Upper West and East Sides, the apartments have a magnificent layout," says Herrera. "Before making decisions on what direction the renovation should take, make sure you understand why the apartment was designed as it was originally. Plan your renovations always keeping the original structure or bones of the apartment in mind. The most successful prewar renovations use the original layout of the apartment and try not to revamp or alter it significantly," he says.
"Choosing the appropriate designer is critical," stresses Fisher. "You want to hire people who are the best at their jobs. They know the difference between renovation and preservation. Most designers worth their salt know the prewar period very well and have a Rolodex of capable, experienced contacts. Additionally, you want to choose a designer who has the ability to mix tastes. Perhaps you want to mix prewar architecture with your more modern tastes. Your designer has to be able to provide you a good balance in their vision."
Most designers have relationships with contractors and can at least recommend people with the relevant expertise, if not bring them onto the project outright. Designers specializing in restoration and preservation can also make sure the appropriate approvals and documentation are secured from the various city agencies governing historic preservation before a project commences.
"The biggest or most common mistake people make when initiating their prewar restoration project is selecting an inappropriate contractor," says Wayne Bellet, president and owner of Bellet Construction - a three-generation Manhattan-based construction company specializing in prewar restoration. "It really depends how comfortable you feel taking on the renovation project. Many people nowadays hire architects and designers. We have seen the creation of a whole new stratum of consultants. I think this is great if this is your first major renovation. You want as much help as possible," explains Bellet.
When it comes to prewar renovations and construction, expertise is crucial. "As the customer, you should really research your prospective contractor's experience. Get references. This is vital," says Bellet. "To be perfectly honest, as the customer, I want to know that the contractor I plan to hire has been doing this type of work for many years. I want someone who is equally comfortable doing a simple or complex job. I have nothing against young professionals who are new in the industry per se. I just firmly believe that for a project such as prewar renovation, you want to err on the side of experience and a lengthy record of doing this type of work."
While the most ambitious prewar renovation and restoration probably happens in individual apartment units, the same rules apply when renovating the common areas in a prewar residential building, though the questions to contemplate beforehand may be a little different. Common areas in residential buildings have different needs and elements to account for today, which were not an issue back in the 1920s or 1940s. Security is a priority. It may be necessary to move the concierge's desk closer to the entrance. The storage closet needs to be expanded in order to accommodate more parcels for the residents. There may be a need to add a ramp for elderly residents or the disabled.
"The co-op board needs to decide up front why it is considering the renovation. Perhaps they are considering changing the lobby simply because it is no longer functioning as well as it did in previous years. If they are changing the mandate of the lobby, it may not be possible to restore it as it was when the building was built," explains Fisher.
"When it comes to restoring a lobby, for example, you are now talking about an area where there is more wear-and-tear unlike a resident's home," Fisher continues. "You need to differentiate between residential and commercial use. In the case of the resident's home, if the owner can afford to restore authentic or antique prewar elements in the home, they should. But a lobby may be a little different. It may be more economical and make more sense to use reproductions. High-traffic areas may be better served by stronger, more modern materials which give the appearance of being vintage, yet they are not. You have to balance between function and style."
"My advice to the homeowner applies to the board as well," seconds Herrera. "The board needs to do some research and understand the purpose of the original design of the lobby. What is the purpose of the lobby now? In some cases you can marry the two and restore the lobby to its original state with minor modifications. You can restore the plaster, moldings, light fixtures and add new elements such as a new concierge desk or an access ramp for the physically challenged."
It may be a matter of the board deciding to focus on one element of the lobby and restoring it to its original glory. The board may decide to restore their elevators if they are particularly detailed and reflective of the period.
"Elevators are subject to strict laws and regulations," says Herrera. "Most buildings modernize the electronic components of the elevator. The cars must comply with current standards and requirements. In some cases, it may not be possible to restore the cars. However, if the car does conform to requirements and the law, has details such as wood carvings, paintings, interesting lights or indicators such as the arrow indicating the floor, then the board may elect to concentrate its efforts and finances on restoring the elevator car. It can be a very expensive proposition."
"The board needs to look out for the best interests of the residents," adds Bellet. "Hopefully the board, with recommendations of the consultant leading the project, will make renovations that are going to best serve the residents. That's the main thing that has to be taken into account when renovating-the residents' well-being. They need to consider any residents who may be asthmatics, elderly, or physically-challenged because the renovation will create dust and noise and will create upheaval in a lobby while the job is being done. Beyond that, with ongoing meetings between the designer and the board, they can decide what elements they want to restore to its original finish and what needs to be modernized."
When the time comes to do that prewar renovation, don't fret. There are many professionals and organizations out there that can help make the experience as painless as possible. The New York Landmarks Conservancy and Landmarks Preservation Commission (LPC) are dedicated to helping boards and individuals find the right designers and professionals for the job. In addition, many designers and contractors will be more than happy to walk you through the process.
Boards should remember that research is key. Learn as much as you can about the prewar era and style. Talk to others who have done similar restoration and renovation projects and heed the advice of experienced professionals.
As Herrera points out, "When it comes to interior, common area or exterior work, let the designer or architectural firm do a study and tell you what needs to be done. With your home, pin your hat on historical research and let it guide you."
Brian Ormsbee is a freelance writer living in New York City.