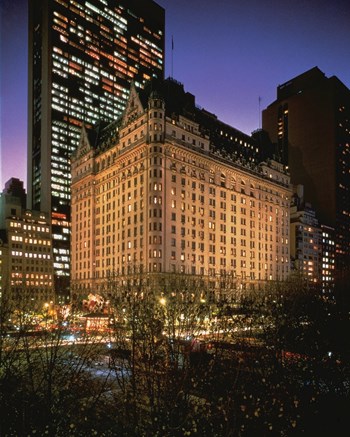 Timeshares have been around for decades, and these partial property ownership arrangements are more familiar to many people in part because of their increasing popularity. It's easy to see why they are so popular: A family wants a vacation home, but rather than take out a new mortgage and buy a property outright, they pay to share an existing property with other investors. The fee they pay entitles them to use the property for a specified period of time at a certain time of the year.
Timeshares are popular in vacation areas such as the Outer Banks of North Carolina, Florida, Colorado and elsewhere. The affordability of timeshares and the flexibility of this type of ownership are two reasons why timesharing, known in another form as fractional ownership, now is catching on in New York City. These days, some people are buying condos to share among a group of investors. Others buy a block of time in a condo to be able to plan their vacations around entertainment and shopping in New York City.
But what exactly is the difference between fractional ownership and timesharing? On the face of it, the two property transactions might seem the same—the consumer is buying the use of some of the available time of a property. In reality, the difference between a timeshare and a fractional ownership could be as stark as the difference between property that can be deeded to heirs, and a leased property with a predefined term of 20 years. Knowing what type of property you're interested in buying, whether it's just one week, or six weeks, a timeshare or a fractional ownership, is the best place to start when considering a move into the world of shared property ownership.
Fractionals vs. Timeshares
While timeshares have been around for decades, fractional ownership of apartments is a newer concept of shared ownership that caters to a higher-income client. The main differences between timeshares and fractional ownerships in New York City amount to differences in terms, conditions and demographics. Unlike timeshares, which often begin at one-week shares, fractional ownerships generally start at two-week terms, and can be as lengthy as 18 weeks.
The financial differences in the types of buyers purchasing timeshares and fractional ownerships are partly what dictate the amenities that the two groups are offered. The average timeshare buyer makes $85,000 annually and buys a one-week interval in a timeshare, costing about $20,000. In contrast, the average fractional apartment owner has an income of $250,000, and will spend about $170,000 on a six-week share in an apartment, says Richard Ragatz, owner of Eugene, Oregon-based Ragatz Associates, a timeshare/fractional ownership consultant firm. Comments of other timeshare industry experts back up those figures.
"Our average price [for a shared ownership] is $300,000," says Ed Schnatterly, membership director of The Phillips Club at Lincoln Square, a new development on Manhattan's Upper West Side that offers extended-stay and fractional ownerships. "Your normal timeshare is around $12,000."
The amount of time purchased in a fractional ownership can vary from one-twelfth, one-tenth, or, as is the case of the Phillips Club One, one-eighth ownership. Residences such as the Phillips Club One offer a wide range of services and amenities, including plasma TVs and Bose sound systems in each unit.
"Fractional ownership is booming, and it's really because it's an economic issue," Schnatterly says. "Many people can't afford a $2 million condo, but they can afford one for $327,000 that will allow them to use it for 6 ½ weeks per year."
There is also the condo-hotel craze. In 2006, Elad Properties announced the launch of sales for 152 condo-hotel residences at The Plaza, the iconic world-renowned hotel overlooking Central Park. The condominium rooms and suites, known as The Hotel Residences, will supplement 130 hotel rooms for overnight guests, in addition to 182 private apartment residences. All units have been sold, according to Miki Naftali, president of The Elad Group, which owns The Plaza. Each of the 152 condo-hotel units will be available for purchase by individual private buyers who will be able to live in the residence for up about four months of the year.
According to the Washington Post, "The condos come with all the trappings of a top-drawer hotel…but there's a catch: Owners can use their new home only 120 days a year. The rest of the time, the condos will be rented out to paying guests…alongside the 130 ordinary hotel rooms." The difference between condo-hotels and timesharing or fractional ownership is that condo-hotel owners buy their units "outright," and then are able to bring in some additional revenue to cut the cost of ownership by adding the unit into the rental pool. The owners receive the revenue generated by their unit's rental minus operating costs and a management fee. Although the Plaza's hotel condos do not fit in exactly with the mold of fractional ownership, the concepts are indicative of these market trends.
Fractional ownership might well be called the wealthy person's timesharing.
"The concepts of timesharing and fractional ownership are the same, the difference is the consumer," says Alyce Hill, of Worcester, Mass., who has a fractional ownership in the Manhattan Club, a New York City fractional/timeshare residence.
One difference between timeshares and fractional ownerships is that many timeshares are property that is leased for a specific period, such as 20 years. Some timeshares are essentially fractional ownerships, but they are the exception. Fractional ownerships, though, have no time period in which the ownership is valid. Most fractional ownerships are property that can be deeded, and passed on or sold to others.
Because of this new way to afford a luxury condo at a world-famous destination spot, more upscale travelers are taking advantage of the opportunity. Timeshares and fractional ownership residences have been developed in numerous cities outside New York City, including in Boston, Miami, New Orleans, San Francisco, San Diego and Seattle, Ragatz said.
A Selective Buyer
Fractional ownerships and timeshares in New York City tend to be bought by people who use the city as a destination point for entertainment. Hill, former publisher of Boston-based New England Condominium magazine, bought her weeklong share in the Manhattan Club residence in 1996. She paid $23,000 for the ownership of the 2-bedroom, 800-square-foot unit, which now is valued at $75,000. No doubt part of the reason for the escalation in the would-be price of the partial ownership is that the term of the property is from the day after Christmas to the day after New Year's.
Some, but not all, of the appeal to buyers of fractional ownership is the relative affordability of such properties, Hill said.
"Property is so expensive in New York. But part of it is that both fractional ownerships and residence clubs are catering to the upper end. They put your clothes back in your drawers, do shopping for you, and set up tee times," Hill said.
Timeshares have existed in New York City since the 1980s, when the Manhattan Club, a converted Sheraton Hotel, became the first residence to offer such amenities. These days, the New York Hilton also has timeshare units, and the St. Regis Residence Club also has fractional ownership units. Phillips Club One, a 10-story, 74-apartment residence, is strictly a privately owned club.
Some consumers of fractional ownerships in New York City are interested in extended stays, and a growing niche market is working to satisfy such buyers. To meet the demand, some residences have corporate-level memberships that include 35 days of stay at the residence, and availability of the apartment with just three days of advance notice. The level of income necessary to buy into some of these residences is far beyond the reach of the average consumer, though. Fractional properties can range in price from $225,000 to $2 million.
The luxuries that such communities offer are worth the price to many, Hill says. She owns a timeshare unit at the Courtyard Resort in Hyannis, as well as a timeshare on Cape Cod. Some residences such as the Manhattan Club offer "floating" weeks, in which an owner can use a few days here and a few days there, depending upon the owner's need. A Platinum membership in some residences might buy the owner 40 days of luxury at the residence. Like all legal transactions, the devil can be in the details, so it's wise to carefully read the fine print before you buy a fractional ownership or timeshare. If not, you could end up paying for things you didn't realize would cost you, at a cost that might shock you.
Costs of Luxury
Many fractional property ownerships are very high end, starting at $100,000 for a two-week term and, in some cases, having maintenance fees as high as $25,000 per year. Hill's Manhattan Club timeshare is more reasonable, with a $2,400 annual maintenance fee. Some Platinum owners in fractional residences, who pay for all of the housekeeping and other services afforded the highest paying members, fork over $35,000 annually for maintenance fees. It's a reasonable price for a growing number of consumers.
"A fractional ownership gives you all of the amenities of a 5-star hotel. You don't need to buy a fractional ownership; it's a luxury. It's a lifestyle purchase," Schnatterly says.
Perhaps the main drawback to buying a fractional ownership or timeshare is that you can't use the property whenever you want. In fact, there are rigid rules about reserving your apartment for use, depending upon what time of year you choose to visit. You certainly cannot show up without making arrangements beforehand and expect that your apartment will be available.
"You cannot use [the apartment] whenever you want, but you pay a lower price. And you get all of your services taken care of," Ragatz says.
Still, for all of the money paid, the partial ownership is exactly that—partial.
"The only negative would be if you call up and your apartment is not available," says Schnatterly.
To book a Thanksgiving stay at a fractionally-owned residence in New York City, a member might need to make arrangements three months in advance. To arrange a stay at such a residence during July and August, an owner might need to give the residence only three days advance notice. Partly because so many people leave New York City during the warm months, summers are becoming a much more popular time for such luxury travelers in the city.
"Most of our members come from Florida. They come in July and August," Schnatterly says.
Jonathan Barnes is a frequent contributor to The Cooperator and other publications.