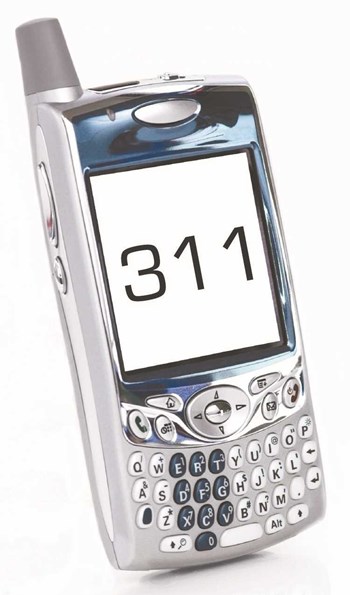 Digital cameras…camera phones… smartphones. These terms weren't even in our vocabulary ten years ago, yet today, many New Yorkers carry this pocket-sized technology with them everywhere they go. One of the goals of the administration is to tap the potential of new technology and put it to work for city government. Recently, we took a big leap into the digital age by equipping the 911 and the 311 systems to accept photos and videos sent through mobile phones or uploaded through the city's website at nyc.gov.
The idea is to empower New Yorkers to use the technology we've already incorporated into our daily lives to join the fight against crime and help improve our city's quality of life. Here's how it works.
If, for example, you snap a picture of a car as it flees the scene of a hit and run, call 911 to report the crime as you would normally, and then tell your operator that you have an image that might be helpful to the police. That operator will then notify our Real Time Crime Center, and you'll get a call from a detective who will give you an address where you can send the photo via text message or email.
In the coming months, we'll have the ability to instantaneously transmit the pictures or videos you send us to patrol cars in the vicinity of a crime. This technology should put all would-be-criminals on notice: escaping the law is going to be harder than ever when every police officer in the area knows exactly what you look like, or what kind of car you're driving.
New Yorkers can also now upload photos and videos to help us improve the delivery of non-emergency services such as filling potholes, cleaning up graffiti in city parks or fixing street signs.
Why is this better than simply calling 311? Because in some cases, having a good picture of the problem can reduce the time it takes us to fix it. For instance, when we get a 311 call about a pothole, our Department of Transportation sends out a team to repair it. Sometimes the team arrives only to find that what we thought was a pothole is actually a sinkhole. To the untrained eye, these street defects look virtually identical, but the process for repairing them couldn't be more different. Sending us a good picture of the defect will help ensure that we send the right team from the right agency to fix the right problem right away.
New Yorkers who are interested in sending us pictures or videos of quality-of-life problem can call 311. Your operator will direct you to a form on the city's website, at nyc.gov, where you'll be able to upload your images.
The 311 hotline has been a tremendous tool for city government in managing the everyday problems that appear on our streets and sidewalks. This new technology will take it to the next level and enable millions of New Yorkers to help make our city safer, cleaner, and more livable than ever before.
Mayor Michael R. Bloomberg is New York City's 108th mayor.