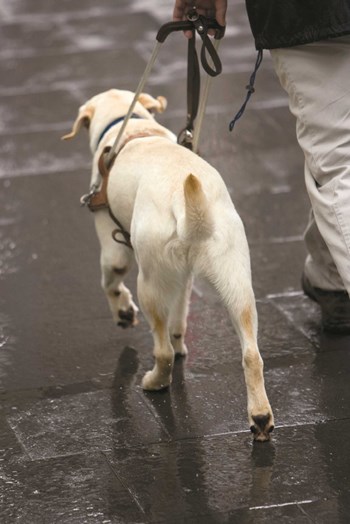 Regardless of region or market, a mélange of personalities, preferences and expectations comprise any homeowners association. Part of that diversity includes folks who may need special accommodations in order to fully enjoy and participate in the life of their building or community. To this end, boards and management companies must adhere to guidelines set forth by the Americans with Disabilities Act (ADA) and the Federal Fair Housing Act (FHA).
Two Laws – Similar Aims
"The ADA is applicable to employment and public accommodations or commercial premises," says attorney Steven Wagner, a principal with the Manhattan-based law firm of Porzio, Bromberg & Newman PC. "The relevant law, as it pertains to housing, would be the Federal Fair Housing Act. The Act applies to rental buildings, cooperatives, condominiums and homeowner associations."
The FHA protects individuals against discrimination in housing based on race, color, religion, sex, national origin, familial status and disability. Additionally, the law prohibits discrimination based on a handicap, which is broadly defined to include most physical or mental issues that substantially impair a major life function. To this end, the Act requires associations "to make reasonable accommodations in rules, policies, practices, or services, when such accommodations may be necessary to afford ... person(s) [with disabilities] equal opportunity to use and enjoy a dwelling."
Understanding Disability
While there are some loose interpretations of what constitutes a disability, the ADA does provide a distinction between physical, mental and emotional impairments, explains Ira Meister, RAM, CREA, founder and president of the Matthew Adam Properties Inc. in Manhattan.
Physical conditions can include orthopedic, visual, speech and hearing impairments, cerebral palsy, autism, cancer, diabetes, HIV/AIDS and alcoholism, among others. With regard to mental conditions, depression, anxiety, stress related issues, obsessive-compulsive disorder, post-traumatic stress disorder, learning disabilities, autism, and ADHD are among conditions covered.
The FHA determines a person to be disabled if they are unable to perform a major life activity that the average person in the general population can perform, or are significantly restricted as to the condition, manner or duration under which they can perform a particular major life activity as compared to the condition, manner, or duration under which the average person in the general population could perform that same activity.
Wagner encourages boards to reference the FHA Design Manual, which applies to residential premises with first occupancy after March 13, 1991 and provides technical guidance on designing dwelling units. This includes specifications for the height of countertops and the dimensions of kitchens, bathrooms and doorways.
However, he points out, that these specifications are not mandatory, but rather provide "safe harbor" in the event of a discrimination claim for failure to construct residential premises to be fit for disabled persons. "If the guidelines are followed, there is a rebuttable presumption of reasonableness, to be determined on a case-by-case basis," says Wagner.
As is the case with "reasonable accommodations," grey areas exist. For example, while a landlord may be required to modify its "first come, first served parking policy" or a "no pet rule," a housing provider controlling residential buildings occupied prior to 1991 does not have to modify structures, architectural barriers, fixtures, equipment or appliances within apartments.
"It would be a discriminatory act if the landlord refused to allow the tenant to perform the modifications at the tenant's cost. Further, New York City and New York State Human Rights Law departs from the minimal federal requirements and requires landlords to pay for reasonable modifications to building common areas," notes Wagner. Modifications include construction of a ramp or hydraulic lift system for a person with an ambulatory disability that interferes, which his ability to traverse steps. "New York City Human Rights Law also requires the landlord to make reasonable accommodations within the apartment."
When asked how often his firm deals with related issues and queries, Meister says only when cases arise, which isn't on a regular basis. "It really doesn't happen that often, but everyone is entitled to a good quality of life and boards and management companies are sympathetic to these issues," he says.
A resident has to make a reasonable accommodation request as to why one or more of their significant life functions is impacted. They also have to explain this claim to the board and the association has to legitimately respond to the request in a timely fashion. This formulaic process can take 30 days or more. "A board can also request further information, so it's not an [immediate] denial or approval of the request," says Attorney Robert Silversmith, owner of Manhattan-based law firm Silversmith & Associates PLLC.
Wagner explains that there is no legal requirement that a disabled tenant fill out particular forms or questionnaires demanded by the landlord. However, the tenant must provide pertinent information, including the nature of the disability, the symptoms experienced by the tenant and how they interfere with the use and enjoyment of the premises and a qualified treatment provider's note or prescription.
"Because a tenant requesting a disability accommodation is placing his medical conditions at issue, the tenant is deemed to have waived doctor/patient privilege with respect to the condition at issue and must substantiate the disability by providing the landlord with pertinent medical records," says Wagner.
Since a "reasonable" accommodation needs to be interpreted case-by-case, Silversmith says that the special accommodation requested must help the resident overcome the limitations on major life activities. However, he adds that the requested accommodation will not be considered reasonable if the application imposes undue financial or administrative burden upon the housing provider, or fundamentally changes the nature of the housing.
Grey areas also exist in less specific ways. For example, if one neighbor has a child with autism and either the child requires quiet or the noise from neighbors causes stress to the child, an issue can be raised by both parties. "While no one could reasonably dispute that autism affects major life functions, the question remains as to whether the requested accommodation is reasonable. It may not be reasonable to compel a level of quiet from neighbors, including the difficulty in defining the level of quiet required," says Wagner. Noise-related accommodations are particularly difficult in buildings with sound transmission issues. And while it might be reasonable for boards to encourage neighbors to install sound insulating material between the apartments, such work could create an undue financial burden, adds Wagner.
Another example would be if one resident is light sensitive or suffers from night blindness. In this case certain accommodations can be made, but not to the detriment of other residents. "If a person [resident] required dim lighting that might be considered a reasonable accommodation," says Silversmith. "So a dimmer might be installed in the lobby, but it can't be too dark for other residents. And for each one of these categories it will be different as to who is responsible for payments. Boards have to examine the laws to make an intelligent analysis."
In more rare cases, a mixed-use property might have special accommodations such as doctors practicing on the premise. In this case, the doctor may produce medical waste, which is considered a hazard. While it depends on the association, most medical waste that is less than 50 pounds does not require board involvement.
"If it is less than 50 pounds per month, then it is not subject to tracking requirements," says Silversmith. "The doctor is responsible, not the building. The liability is with the generator of the waste. With that said, could a co-op be fined? Yes, it is possible."
Comfort Dogs
In recent years, the leading requested "accommodation" has centered on therapy or comfort dogs. These two definitions also result in a grey area. By definition, a therapy dog is trained, registered and insured to visit facilities such as hospitals and nursing homes. Essentially they are there to bring cheer to residents. A condominium with a "no pets" policy cannot be forced to allow a therapy dogs on the premises. However, if the resident is, for example, mentally disabled and can legitimately prove from a doctor that the animal will serve as an emotional support pet, the FHA law could force the property owner to make a policy exception.
"This is the latest hot-button issue," says Meister. "Boards are stringent on comfort dogs—some people take advantage, because their building has a no pet policy. If it is service dog and therefore a necessity for life, that's one thing, but many people are allergic to dogs or have issues with pets in the building. So if people are using loopholes, it is unfair to co-op and condos communities."
The U.S. Department of Housing and Urban Development has also weighed in on the issue, say the pros. HUD's position, he says, is that those animals deemed a reasonable accommodation do not necessarily need to have had specialized training. Some animals perform tasks that require training, while others provide assistance that does not require training.
Education
Silversmith, Wagner and Meister agree that boards usually ask about special accommodations only when an issue is presented. To this end, there usually isn't a proactive approach from a board unless an issue is transparently upsetting the community. However, all boards should be well-versed on ADA, HUD and FHA regulations and have pertinent information available.
"Building staff, property managers and all agents must be aware that all accommodation requests, no matter how great or small, must be received and reviewed by the board or other governing body," says Wagner. "Moreover, a request cannot be rejected merely because it is initially unsubstantiated by the resident."
Silversmith notes that in his experience he has seen boards fined upwards of $50,000 in cases where a judge ruled against a board after it denied a reasonable accommodation. He referenced a woman who lived in a cooperative prewar brick building who suffered from asthma. She installed an air conditioner to help filter the air but the board ordered it to be removed. "The court found this was a medical necessity and an unlawful discriminatory act. They had to pay," he says.
If a board is unclear about a request for a reasonable accommodation, legal pros agree that the issue should be reviewed by an attorney and that the board should engage in an "interactive process" with the resident. For clarification, board members can also reference the "Joint Statement" published in May 2004 by the Department of Justice and HUD. "This can be found online and provides concise and practical guidelines for handling reasonable accommodation requests under various common scenarios," says Wagner.
W.B. King is a freelance writer and a frequent contributor to The Cooperator.