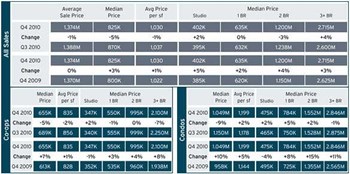 Employment figures may be up, and the economy may be showing signs of life after the long winter of the Great Recession, but the real estate market is still shaking off the chill. New York City in 2010 saw few building permits issued, scores of buildings that were begun but not finished, and seemingly endless months to fill some residential buildings.
As recently as 2009, many new condo developments were compelled to lower prices to attract buyers, and vied with each other to offer incentives such as gyms, art galleries, free parking spaces, and even cars themselves. Some started renting units that had been designed as condos, and others just halted construction altogether. Observers noted downturns in nearly every segment of the market.
Now, by many indicators, we're in a recovery—or are we? True, there are no longer large-scale bankruptcies or near-bankruptcies looming like Lehman Brothers or General Motors. The stock market sometimes goes up, sometimes goes down. The same for unemployment. So where does that leave co-op and condo sales?
If there's any brief description about the feelings of industry insiders, it seems to be cautious optimism.
Looking Up
Cooperator interviews with real estate insiders reveal that overall there is a sense that things are looking up. Kirk Henckels, executive vice president of Stribling & Associates, a luxury residential brokerage based in Manhattan, says, "We had a real resurgence. We picked up steam at the end of the year and continued even in January, which is normally a very quiet month. In the super-luxury end, where there had not even been a market after the loss of Lehman Brothers, we are now seeing deals pretty close to the 2006-07 level."
Kathy Braddock, co-founder of Rutenberg Realty, a New York City-based residential brokerage, is also optimistic. "Because the Dow is clearly above 12,000 for the moment, most people who look at their portfolios feel wealthier than they did a year ago. People are pleasantly optimistic and want to move forward cautiously," she says.
And at Manhattan real estate brokerage Halstead Property, Diane Ramirez, Halstead president, believes, "We have overcome the toughest part, and that is highly important."
The Bubble's Not Coming Back
What do professionals see ahead in the city co-op and condo market in the near future?
Whatever happens, there is a feeling that it won't be the real estate frenzy of the mid-2000s. "I don't think we're going to see those 10-percent-every-quarter jumps like we did in the crazy part of the market—also the banks won't allow it," says Braddock. "I think we're in a steady, healthy market. Real estate should not be an investment for most people," but rather a means of finding a home, she says.
At the high-end luxury market, adds Henckels, there might be a buyer's market, since not that many residential buildings have been built for several years. "I have buyers for $30 million, and to come up with five or six listings [in that price range] is difficult," he says.
What about prices? Ramirez says that spring is a traditionally strong market, some prices are increasing, and we are even seeing some bidding wars coming back into play on apartments with especially desirable addresses and amenities.
David Cooper, senior vice president of the Jacky Teplitzky Team at Manhattan's Prudential Douglas Elliman, forecasts possible price increases between 3 and 4 percent in 2011. Even if buyers are paying a little more, Cooper continues, because they will still paying lower prices than they would have paid at the height of the market. "They will jump in," he predicts.
And as far as interest rates are concerned, Douglas L. Heddings, president of The Heddings Property Group LLC, a New York real estate firm, believes that inflation will push interest rates higher. For this reason, he says, "Those who are mortgage-rate sensitive should consider buying sooner rather than later."
New Developments?
So far, we've been speaking about existing buildings. But what about new developments? Are things getting under way again, or are builders taking a wait-and-see attitude?
"You will see some developing beginning again, cautiously, if finances work out," says Braddock. "But it certainly won't be like before, when everybody and their brother thought they could make money by putting a shovel in the ground. Everybody will do their homework."
Cooper is somewhat optimistic. "The market is healthier, and I actually think it's a good time for developers to build again," he says. "If developers pick the right location and are realistic with pricing and can work with the right lenders, I believe new construction can do well again."
One good sign is that some of the buildings that were stalled are now back under construction. For example, at 20 Henry St. in Brooklyn Heights, construction work on a condo conversion of a 19th century former candy factory stalled in 2008. Now, things are rolling there again, thanks to an investment from Canyon-Johnson Urban Funds—one of whose partners is basketball legend Earvin "Magic" Johnson.
And, of course, there are some developers that do have new, big projects in the works. One of the most high-profile of them is Gary Barnett's Extell Development, which last year announced a new $1.3 billion residential skyscraper on West 57th Street. It was heralded in the New York Times as the first major construction start in the city since the fall of Lehman Brothers. The company earlier this year opened sales at The Aldyn, a luxury building in what it calls the Riverside South neighborhood that contains both condos and rental apartments.
Still, financing is a challenge overall. Attorney Edward Mermelstein, a partner in Rheem Bell & Mermelstein LLP, a New York firm that specializes in corporate and real estate law, says that "Everything that's starting again basically has been recapitalized somehow. The equity in most cases has been wiped out."
Even when more equity is brought in, builders typically now find rental housing a more realistic idea than either condo construction or offices, Mermelstein continues. "Construction loans today are impossible from a conventional lender, unless it's for multi-family residential [rental] or else a developer with a very strong track record or ones that have a strong balance sheet."
But as we previously mentioned, some condo buildings are being constructed, even if they are recapitalized. For any number of reasons—because this may be more of a buyers' market than it was a few years ago, because there is a smaller inventory, because there will be more demand—experts interviewed for this article don't see a lot of incentives being offered for apartments.
An article written for the Cooperator's April 2010 edition by this author mentioned two condo developments that had offered new cars to buyers—Windows on 123 in Harlem, which offered SmartCars, and One Brooklyn Bridge Park, which offered Audis. Experts don't see anything like this happening on a wide scale in the near future, although of course there will always be developers willing to get creative (or extravagant) with incentives to lure buyers to their projects.
New York City: Still Attractive?
What's the long view of the city as a place to live in general? Some observers initially blamed the condo and co-op bust of 2008 on the fact that the city's economy is so tied to Wall Street, and that so many buyers and would-be buyers worked in the beleaguered financial industry.
So has the recession leveled the playing field for young families, singles and other non-Wall Street types?
Mermelstein feels that even in the face of the economic downturn, "Pricing is outpacing income levels." Even now, he says, more and more people are being priced out of New York, the suburbs, certain parts of Brooklyn and Queens. "Fairly soon," he says, "we will start seeing living in Manhattan and certain areas outside of Manhattan really restricted to foreigners or high-network individuals in a tax bracket different from the rest of the country," he believes.
Heddings has a similar opinion. "Manhattan remains an island for high-net worth individuals relative to most of the areas of the city," he says. "Those with `moderate' income are typically in the outer boroughs, or are renters."
Opinions about the future of the perceived desirability of the city as a place to live vary. Ramirez says, "In the past decade, I have noticed a shift of people staying in the city in order to be closer to their home—people want the convenience and amenities, but they also want to be within a short commuting distance of their home for their own quality of life."
On the other hand, Braddock, who was "born and bred here," says that in today's world, where people are connected electronically in real time, "You don't have to be in New York anymore for a lot of professions. I think as generations come up, you will see more people who are much more quality-of-life oriented and want to earn an income."
To compete with other areas of the country for people who can now work at home for their computers, she says, the city "has to be careful and cautious with taxes, and the government wants to be sure we maintain a good quality of life here."
But no matter what happens, there will always be people who want to live in the city because it's the center of things—entertainment, culture, shopping, nightlife. And for those people, there will always be a need for places to live.
Raanan Geberer is a freelance writer, reporter, and editor living in New York City.