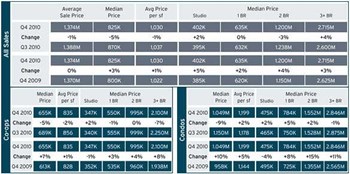 Employment figures may be up, and the economy may be showing signs of life after the long winter of the Great Recession, but the real estate market is still shaking off the chill. New York City in 2010 saw few building permits issued, scores of buildings that were begun but not finished, and seemingly endless months to fill some residential buildings.
As recently as 2009, many new condo developments were compelled to lower prices to attract buyers, and vied with each other to offer incentives such as gyms, art galleries, free parking spaces, and even cars themselves. Some started renting units that had been designed as condos, and others just halted construction altogether. Observers noted downturns in nearly every segment of the market.
Now, by many indicators, we're in a recovery—or are we? True, there are no longer large-scale bankruptcies or near-bankruptcies looming like Lehman Brothers or General Motors. The stock market sometimes goes up, sometimes goes down. The same for unemployment. So where does that leave co-op and condo sales?
If there's any brief description about the feelings of industry insiders, it seems to be cautious optimism.
Looking Up
Cooperator interviews with real estate insiders reveal that overall there is a sense that things are looking up. Kirk Henckels, executive vice president of Stribling & Associates, a luxury residential brokerage based in Manhattan, says, "We had a real resurgence. We picked up steam at the end of the year and continued even in January, which is normally a very quiet month. In the super-luxury end, where there had not even been a market after the loss of Lehman Brothers, we are now seeing deals pretty close to the 2006-07 level."