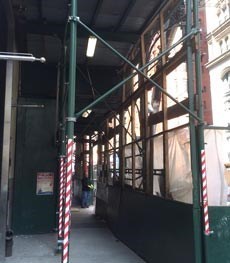 Walk down any street in the city and you're likely to go under or around one of the ubiquitous steel-and-plywood structures that shade Gotham's sidewalks, more often than not festooned with wheat-pasted posters for everything from the hottest nightclub parties to new movies opening this weekend. They're called construction sheds, and these blue or green plywood platforms boosted up above street level by crisscrossing metal poles and girders are usually installed on buildings in the midst of an exterior repair program.
A Bit of History
It was way back in 1980 when then-Mayor Ed Koch responded to an alarming number of pedestrians being hit by falling debris and enacted a new law requiring that all street-facing exterior facades be inspected every five years. Eventually, the law was updated to become Local Law 11, which read that any façade facing the street or on any structure greater than six stories high in the city needed to be inspected. Local Law 11 became the catalyst for the sidewalk shed and scaffold boom that has occurred in New York over the last three decades.
A sidewalk shed is a temporary bridge-like structure built over a sidewalk to protect pedestrians during construction on or near a building's façade. A scaffold is a temporary work platform, either suspended from the roof or some other part of a building or built up from the ground, typically with a system of pipe sections.
"They are required to protect the public from the dangers of overhead construction," says Ken Buettner, president of York Scaffold Equipment Corp. in Long Island City. "If the Department of Buildings (DOB) identifies a dangerous condition on your building—something cracked or broken—they will order you to put up the sidewalk shed for protection while you remedy the condition. If you have scheduled work on a building or are doing new construction or a major alteration, those kinds of projects also require public protection."
Local Law 11 inspections are the catalyst for much of this exterior work being done, Buettner continues. If there's a chance of something falling on someone, you're going to need protection. A sidewalk shed is engineered and constructed to stand on its own on the sidewalk, without being secured to the building or the structure.