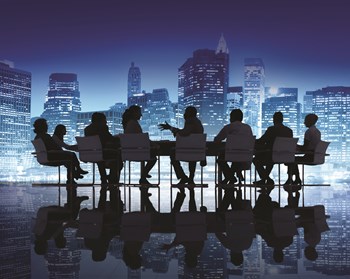 Anyone who has ever undergone the process of applying to be a shareholder in a New York City co-op knows how exhausting it can be, not to mention stressful. From securing a loan, to culling financial documents to be reviewed by a co-op board, to the nervous jitters of having to be interviewed, is there anything pleasant about it?
If things go smoothly - and they should, if prospective buyers do their homework and have a good idea of what's expected of them - there is, of course, the reward: an apartment of one's own in a secure community environment. In New York, this is nothing to sneeze at. But what about the horror stories that have made the news in recent years?
In 1997, there was Broome v. Biondi, a case in which a biracial couple was awarded $640,000 by a federal jury after alleging discrimination when they were rejected by a co-op in an exclusive New York neighborhood. But, most people in the business, from managing agents to brokers to real-estate attorneys, assure that such cases are rare. The co-op application process, however, can be sensitive and sometimes litigious territory, even if the object of contention is not your income or your occupation, but your terrier.
"It's a very invasive process," says Carol Shainswit, a senior associate broker with the Corcoran Group. "Becoming a shareholder is like gaining admittance into a club, so to speak. Different co-ops have different admission requirements, but in general, your neighbors want you to be like them."
Broker as Matchmaker
Clubhouse mentality aside, prospective buyers should be just as choosy about the buildings they approach as boards are in screening applicants. Working with brokers is a good way to find an affordable building with a compatible environment. Wise to the lay of the land, brokers have experience working with particular boards and will be able to provide more nuanced profiles of co-ops. Like people, buildings can, generally speaking, be characterized as "types," and a broker can make the job of finding the right one a lot easier. Likewise, brokers can steer clients away from buildings that aren't quite the right fit.
"Some buildings require impeccable social references and covet well-known people, and then there are some that don't want a super-rich person. Another building might not want an entertainer because of the amount of security that person would require."
Show and Tell
Well before a review board gets into the nitty-gritty of how an applicant butters his bread, or whether or not his wife wears Prada, however, there is the question of finances. In general, after a contract has been reached between a shareholder and a prospective buyer, the building's managing agent will provide the buyer with a package to complete, much of which involves proving financial stability.
Requirements vary from building to building, but most co-ops want to see a bank statement, a brokerage statement, a few years' worth of income tax returns, a copy of a mortgage commitment, and credit reports, as well as monthly bills such as student loans, alimony payments, credit cards, and so forth. Other requested documents normally include letters from employers and personal references.
Organizing this information in a thorough and prompt fashion is strongly advised. "Boards don't like to see bits and pieces of an application come through," says Marcie Waterman-Murray, a principal at the law firm of Deutsch, Tane, Waterman & Wurtzel. "They want it once, and they want it when it's completed."
Michael Berardino, an attorney who served on his Upper East Side co-op board for 13 years, agrees that "prompt supplying of documentation to a board is greatly appreciated. "In my experience, for three-fourths of all applicants, we had to make requests for additional documentation," Berardino says. "It's very frustrating and slows things down."
Once the information is complete a co-op board - or a smaller review board usually made up of an odd number of people - will review the documents. There is no standard formula for determining a good versus bad candidate, but there are some rules of thumb that some boards abide by.
Shainswit boils the formula down to a prospective buyer's monthly salary being a minimum of four times the monthly outlay. In other words, if the mortgage and maintenance totals $2,000 per month, then the buyer's monthly salary needs to be at least $8,000.
Berardino offers another system, which combines a buyer's monthly maintenance ($800, say) and a loan ($1,000), and multiplies it by 12 ($1,800 x 12 = $21,600). "If that number is greater than 31 percent of their gross income, then it's not a comfortable situation for them."
Finally, Shainswit says, a buyer should have liquid assets in the bank, ranging from 50 to 100 percent of the value of the apartment - though that figure depends somewhat on the location of the building. "A lot of first-time buyers don't know this," she says.
A unanimous, if unwritten, rule is that a cash payment is a huge advantage. "A board will always look at what a person is putting down, and if there's no financing involved, that's absolutely a big plus," Berardino says. "It shows that a person has substantial financial holdings and is not going to have a loan to deal with."
Another factor that can affect a buyer's financial profile is their profession. Dot-commers, in particular, are looked at more skeptically now than they were in the booming "˜90s. "People who worked for dot-coms and were looking to buy three years ago were seen as millionaires," Waterman-Murray says. "Now when a board sees a dot-com income, it's not as liberal because there's a realization that those numbers could be worth nothing tomorrow."
The Interrogation
The board interview - the next step in the application process - is an opportunity for buyers to explain or elaborate on their finances, if the paperwork doesn't necessarily make a compelling case.
Anita Sapirman, a managing agent and president of Saparn Realty Inc., advises her clients to be specific about their income when they come face to face with a board. "They should explain, for example, why they made more money this year than last year, or what is real about their anticipated income."
Self-employed individuals need to make a particularly convincing case. "Self-employment is an especially difficult situation," Sapirman says. "I try to help people know how to explain their situation. If they are in a favorable position, there's no need for anyone to see them in a negative light, but sometimes it's just hard to explain."
Not everyone is given a forum to explain, however. Waterman-Murray urges her boards not to schedule interviews with applicants if their financial documentation is weak. Speaking from a legal perspective, she says that discrimination cases are far less likely to arise when the screening process is limited to paperwork.
"If a rejection comes after a face to face interview, there's a much greater possibility of a human rights discrimination claim, even if that isn't the case. It's a lot more difficult to make such an allegation if the prospective buyer never had an interview in the first place."
Berardino, however, says that his building always arranges for an interview in order to "let the person explain or offer their view of how their finances are substantial."
Finances aside, the interview allows both parties to get a feel for one another. The prospective buyer should show up having read the corporation's bylaws and be willing to answer basic questions, such as who will be living in the apartment, what interested them in the building, and whether they would be interested in becoming active in the co-op's political process.
"Boards always want people to be involved," Waterman-Murray says.
"There might be a president who's been president for 20 years and wants to pass the job on, but can't get shareholders to run. It's always good to get active-minded new shareholders in buildings."
Applicants themselves may not be the only ones interviewed. Shainswit says that she once heard of a board that asked to interview a buyer's pet. "They wanted to make sure the dog wasn't too yappy." Another board requested a photograph of a pet to make sure its size was as described by its owner.
Such demands are unusual, however. For the most part, interviews are a simple and straightforward way for a board to incorporate a face and a personality into the equation. "There's no handbook that says, "˜Hey, the interviewee should say this or say that,'" Berardino says. "People are people, they just need to be themselves."
Hopefully, and for most, that's the final step in a somewhat grueling but very rewarding process.
Nicole LaPorte is a freelance writer based in Manhattan.