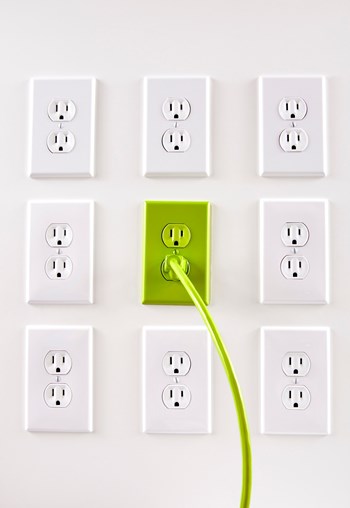 The phrases have grown familiar to all of us. Global warming. Ozone depletion. Greenhouse effect. As recycling, composting and other eco-friendly activities become more common, the time seems right to start asking what else can be done to keep our planet clean and green.
According to the U.S. Department of Energy (USDE), the more than 76 million residential buildings and nearly five million commercial buildings in the United States are responsible for one-third of all the energy consumed in this country and two-thirds of all electricity. The USDE also states that buildings are responsible for 35 percent of carbon dioxide emissions, thought to contribute to climate change. Cutting back on energy consumption will make a significant dent in the amount of energy produced each year and an equally significant reduction in the pollution created as a by-product. And the fact of the matter is that environmental responsibility also spells fiscal stability.
It turns out there's plenty that co-op and condo boards can do to help preserve the environment. Even better, these actions provide significant savings on heating, cooling, maintenance and more.
Good choices, Great Savings
Choice is everything when it comes to creating a green-friendly environment. In June 1999, the New York State Energy Research and Development Authority (NYSERDA) began promoting the use of Energy Star products. The Energy Star program, created by the USDE and the Environmental Protection Agency (EPA), began as a way to aid consumers in their search for appliances and lighting fixtures that save energy and, in turn, save money. "We're working with architects, management companies and owners" to get the word out on Energy Star, says Dennis Ossipov, deputy project manager.
The program has met with success in its first year of operation. And it's easy to see why. "We provide free energy audits of buildings and also free tenant education," Ossipov says. And perhaps most significantly, the program offers cash incentives to building owners who replace older, inefficient appliances such as air conditioners, washing machines and dishwashers, with energy efficient products. Right now refrigerators, which waste the most energy of major appliances, are bringing in the largest rewards for replacement.
The perks continue once new appliances are in place, too. Refrigerators, furnaces, central air conditioning systems and other appliances that carry the Energy Star label all require 15 to 20 percent less energy than the average product. According to the USDE, purchasing these energy-efficient items can save the average household up to 30 percent on its annual home energy bill.
The number of manufacturers that qualify for the Energy Star label grows each year. And Ossipov hopes the overall trend toward environmental awareness continues as well. "The environment is a big issue, especially considering the huge energy load [in New York] and the problems we had last summer," Ossipov says. "We have to try to decrease the energy load."
Investigate and Combat Waste
The first step to becoming energy-efficient is to investigate areas of waste. Where is your building using more energy than it needs to keep warm or cool? How many kilowatts are burning to light the common areas or individual apartments? First and foremost, board members and residents must recite this mantra: "Let there be (energy efficient) light!" It's just like your parents always told you–turn the lights off when you leave the room. There are, of course, bigger and better ways to save on light bills and reduce energy needs at the same time.
Co-ops and condos relying on incandescent bulbs for a majority of their lighting should consider other options such as fluorescent or halite bulbs. Hershel Allerhand, president of Westron Corp., a lighting supplier in Oceanside, NY, says that fluorescent bulbs give off the same light and require about one-third less electricity. "Incandescent lights waste energy," he says. "Ninety percent of the energy is used just to heat the wire."
Although fluorescent bulbs cost more initially, they pay for themselves in durability and efficiency. "The real cost of a light is what the electricity costs," Allerhand says. "Even if you got the bulb for free, you're still going to pay Con Ed. When you do the math, they're a tremendous savings."
Fluorescent lights last longer, too, burning for up to 20,000 hours compared to 750 hours for an incandescent. That means fewer bulbs and less maintenance costs. They also can make a significant impact on heating and cooling costs. In the warmer months, fluorescents give off less heat. In addition, "lighting creates heat," Allerhand says. "If you can knock off some watts, you can lower your air conditioning costs."
Co-op and condo boards also should consider the bulb placement throughout the building. While it makes sense to install more expensive, but longer lasting, fluorescent lights in hallways and residences where illumination is constantly necessary, it makes little sense to spend the extra money on supply closets or maintenance areas where a light is turned on once a day or a couple of times a week. Allerhand's staff will work with a building to devise the most energy efficient lighting options, making recommendations for high traffic and low traffic areas. "It doesn't pay to go to Office Depot and just buy the cheapest lamp," he says. It's the carefully thought-out choices that pay off in the long run.
Keep in mind that all fluorescent light bulbs must be disposed of properly due to mercury and other potent gases which they contain. Several companies, including Superior Light and Fan, a lighting supplier in Manhattan, now offer a disposal service. They will break down the lights, dispose of the gases, then recycle the remaining glass and aluminum parts.
Vigilance provides an important key to conserving energy and reducing the costs in a building's heating and cooling system. U.S. Energy Controls in Flushing, New York produces a computer surveillance system that makes tracking boiler efficiency, temperature control and other costly maintenance areas a breeze.
"It's a nice tool to help save 40 to 50 percent on the fuel bill," says U.S. Energy Controls' vice president Elie Jabbour. The Monitor 2000 system, which can be accessed remotely by phone or computer, keeps track of areas such as fuel consumption (oil or gas), water consumption, vacuum and pressure readings and more.
The system also regulates indoor unit temperatures, using outdoor air temperature sensors to even out interior heat distribution. "If the temperature drops below 55 degrees during the day, (the system) will provide a minimum 68 degree temperature. At night, if it falls below 40 degrees, it will provide a minimum of 55 degrees," Jabbour says. "We can preset temperatures for any desire or need."
The system controls all apartments based on what's going on outdoors. "If you're not looking at apartment temperatures, you could be overheating the building," Jabbour says. Without proper monitoring, some apartments which do not require heating at a particular time of day–perhaps because of sunlight or stored heat–are still being warmed, wasting both energy and dollars.
With many buildings already switched over to water metering, co-ops and condos are finding that drips equal dollars. According to Robert J. Bellini, president of Varsity Plumbing in Manhattan and Queens, "The Department of Environmental Protection (DEP) did a study, and a facuet with a slow drip wastes $50 worth of water a year." If the drip is hot water, add another $25 in energy costs as well. Bellini also says that "20 to 25 percent of toilets leak." The costs? According to the DEP study, from "$50 a year for undetectable seepage, to $8,500 for a constantly running tank."
Many buildings took advantage of the city's rebate program several years ago, installing water-efficient toilets and showerheads. For those that didn't, Bellini suggests they consider doing the changeover themselves. New York toilets using 1.6 gallons are much more cost–and water–efficient than the old ones that need seven gallons per flush. Showerheards that use seven to ten gallons of water per minute can be replaced with ones using two-and-a-half gallons. The savings could be as much as $900 per unit.
On a final note, bards also may find that psychology can play a role in saving money and reducing energy needs. Fluorescent bulbs come in 35 different varieties, each producing a different shade of white. "Grocery stores use certain fluorescent shades to make produce look greener or meats look redder," says David Brooks of Superior Light and Fan. This same principle can apply to heating and cooling a building. "People will think they feel hotter or cooler, depending on the shade of light. You can change the bulbs twice a year (in the winter and summer) and make residents feel warmer when they're not and vice versa."
More and more these days, environmental and fiscal awareness go hand-in-hand. What better way to save dollars than by saving the planet in the process?
Ms. Lent is a freelance writer living in Bloomfield Hills, Michigan.