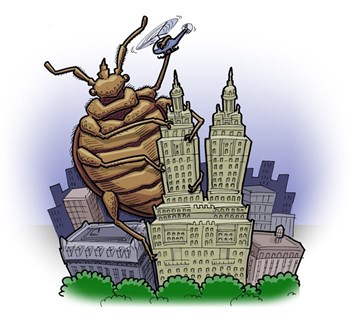 New Yorkers are used to their fair share of urban wildlife. There are the famed New York City cockroaches, of course. And mice and rats are expected in any gritty city. But the proliferation of bedbugs is a phenomenon that has gained a great deal of exposure recently, both in the press and by word of mouth among city dwellers.
The Nature of the Beast
Bedbugs are tiny nocturnal insects roughly the size of an apple seed, and feed exclusively on human blood, says Bill Cowley, owner-operator and vice president of Cowley's Termite & Pest Services in Neptune City, New Jersey. An adult female bedbug can lay between one and five eggs daily, and they hatch about a week later.
Fortunately, bedbugs aren't as hungry as vampires. They don't seek a blood meal every day, and can go several days—and even up to a month or more, if necessary—between each meal. Some experts say they can live for up to a year without feeding.
While experts don't believe that bedbugs carry diseases, they can cause an allergic reaction in some which causes a red blotch or welt and makes the skin itch, much like a mosquito bite, says James Skinner, owner of A&C Exterminating Corp., a pest management company based in Long Island. And not everyone responds to being bitten.
Itchy blotches aside, perhaps the most damaging effect of a bedbug infestation is psychological. Going a round or two with the little blighters can sometimes trigger delusional parasitosis in infestation victims—the belief that your home is still infested with parasites, even long after the actual bugs have been eradicated. "You can start getting really paranoid," Skinner says.
So basically, the bedbugs crawl into your sheets, onto your shelves, and inside your luggage. They eat your blood and appear to temporarily take over the rational (as well as the less-rational) areas of your brain. On top of it all, bedbugs are indiscriminate visitors. In fact, bedbugs may be hiding in the swankiest spots in the city.
"Bedbugs don't care if you're clean or dirty—they just want your blood," says New York City Councilwoman Gale Brewer, who is leading the government effort to zap bedbugs in the city.
Cowley agrees. "Bedbugs do not discriminate based on one's social status or the cleanliness of their home," he says. "Bedbug infestations can occur in five star hotels, million dollar estates, as well as homeless shelters and everything in between, regardless of the existing sanitary conditions."
According to the pros, bedbugs can move from one person to another by moving from one person's bed to their clothing, onto another person's clothing, to their bed, and so on. You can even get it by accepting a delivery of something that has bedbugs or bedbug eggs in it. The bedbugs can then take over your apartment and continue moving to other apartments in your building.
Back from the Dead
While bedbugs were a common problem in the United States around the World War II era, they were virtually eradicated from existence with the wide-scale use of pesticides, such as Malathion and DDT, Cowley says. They re-emerged in the U.S. in the late 1990s, and have been multiplying ever since.
Complaints of bedbug infestation increased by 71 percent between 2000 and 2005—and exterminators have reported record numbers of calls about these notorious pests every year since. Telephone complaints to New York City's 311 hotline jumped from 9,664 in 2008 to nearly 12,000 the following year. To date, 9,290 complaints have been logged this year, according to the city's Department of Information Technology & Telecommunications (DoITT), which monitors statistics for the hotline.
According to Cowley, "Their secretive behavior, coupled with a lack of public awareness, has enabled this insect to move very efficiently from one dwelling to another, and has facilitated their rapid dispersal throughout the country."
There are a few other reasons why bedbugs have gotten so out of control in recent years. In the late 1990s, international travel become a lot less expensive, so Americans began to travel much more frequently.
"Routinely scheduled treatments of baseboards in hotels, motels and apartments were replaced with targeted applications of baits for pests like ants and cockroaches," Cowley says. "With the absence of the residual pesticide applications, bedbugs are able to travel freely and safely from the luggage to the bed, successfully beginning an infestation."
Skinner agrees, saying most people pick up bedbugs when they're out of town. Once they're home, they can easily spread it to other people back home—whether that's New Canaan, Connecticut or New York City. "I had a good friend whose 10-year-old went to a sleepover, and he brought them back to his house," he says. "We're also finding a lot more in movie theaters, trains, planes and automobiles."
Pest Control
The bedbug problem has gotten so out of control that the New York City Council even started its own task force advisory panel to study the issue, and is spending $500,000 to establish a campaign to fight the nighttime crawlers. The money will be used to improve training of inspectors, develop protocols for landlords and tenants, and to create a one stop educational bedbug web portal for the public.
"I was getting hundreds and hundreds of calls," says Brewer, adding that the council is spending half a million dollars to establish a portal so they'll know where the bedbugs are manifesting. Right now, they believe the bedbugs are pretty much occupying all the boroughs, but they'd like to have more information. They also plan to train more exterminators on how to get rid of the bugs efficiently and effectively.
Statewide, Governor David Paterson in August signed "The Bedbug Disclosure Act." The new law requires building owners to disclose to potential tenants a one-year history of any bedbug infestations. New York State Assemblywoman Linda B. Rosenthal, who represents Manhattan's Upper West Side, and State Senator Jose Peralta from Queens, sponsored the legislation.
The new law applies not only to renters but to co-op and condo members of a building as well, according to Glenn Waldorf of Parsippany, New Jersey-based Bell Environmental Services. "This law is positive as it requires landlords to be more aware and transparent about problems, makes landlords more likely to employ the proper methods that will resolve bedbug issues as recommended by the New York City Bed Bug Taskforce, and gives renters more information as they sign leases and move into buildings. Under New York's real estate laws, landlords are already required to treat reported vermin and pests, including bedbugs," says Waldorf.
Developing Immunity
One of the big problems that exterminators are currently facing are the limitations on their chemical arsenal, Skinner says. In the past, exterminators used powerful pesticides, but regulations have nixed the use of most of those chemicals. Commercially-available pesticides aren't designed for bedbugs, and the use of the product may only chase them to remote areas, making the problem that much more difficult to solve.
Another issue—and one that makes bedbugs even creepier than they already are—is that they seem to have adapted to the exterminators' arsenal, and now have a thicker waxy coat that makes it difficult for any chemicals to penetrate. Also, much like viruses, bedbugs have developed into multiple strains—some of which appear to be totally immune to any chemicals.
Fortunately, there are a few approaches that seem to take the starch out of the bugs. For example, bedbugs can't survive temperatures hotter than 122 degrees. Once the temperature rises, the bedbugs—along with their eggs—die. So Skinner and his team bring heaters and generators to bedbug-infested locations, and they heat the entire apartment to 140 degrees. Once it reaches the optimum temperature, they take a fan and move the air flow around the house into every crack and crevice.
The treatment is environmentally-friendly and no chemicals are used. The one thing it's not is cheap: treatment usually starts at $2,000. Another method is a chemical application to all known hiding places of the bugs—which includes just about any crack or crevice in a given room. This is the most common method, and costs about $500 for a bedroom, Cowley says.
Regardless of the method of extermination, bedbug sufferers can expect to need at least two or three visits from the exterminator to get rid of the problem.
Sadly, there are only a few known tricks to prevent bedbug infestation. When staying in a hotel, check the mattress before bedding down—and if you see anything that looks remotely like a bug—and they're big enough to see—don't stay there. When you're staying in a hotel, hang your clothing in the closet furthest from the bed, and put your luggage on the folding rack instead of on the floor.
When you're shopping for a mattress, splurge for a new one instead of a used one— especially if you don't know the old mattresses' history.
If it's already too late, and you're infested, make sure you call the exterminator as soon as possible. "Last Tuesday, our guys went into a job where there was a lot of clutter, and you could see bedbugs everywhere," Skinner says. "They were on the corners, on the walls, everywhere."
Act Fast
Calling the exterminator as soon as the first bug nests into your bed will help eliminate the problem faster.
You could also try asking your building's board to pay for the exterminator fees, but they may not bite.
"This is a developing area of the law," says Mia Falls, an attorney with the law firm of Norris McLaughlin & Marcus, P.A. in New York. "I have seen cases in which the building has been held responsible, but I've seen others that are saying that the co-op owner is responsible. Unfortunately, that doesn't clear it up at all."
Here's a tip, however. Falls says that in cases when you can't determine where the bedbugs originated, the courts are leaning toward holding the building responsible.
The building's board may want to have something in writing to make its policy clear before even one bedbug appears. But even if you've got something in writing siding with the board or with the owner of the apartment, a court can still veto the written word.
"Ultimately, if the court decides it's your responsibility, nothing in writing will help," Falls says.
It all comes down to this: The building is responsible for exterminating the common areas, while unit owners are responsible for their own home. But if a bedbug problem can be proven to have originated in a common area that wasn't exterminated quickly—and then managed to get into your home, you may be able to convince a court that the building is responsible.
If you plan to go to court however, you should be out for blood—and maybe the judge will bite. In the meantime, check your mattresses, hang up your clothes ... and cross your fingers. To report a bedbug complaint, contact the city's 311 hotline.
Danielle Braff is a freelance writer living in Chicago.