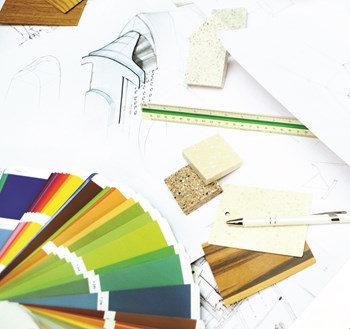 These days there's a virtually an endless array of building materials available, so why is good old wood still a perennial favorite? Maybe because it lends an organic warmth to any space. Maybe because it harkens back to another time and place, where things were simpler. Or maybe just because it's a beautiful and versatile design material - but any way you slice it, wood is still one of the most popular materials around.
Whether you're dealing with a lobby, common space, or your own home, here in the highly-synthetic environs of New York, quality woodwork is especially desirable and sought after - which makes it a great investment for co-op and condo owners.
The Nuts and Bolts
If you're planning a renovation - in a common space or private residence - the first order of business is setting your budget and assessing the scope of your renovations. Installing woodwork can be a tricky affair or a simple one, depending on the complexity of your project. You may wish to consult with a designer, engineer or architect for an elaborate project, but if it's a simple job, it might be unnecessary. According to Ed Negron, the owner of Ed Negron Fine Woodworking, a New York-based company specializing in high-end interior woodwork, "If you're doing a major renovation with several different specialists involved, you should definitely hire a contractor who can act as coordinator for you. Otherwise, you'll be trying to figure out if you should have the plumber first, or the electricians, and so forth - and things could get messy. If you're just doing woodwork, you can save money by going directly to the woodworker."
Shop around and get multiple bids. Just remember that if a price seems too good to be true, it probably is. "You get what you pay for," Negron warns. "There are a lot of people out there offering to do this kind of work, who don't know what they're doing. Usually you'll get a high, low, and medium bid, and if you go with the low bid, you're likely to have problems. Make sure to ask for references and pictures of their work. It can spare you a lot of trouble." If the estimate is too high, Negron suggests asking about alternate materials or changes in design. "There's a huge variety in the cost of materials, so switching to less expensive ones can help a lot. Also, sometimes even a slight change in design can significantly reduce labor costs, so don't be shy about asking."
Which Wood You Rather?
Of course, one of the biggest decisions you'll face during the whole design process is which kind (or kinds) of wood to use, and this issue deserves a discussion unto itself. According to Negron, it's largely an aesthetic decision. There's an overwhelming variety of woods and finishes, so start by considering the overall effect you're trying to achieve. Are you aiming for sleek minimalism or earthy charm? Do you have enough natural light to balance out a deep cherry, or do you need a pale, luminous pine to open up your space? Do you want a rich jewel tone, or a knobby grain that draws attention to itself as a design element? Or do you want your woodwork to play a supporting role, blending in supple harmony with the rest of your design scheme?
Of course, you should also be thinking about durability and cost - especially if you're dealing with flooring - or any kind of woodwork in a humid space like a bathroom or kitchen. Just remember that all these factors are inextricably linked; if you choose a delicate wood because you love how it looks, but then it rots in your humid kitchen"¦well, then it won't look so nice.
So, with so many different woods to choose from, where does one even begin? "Mahogany and poplar are two of the best species for machinability and resistance to rot," says Negron. "Mahogany is especially good for bathrooms and other high-moisture areas because it's extremely resistant to water damage," he adds.
Master Craftsman Hal Johnston of New York's RiverCity Woodworks had this to say: "I work with almost every kind of wood. My favorite to build with is probably mahogany. The problem is that it's become a bit rare due to over-logging. The normal domestics like cherry, oak, and maple are very popular right now it seems. Of all of them, I like cherry the best, although it's getting harder and harder to find good wood in this species. White oak would be my second choice. I tend to use the rift-sawn white oak, which has straight grain - most people don't even know that it is oak."
Some other tried-and-true choices are pine, cypress, walnut, and cedar, all of which are durable and attractive. Of course, if you're looking for something a bit more exotic, Mother Nature offers a dazzling menu. "I love black African Ebony. It's like the king cobra of wood," says Johnston. "But it is endangered, so we're better off not using it. I've also used purple heart, which really is purple, padauk - which is bright orange - and zebrawood, which has distinct stripes." You can also opt for a stain, which can deepen or alter the color and bring out the grain.
Finishing School
Once you've chosen your wood, you should start thinking about the finish. Again, there's tremendous variety. You can get anything from unfinished matte to high-gloss polyurethane - but here the decision is not just cosmetic. The finish is your woodwork's primary protection against moisture, dust, and scuffing - so to a great extent, you are deciding how much maintenance you're prepared to do. At the high-maintenance end, you have unfinished wood, which will need to be sanded and touched up about once a year. Next come varnishes. "The term "˜varnish' actually refers to a particular natural substance, although now people have started to use the word to describe all kinds of finishes," Johnston explains. "Real varnish is beautiful, but it's not very durable. You'll have to refinish every two years," he says.
Most finishes are actually different kinds of lacquers, which are durable synthetic finishes. They can be clear or opaque, and generally last about five years before refinishing is needed, according to Negron. If you're planning to paint, you can use special wood-safe latex paints, which offer fairly heavy protection. The big drawback? If you ever want to go natural, you have a major (read: expensive and time-consuming) stripping job on your hands. And last but not least, the toughest finish of all is polyurethane, which can last upwards of ten years, even on flooring. In fact, for exterior woodwork, polyurethane or oil-based paint may suffice to protect your wood from the elements - but polyurethane is also a popular choice for interior finishing. "Polyurethane isn't a varnish at all. It's actually a plastic coating, and it's extremely durable and water resistant. It costs a bit more up front than lacquer, but in the long run, it's the most economic choice," Negron notes. And contrary to common opinion, polyurethane doesn't have to be high-gloss - you can get it in matte and semi-gloss as well.
Where's the Love?
Once your woodwork is in place, it's crucial to take proper care of it. In addition to professional refinishing every so often, you'll have to do a bit of your own maintenance. Water is wood's number one enemy, causing it to shrink and warp over time. Obviously, flooring is at the greatest risk for water damage - so make sure to clean up spills immediately, and try not to track in slush. That said, water is, perversely, the recommended tool of choice for cleaning wood. Although some people rely on linseed oil or commercial cleaners, Woodworking pros generally advise against it. "Stick with plain water," says Negron. "Just don't overdo it - a damp cloth is fine. The problem with commercial cleansers is that they're abrasive, and many have silicon in them, which leaves a coating on the wood. That residue interferes with refinishing - you'll actually have to strip it off to get another layer of finish to adhere."
So how do you know when to refinish or even replace your woodwork? Well, there are several layers to wood maintenance, depending on how bad things have gotten. Refinishing only deals with the veneer. It entails sanding down the surface to roughen it up, so a new layer of finish will adhere, and then adding a new coat of finish. Restoration involves actually repairing and replacing the wood itself, not just the veneer.
But how can you tell which you need? If you've got cracked or warped wood, or missing pieces, you're in restoration territory. But not to fear - these days, woodworkers have gotten very advanced at matching missing pieces, even with antique wood. If the wood itself looks fine, but the surface is scuffed, you need refinishing. Even if it looks okay, if you're unsure when it was last refinished, or what kind of finish you've got, you may be a candidate for a refinish. A simple test is to sprinkle some droplets of water on the surface. If they sink in, you're due for a refinish; if they bead up, you're golden for now.
Happily Ever After
Once the heavy lifting of renovation is done, your woodwork will repay you with a warm and inviting décor. And with a little TLC, you should have no trouble enjoying it for decades to come. Best of all, your woodwork will be a great investment for your co-op because no matter what construction fads come and go, wood is a classic that only improves with age.
Alexandra Wolf is a freelance writer based in New York.
For a sidebar story on types of wood, click here.