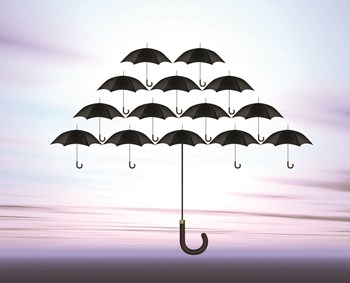 Having insurance means having financial protection—protection from being financially crippled by having to pay excessive costs to rebuild a life or a home—or a whole building—when tragedy strikes.
Just as individual homeowners have insurance to protect their loved ones, assets, possessions and even their own body, a multifamily co-op or condo building also needs protection from damage to the property or lawsuits from injuries sustained by residents or guests while on the property.
Individuals may have life, property, health, and maybe even liability insurance to cover their own risks—and obviously, whole buildings may have a somewhat more complicated insurance profile than an individual. When management or associations are deciding on the best insurance protection, they have a variety of options and combinations on the insurance menu, including workers' compensation, property, directors and officers (D&O), crime/fidelity bond and even terrorism insurance options, just to name a few.
Choose Your Weapons
Without insurance protection, buildings would be left financially vulnerable in the event of a fire, flood, construction mishap, injury on the property, or other catastrophic loss. "As a result," says David J. Byrne, an attorney and chair of Stark & Stark's community association group in Lawrenceville, New Jersey, "the building wouldn't have enough money to [pay for damages] and would have to assess its residents to pay the difference—that could be in the millions."
Choosing which insurance policies will provide the best coverage depends on a variety of factors, including the building's age and what is outlined and required by the co-op or condo association's master policy or bylaws. Generally, these policies will cover the building itself, the common areas, potential lawsuits, and injuries sustained while on the property. The unit owners' individual policies cover what is inside of their own home, including their possessions. Typically, the residents' monthly fees are used to fund the building's insurance policies.
What the Professionals Say
Here is an outline of the top recommended types of insurance policies that are recommended for a co-op or condo by the experts interviewed for this article:
Property and Liability Insurance
"For a co-op, the bare minimum insurance for the building is spelled out because they have an underlying mortgage and they must have insurance for that mortgage, says Thomas R. Kozera, CPCU, president/CEO, The Co-op Division of SKCG Group Inc. in White Plains, New York. "The minimum is usually a packaged policy that covers property and liability, D&O, crime and worker's comp—a simplistic minimum document."
"The absolute bare minimum insurance for a condo—since they don't have an underlying mortgage—is property and liability," says Edward J. Mackoul, vice president of Mackoul & Associates in Long Beach. "Property covers the building in the event of a covered claim. Liability covers the co-op or condo if it's named in a lawsuit. This is important because a condominium is responsible for common areas and if someone slips and falls or if something happens in a building—let's say a mugging or assault—the buildings are responsible."
Workers Compensation
"If [a building] has even one employee, they should also have worker's comp or disability policies too," says Mackoul.
Worker's compensation coverage serves to protect buildings from lawsuits resulting from workplace accidents. It also pays for medical care and compensation for lost income to its employees. If your super or maintenance specialist is injured on the job, a workers' compensation policy will cover any claims he or she may file against the building—as well as his or her medical treatment and the wages that he or she would have been entitled to had the injury not occurred.
Directors & Officers
Another important investment for both co-op and condos is directors and officers liability, commonly called D&O insurance. Although board members volunteer their time, there is always the possibility someone can make a mistake—and occasionally, those mistakes can lead to litigation.
D&O offers individual directors and officers protection from personal liability and financial loss arising out of wrongful acts committed or allegedly committed in their capacity as corporate officers and/or directors.
"If I'm on the board, I consider D&O insurance the most important policy there," said Mackoul. "If a board member or director is personally named in a lawsuit, their personal assets are at stake. No matter how frivolous it might seem, a comprehensive policy probably runs only five percent of the premium."
Directors and officers may also want to check their own homeowner's policy for additional protection. "Some homeowners' policies do provide coverage as long as you serve on a board without remuneration," says Arthur A. Schwartz, vice president of Masters Coverage Corp., a division of Valley National Bank in New York City.
Another part of a typical D&O policy are commonly called fidelity bond or employee dishonesty riders. While no one wants to think about it, you can occasionally get a bad egg among your board of directors. Having a crime rider added to your D&O policy can protect you and other board members against any unethical or outright illegal activities another member may commit in the course of his or her tenure on the board.
Loss of Maintenance and Systems Breakdown
Buildings and associations survive on receiving income from rental and maintenance fees. If there is damage to a unit, the building loses this income. A Loss of Maintenance policy reimburses the building for the loss of fees or rent when something happens to a unit. "It's usually part of a multi-peril policy," explains Schwartz.
Systems breakdown policies cover more than just repairs—they protect the building from the costs associated with losses to the facility's equipment. It will pay for the cost to repair or replace the damaged equipment and the time and labor associated to replace or repair it.
"This insurance amounts to less than five percent of the entire policy," says Mackoul. "But it includes malfunction of the boiler, heating system, sprinklers, and so forth."
And while it may seem like New Yorkers have more pressing concerns than earthquakes and floods, the torrential rains of this past June are a harsh reminder of why flood insurance is important, even in the big city. It's also worth remembering that terrorists aren't the only things that knock down buildings, and that New York City sits on a geological fault line—so it might not be wise to turn up your nose at earthquake coverage, either.
Umbrella Policy
As its name suggests, your building's umbrella provides an extra level of protection. "It is an additional policy that sits on top of the general liability policy and makes up about 15 percent of your costs," says Mackoul, who recommends an umbrella policy to cover additional costs.
Not all the coverage options available today existed years ago. Often an event will occur that will spark the need for new insurance. Take lead paint, for example. Lead was used in many oil-based interior and exterior house paints until 1978 when it was banned from residential use. Unfortunately, many of the housing units built had lead-based paint that was a potential hazard to its occupants. Residents—especially children—exposed to lead-based paint dust and chips can become poisoned over time, and can develop a host of physical and psychological symptoms.
The environmental hazard represented by lead paint sparked many personal injury lawsuits and a needed lead abatement. The process of safely removing old lead paint costs buildings excessive amounts of money and can leave them open to huge liability risks. This risk lead to the creation of lead paint insurance coverage.
The terrorist attacks on New York City on September 11, 2001 had a similar effect—it raised awareness about terrorism insurance overnight. "Most of the companies will include it now, but before 9/11 no one even thought about it," says Mackoul.
"D&O insurance evolved over the years because of litigation," says Kozera. "Litigation drives more changes than anything else."
If insurance was purchased years ago, the experts advise that it may not be enough to cover the costs of rebuilding today.
"Property insurance may not include the additional cost necessary to rebuild a building according to today's building codes," said Mackoul. "That is an additional coverage that needs to be added—especially with older buildings. The benefits could be very significant."
Weighing the Cost
Living in New York City and the surrounding areas already means shouldering a higher cost of living—and insurance is no exception.
"New York is much more litigious," says Mackoul, "and the court settlements, costs of litigation, and the cost of construction and rebuilding in New York City are also much higher, resulting in higher insurance costs. In some areas the cost of insurance may be lower because a fire department is close by and we have enough time to minimize the damage, but if you go out into the suburbs, the cost is going to be higher because the fire department isn't as close by."
Although some management and associations might consider only basic insurance needs because the premium costs are so high, it's important to remember that an insurance specialist can walk you through an affordable plan that covers your building's most important needs.
"It's very important to think about the fact that the building might be underinsured for less than its replacement cost, so you may need additional insurance too," says Schwartz.
With a professional insurance advisor and a weather eye toward what the future might hold, your board/management team can come up with an insurance menu that best suits your building's needs and covers its risk areas without breaking the budget. n
Lisa Iannucci is a freelance writer living in Poughkeepsie, New York.