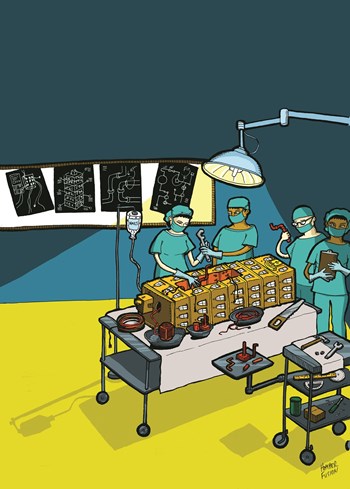 If you think about it, a multifamily building isn't that much different than the human body. Both house important complex operating systems and organ-like pieces of vital equipment, both take in fuel and produce waste, and both require regular check-ups and a good maintenance program to stay healthy and thriving.
And just like humans need to see doctors regularly for updates on the heart, lungs and eyes, buildings need to have examinations of its systems as well, with checkups required for HVAC chillers, plumbing, electricity, and the building envelope. "You've got to know the condition of your systems. You've got to call in your professionals, whether they be plumbers, electricians, or engineers, to get an idea of what is the condition of each system in the building," says Philip Kraus, president and CEO of Fred Smith Plumbing & Heating in Manhattan.
Charles A. Merritt, PE, president of Merritt Engineering Consultants, P.C. in Bayside, notes a multifamily building's primary operating systems include the building envelope, waterproofing, electrical, mechanical, plumbing, elevator systems, as well as heating, ventilation and air conditioning, or HVAC. "Each of the building systems can present a number of problems that will affect the level of comfort in the building," Merritt says.
Anatomy 101
First, a brief explanation of how these systems work to serve the building; the building envelope and waterproofing systems protect the building from external factors such as weather. Life safety provides adequate protection to the occupants in the event of a fire, power outage or other emergency. Life safety systems include, but are not limited to, fire pumps, sprinkler system, a fire alarm system, and stairwell pressurization fans.
Electrical systems for smaller buildings consist of a simple power distribution system, which is transmitted through an electric meter (owned by the utility company) to panels, wiring and devices that are owned and operated by the building owner. Circuit breakers control the flow of power to the various circuits in the building. Lighting and convenience lighting require a small load, while some appliances such as air conditioners require a heavier load.
Mechanical systems can be very simple for smaller buildings and more complex for high-rise buildings. Typically, smaller buildings in the five boroughs of New York City consist of a central boiler for heat distribution of steam or hot water through baseboard heaters. Air conditioning is typically supplied by individual window or through-wall A/C units. Larger, high-rise buildings consist of more complex systems, including combinations of a central boiler plant, rooftop air handling units, exhaust fans, fresh air intake, and absorption chillers and/or cooling towers.
Plumbing systems for smaller buildings typically consist of one water main entering the building with domestic water distributed throughout the building branch piping. Water flow is dependent on street pressure. For larger buildings, the use of water-circulating pumps, or rooftop water towers, are used to ensure that the water pressure is adequate for all sections of the building.
According to Harris Clark, a master plumber with Sanitary Plumbing & Heating Corp. in the Bronx, there are not necessarily regular maintenance steps that can be performed in regard to plumbing. But, he says, "the building staff should be aware of the important hot and cold control valves. "If a leak is occurring, it is extremely important that the building staff knows where those valves are, and that they know said valves are in proper working condition, to help shut off the water until a qualified plumber can make a repair."
Furthermore, if stoppages are a common problem, Clark suggests regular maintenance for the property's drain piping. "Most problems stem from the main house drain in the basement, where all of a building's waste congregates before leaving into the sewer," he says.
William J Pyznar, P.E., principal of The Falcon Group, an engineering and consulting firm, which does business in New York City, as well as throughout the East Coast, says each piece of equipment association with one of the main building systems has an anticipated useful service life.
"The useful service life is the duration, in years, in which the equipment is expected to properly operate," he says. "The useful service lifetime varies by equipment and is typically included in the equipment schedule provided in a reserve study. There are numerous ways in which equipment can degrade and fail over time. Equipment that is properly maintained since installation should be able to last for the duration of the anticipated useful service life."
Check Up Time
According to the experts, major building systems should be inspected every two to three years, and every building should have a maintenance plan that includes evaluations of all building systems to prevent large costly projects in the long run.
"Typically, the most efficient way to evaluate the performance of building systems is to conduct a building wide physical survey and engineering evaluation," Merritt says. "This evaluation includes the assessment of physical needs of site conditions and installations (sidewalks, parking areas and driveways), building envelope and appurtenances (roofing system and roof structures, existing waterproofing), building interior systems and finishes, and all primary building mechanical, electrical and plumbing systems, and elevators systems."
In the event of an immediate area of concern, it is highly recommended that building owners hire a registered engineering or design professional to inspect the integrity of all major building components and most important, ensure that the building is structurally sound.
Jamey Ehrman, senior engineer for RAND Engineering & Architecture in Manhattan, says the Northeast's unforgiving climate can be a major source of worry on a building's operational systems.
"Water infiltration is the most common ailment of a building. It is typically caused by exposure to the elements," he says.
Size Matters
There is one major difference between larger and smaller buildings when it comes to maintaining a safe building—that difference is if the building is required to file a Façade Inspection Safety Program (FISP), (formerly Local Law 11/98) report with the New York City Department of Buildings (DOB).
"All exterior facades over six stories must be inspected every five years by a qualified exterior wall inspector (QEWI), typically a registered P.E. or R.A," Merritt says. "Buildings with exterior walls greater than six stories in height (including the basement if at least half of its floor-to-ceiling height is above grade level) must be inspected and have reports filed with the DOB classifying them as safe, SWARMP (safe with a repair and maintenance program), or unsafe."
Mechanical systems for smaller buildings require less maintenance due to the simplicity and size of the systems. For instance, a low-rise building heated by a steam boiler and gravity return-type system through cast-iron radiators can provide years of service with minimal maintenance, such as steam trap replacement and regular cleaning of the tubes within the steel tube. For larger high-rise buildings, the systems tend to be more complex requiring additional components.
"As an example, a steam boiler system for a high-rise building would require condensate return pumps and tanks in addition to the boiler, traps, and radiators," Merritt says. "Simply put, the additional components become an additional source of maintenance, and subsequently potential problems down the road."
Pyznar adds that larger buildings typically have a larger maintenance budget that can more easily accommodate costly projects such as a cooling tower or boiler replacement. Smaller buildings need to carefully plan for future upgrades and replacements.
"It is highly recommended that all multifamily buildings, large and small, have their reserve funds routinely evaluated by a qualified reserve specialist," he says.
Everything Could Change
It's important for supers and property managers to know their buildings intimately. A dedicated staff with their eyeballs on the mechanical systems greatly prolongs those systems' life spans, and can also forecast with accuracy when a system is ready to be replaced. "Anytime there's a gauge or thermometer, anything that would tell you the operation conditions of these systems—for hot water, steam pressure, chilled water—anything that would indicate how the system is operating the superintendent should make a list of those items that he can check on a daily basis. If the boiler happens to be operating five pounds most days, and now it's at one pound, you should be aware of that," says Kraus. In 2015, that's what an expert super does.
But, if supers and property managers already think their jobs have drastically changed, it's likely to change even more in the next few years. Start-ups like Junction.com are introducing new tech-based products to the market that provide real-time data to building staff on everything from air quality to systems performance. Personnel can receive real-time alerts on any dubious activity like leaks or overheating. "Large commercial buildings, the newest skyscrapers have millions of dollars of equipment that does these things already. But, buildings that are sometimes 100 years old move really slowly compared to the technology," says Jake Schrader, CEO and co-founder of Junction, which is based in Manhattan. Junction is a dashboard that allows building administrators and managers to view important data, such as humidity, temperature, smoke detectors and CO, natural gas, air quality, water leaks, noise, light and motion and become alerted quickly to any problems that may signal an immediate danger or something in need of repair.
Now, smaller and older residential buildings may soon be the next stop for this technology forefront. The sensor- and data-driven technology that can survey mechanical systems at a constant rate will soon become cost-effective for retrofitting older buildings. "You can be more proactive in maintaining the building," says Schrader.
Taking Charge
As stated in the New York City Building Code, all buildings, all parts thereof, and all other structures shall be maintained in a safe condition. Furthermore, the owner shall be responsible at all times to maintain the building and its facilities, and all other structures regulated by the code.
"The building staff should familiarize themselves with early indicators of problematic conditions," Merritt says. "The staff, board, and managing agent can then coordinate a regular maintenance plan to ensure the proper inspections are performed, and any necessary repairs are specified and carried out by a qualified design professional."
A multifamily building's board or shareholders have a fiduciary responsibility to act in the best interest of the building, and typically make top-level decisions regarding building projects and maintenance practices.
"The management and facilities staff is responsible for carrying out projects and maintenance tasks on behalf of the board," Pyznar says. "Every facilities staff has a different range of expertise and resources. Some buildings or communities have a large team of full-time maintenance staff members, allowing for the majority of daily and annual maintenance work to be performed in-house. Smaller buildings might have a part-time super who is responsible for daily maintenance items only."
Since the members of a board are typically volunteers who are elected to their position, they need to delegate responsibilities so that the building can operate in a practical fashion. Having building maintenance personnel, building management, and even residents keeping an eye out for issues that need to be addressed is considered part of good practice.
"Quite often, analyzing these systems go beyond the expertise of building maintenance personnel and building management, which is why building owners often retain the services of heating system service contractors, plumbers, electricians, elevator service companies, etc.," Ehrman says. "For more complicated issues, it may be necessary to bring in an architect or engineering specialist for that specific issue. As far as specifics to a schedule, that is really dependent on the type of system within a building."
"It's the really simple things that people don't do a lot of as far as preventive maintenance goes," says Kraus. "It's common sense, like checking the oil on your car."
Law of the Land
In general, the governing building codes say that it is the responsibility of the building owner to keep a building safe. The codes address each aspect of a buildings operation and who is responsible for what, but if something were to go awry the potential violation becomes the building owner's responsibility.
"New York City has stringent codes and safety requirements, but this is a necessity with a population of this magnitude," Ehrman says. "It should also be noted that the breadth and depth of these codes is significant, and codes do tend to get updated annually. This is why building owners should collaborate with management, building maintenance personnel, contractors, and architectural/engineering professionals."
Keith Loria is a freelance writer and a frequent contributor to The Cooperator.