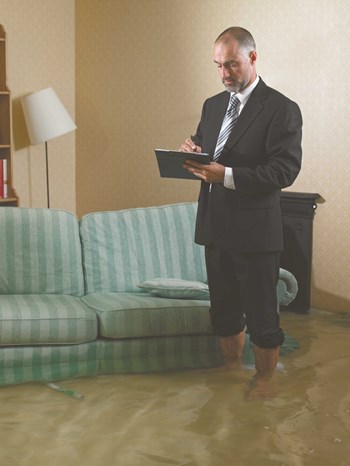 When disaster strikes, whether in the form of a storm, a fire, or some other crisis, the devastation can be overwhelming—something we've seen too many times this summer on the nightly news. From making sure loved ones are safe to helping neighbors in need, there is so much to think about and do when upheaval hits. Add insurance claims to the mix and the process of recovery becomes even more daunting. That is where public insurance adjusters step in, helping to decipher often complex policies and ensuring that claimants receive all that is due to them.
Who They Are
According to the National Association of Public Insurance Adjusters (NAPIA) President David Barrack, public insurance adjusters have been around "since the horse and buggy days"—well over a century, in other words. NAPIA itself has been in existence for more than 60 years, serving as a clearinghouse for professional education, certification and the promotion of a rigid code of professional conduct and ethics for insurance adjusters.
Public insurance adjusters come from a variety of backgrounds. "We have second- and third-generation members, and we have former CPAs and attorneys," Barrack says. "Many of them will have worked as adjusters for insurance companies in the past, so they will have that background as well."
Classes in this field are also offered for individuals who wish to receive formal training in the profession. Being able to understand complex concepts, however, is the key, no matter what the adjuster's prior avocation.
As the public insurance adjuster profession evolved, their roles grew in importance as the complexity of insurance policies grew. Adjusters work exclusively for individuals, not insurance companies. "We help the insured get everything due to them under their policy," says Barrack. They work exclusively on first party policies, from homeowners to commercial to automobile.
On behalf of the policy holder, the public insurance adjuster will help individuals prepare inventories and estimates and create proofs of loss. They also will handle the compilation and filing of claims. The adjuster will also serve as the go-between between the insured and the insurance company.
The adjuster's advocacy role is an important one. As David Romano of the Valley Stream-based firm Friedman & Levine explains, "Insurance companies have representatives who work for them and their job is to save the insurance company money." They do this by ensuring a strict adherence to every line of the policy. According to Romano, the adjuster helps put the individuals they represent on more equal footing with the insurance company, making sure that person has someone in their corner who understands the details of claims and policies just as well as the men and women who represent the insurers.
Choosing Your Advocate
In the aftermath of a flood or fire, the emotional and psychological stresses can be enormous. It's a time when people may be at their most vulnerable. Unfortunately, it's also the time when people have to begin sorting out their claims and when they may first consider contracting a public insurance adjuster.
Despite the stresses, claimants must make sure they remain as clear-headed as possible when choosing with whom they will work. "It can be such a crazy business, and people can get bombarded at the time of their loss," says one adjuster from Rego Park, "and too often, they'll basically just go for the lowest price. A public adjuster can come knocking on your door, but you don't know who they are."
An adjuster does not have to be hired right away however, say the pros. While many individuals will go in search of an adjuster as soon as they make their claims, others will refrain from hiring one unless problems arise with their insurance company. In some instances, the claimant may not even need an adjuster. "Make sure you even need their services," Barrack says. "Some policies may not require it. In most instances it will, but if it's a small claim or something simple, the individual may be able to handle things on their own."
The Right Qualifications
Companies and individual adjusters who have been in the business for years—or even decades—will naturally rise to the top of the list when it comes to searching out a qualified professional. Romano believes longevity is important for the very simple fact that the longer a company has been around, the more people they know. Having experience means the adjuster has "established relationships, and they have clout."
To find the most qualified adjuster, people should look at the longevity of the adjuster—how long have they been in the business, says the Rego Park adjuster. "They should ask questions, and they should seek advice from their insurance broker. The broker will know which adjusters are most knowledgeable. They're a good resource."
That is one reason why he suggests people buy their insurance coverage from a broker, rather than directly from an insurance agent. Whereas anyone can go to their broker to get advice on adjusters, insurance agents are not allowed to make those recommendations. While no one ever plans ahead by lining up an adjuster—hopefully, too few of us will need adjusters to think about hiring them in advance—they certainly can have a broker on speed dial, just in case those kinds of recommendations and advice are required.
That is not to say that the relationship between adjuster and insurance agent is an adversarial one. "Some agents will work with the public adjuster," says Romano. "Sometimes when there's an issue with the claim, you'll get the agent involved" to help provide a different perspective and insight.
As with so many other professions, organizations such as the Better Business Bureau and a state's consumer affairs office can be excellent resources in making sure a policy holder does not choose the wrong adjuster. "You want to make sure they have their bona fides," Romano says.
There are a number of other yardsticks by which adjusters can be measured. "Most states require public adjusters to be licensed," Barrack says. "There are just a handful of states left without regulations." Currently, he says that NAPIA "is pursuing this issue in all states, because we believe adjusters should be licensed." New York, for example, requires adjusters to take and pass their licensing test every two years, and they must pursue continuing education courses in the interim.
NAPIA itself also provides a database of adjusters who have experience and can point potential clients in the direction of adjusters who have earned their industry's two top certifications: the Certified Professional Public Adjuster (CPPA) and the Senior Professional Public Adjuster (SPPA). The holder of a CPPA certification must have at least five years' worth of experience to qualify. Similarly, the SPPA must have ten years of experience. Certifications mean "you know they have that level of experience." CPPAs and SPPAs also must maintain a certain number of continuing education credits.
Feeling Comfortable
Knowing what kinds of questions to ask and who can help when the chips are down means that claimants will be less pressured should an unexpected problem arise. Even if someone meets all expectations for licensing, certifications and experience, it's also important to find someone with whom the claimant can feel comfortable and confident. "You need someone you can work with," Barrack says.
"A good past history and good ethical practices will carry a person a long way in the insurance world," Romano says. In short, when it comes to choosing an adjuster, character counts.
In the event that a person feels they have hired the wrong adjuster and the working relationship is not going well, individuals should know they have 72 hours to legally terminate the contract. In short, people who have just undergone traumatic events need not feel rushed or stressed at perhaps the most important juncture in the claim process. "You can always contact more than one person," Barrack says. "Not everyone operates the same way or asks for the same fees."
In difficult times, people need all the help they can get. Family and friends will rally and provide the emotional and hands-on support we all need to overcome the loss of a home or any other disaster that strikes. When it comes to insurance, though, and the seemingly overwhelming task of replacing what was lost, it can be difficult to find the right person to navigate the maze of most claims. A public insurance adjuster can fill that role.
Working together with his or her client, the adjuster can help rebuild lives and ensure that families receive everything they are due. When things are at their worst, it can be an enormous relief to have an insurance adjuster on your side.
Liz Lent is a freelance writer and a frequent contributor to The Cooperator.