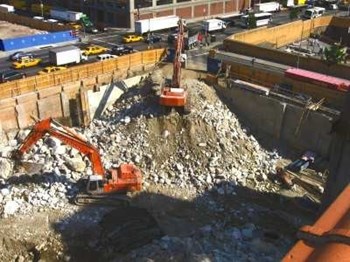 Say that you and your neighbors have been living a quiet, peaceful life on your tree-lined city block for years and years. Suddenly, you see construction workers digging in that vacant lot next to your condo or co-op building. So you go down to the city offices—or these days, go online—and find out that someone has bought the lot and filed plans to construct a new, taller building.
Even if you're not upset about having your vistas blocked by new development, what about the work itself? What can you do if there's excessive noise or dust—or worse, problems like a broken water pipe or phone line?
The kind of notification that builders need to give neighbors can vary with location. According to attorney Marc Luxemburg of the law firm of Snow Becker Krauss in Manhattan, if the builder wants to begin construction that is not "as of right"—for example, if he needs a variance to build higher than is currently permitted under the zoning for that area—he will have to go to the community board, and the neighbors will have to be given an opportunity to voice their concerns.
A similar caveat applies if the construction occurs in a landmarked district—the builder has to get approval from the Landmarks Preservation Commission to make sure the new structure will fit in with the area's historic buildings.
In addition, says Brooklyn attorney Lawrence F. DiGiovanna, if an existing older building is on the site and is being demolished, an asbestos report must be made before the new building plans are approved.