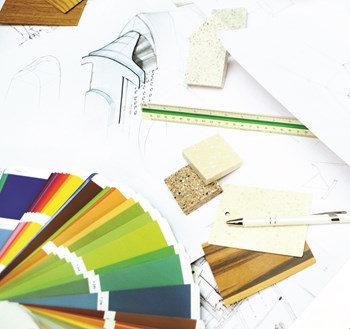 As the holiday season gathers steam, there may be quite a few of us procrastinating about decorating our living and workspaces. Decorating for the holidays - that time-honored tradition across so many cultures and faiths - can seem like a chore, what with all the things we have to think about this time of year. And while we can't really make the season less hectic, there are a few things to consider that might give you some inspiration and maybe ease the pace a bit.
Artificial Intelligence
Although the smell of fresh-cut pine gets us in mood for the holidays, nothing sours the spirit of the season more that watching a once-thriving tree wither and drop thousands of prickly needles all over the floor. I say "˜Bah Humbug' to live trees indoors, and so does the local fire marshal, who considers live trees a major fire hazard. In addition to being highly combustible, live evergreens are often asymmetrical, ooze sticky sap, require constant watering, and can be painful to touch when being decorated or undecorated.
A perfectly balanced, natural looking artificial tree can be festooned with fragrant cinnamon sticks, pheasant feathers, lotus pods, pine cones, berry clusters, holographic ribbon, and anything else your heart desires.
Faux-trees have come a long way since the mangy-looking models so many of us remember from decades past. When choosing an artificial tree today, you have several options. Hinged steel construction trees are the most expensive, but are the sturdiest and last the longest (some are guaranteed for 10 years). Depending on your storage situation, you can even leave the decorations on year after year and just wrap the whole display up in plastic to keep it clean and dust-free.
Individually branched trees (like the ones you remember from your childhood) are the least expensive, but they are time-consuming to erect and, heaven forbid, you should lose a piece. Most of these trees have color-coded pieces that must be laid out on the floor prior to setting the tree up and attached piece by piece, branch by branch, into the appropriate slot on the "trunk." At the end of the season, you undecorate the tree, take it apart, and store it until next season. Of course, some enjoy this annual ritual but others are more eager to sit back with a mug of cider and enjoy the twinkling glow without all the preamble. For these people, pre-decorated artificial trees are a holiday gift indeed.
Have a Green Party
Of course, live trees are fine outdoors in cooler temperatures and - if they're not growing there already - are usually staked into the ground in three separate places to secure them and then decorated with plenty of white pin lights. (When lighting your trees, calculate 4,000 lights for an 18-foot tall tree and approximately 675 bulbs for an eight-foot-tall tree.) And be sure to check the lighting instructions to ensure they're not overloaded and blow out a fuse. Strands with 50 lights per set are generally easier to work with as they don't get as tangled. And why stop at just lighting a tree outdoors? Adding lights to shrubs, awnings, and pillars this time of year adds warmth and cheer to a building's entrance.
Wreaths of various sizes are also common during the holidays and can be decorated in hundreds of ways; single-sided and placed against walls, or double-sided, for hanging in windows. Sprays and garlands are also popular and can be hung vertically or horizontally, looped through banisters, or wrapped around pillars for a touch of greenery. Other classic Christmas-style decorations include nutcrackers, toy soldiers, reindeer, drum sets, and snowflakes, all of which come in a wide variety of sizes and styles, from ornate Victorian reproductions to country-style rustic. (One classic decoration that you won't be seeing much of in public spaces this holiday season is gift-wrapped boxes - security at most buildings are not allowing them anymore.)
Celebrating Diversity
Many of New York's cultures celebrate at this time of year. Menorahs for Hanukkah appear in lobbies and homes all over town beginning December 19th. Kinaras with seven candles of red, green and black representing the African-American holiday Kwanzaa add to the festivities starting on December 26th. Observers of this holiday often lay a placemat of African design under the Kinara along with a wooden cup, spilling over with berries.
If you're decorating a lobby or common area, you might consider the many options for a festive, more non-denominational approach to holiday trappings. Light curtains are a gorgeous, simple way to pay homage to the season itself, incorporating long single strands of pin lights suspended from the ceiling in graduated rows or patterns. An excellent - and dramatic - example of light curtains is the Winter Garden at the World Financial Center in Lower Manhattan. My design company won a national award in 1999 for this design scheme and we will be lighting the landmark again this year.
Creative lighting is just one approach to a non-denominational holiday décor. Many buildings choose a more classic, minimalistic approach and simply use a display of live greens, berries, pinecones, tinsel, and ribbon to herald the season. These displays last far longer than traditional floral displays, which must be changed weekly. White birch branches in a decorative planter with or without lights look wintry and magical, and can be dressed up with a cluster of pinecones at their base.
The holidays are a time to unleash your creativity and try new things. Depending on the look and makeup of your building, anything is possible, from glittering Christmas trees to glowing Menorahs and Kinaras, to the simple beauty of hundreds of twinkling lights. Regardless of how you and yours celebrate the season, be well, and enjoy!
Madelyn Simon, of Madelyn Simon & Associates, is an interior designer and landscaper based in Manhattan.