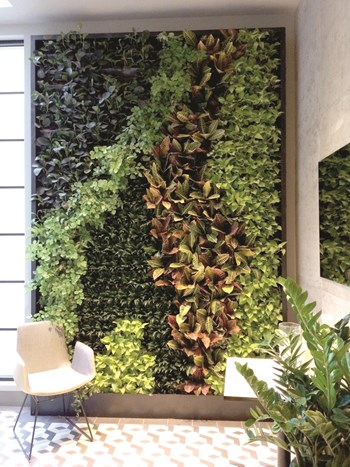 With rising awareness among everyday people about climate change, global warming, and the ever-more-pressing need to be smarter and more conservation-minded when it comes to energy and the environment has come some exciting innovations in lobby and common area design. Indoor water features like waterfalls and koi ponds are no longer the rarities they once were, and 'living amenities'— including 'green walls' featuring live plants and flowers—are becoming more and more popular.
"Indoor green walls are becoming increasingly popular for urban residences and shared spaces like lobbies," says Gwen Schantz, chief operating officer and head of design at the Brooklyn Grange, an urban farming and design/build firm that specializes in designing and installing green roofs, green walls and urban vegetable gardens. "They help to bring greenery—and even vegetable and herb gardens—into small interior spaces without taking up too much room."
Not a New Idea
The idea of a green wall is hardly novel. The 'hanging garden' constructed at great expense in the ancient, arid city of Babylon by King Nebuchadnezzar some 600 years B.C. was one of the Seven Wonders of the Ancient World—and that was two and a half millennia ago. As it turns out, the old king was on to something.
Green walls are just what the name implies: plants growing fully or partially on a wall. More sophisticated green walls, of the kind erected by the companies quoted in this article (as well as, presumably, Nebuchadnezzar), also include a soil layer, and some sort of internal irrigation system.
There are four basic types of green walls. Loose media systems feature soil in a bag, and the bag on some sort of shelf hidden behind the front-facing surface of the wall. These are not as effective for New York exteriors because they are susceptible to damage from high winds. Mat media comprise mats of coiled fiber or felt. Egg-crate patterned polyurethane is used for sheet media walls. And the most sophisticated are the structural media, which generally combine the best aspects of the other three into the design.
"Interior walls tend to be strong enough for these kinds of installations, but the installer has to be sure to mount the green wall directly to structural studs (rather than just hanging it from the drywall or other cladding)," Schantz says. "It's always good to have a water line and drain in the location so that an automatic irrigation system can be included, but in cases where that's not possible, a hand-watered unit is possible and good for the more actively engaged home gardener. Waterproofing on the back of the system is also important—you don't want the wall to get wet, damaged and/or moldy so we're always careful to fully waterproof the underlying wall and the back of the green wall system itself."
Why Green Walls?
McRae Anderson, ASLA, CLP is the president of Greenwalls Vertical Planting Systems, the principal designer of McCaren Designs, and a past president of Green Plants for Green Buildings, explains that these modern hanging gardens have numerous advantages. "These living walls make a dramatic visual statement. They are attractive, distinctive, and make any visitor take notice of your building. Whether a living wall is inside or outside a building, it adds remarkable visual value to the area." Not only is it aesthetically pleasing, but it also sends a message to residents and neighbors. "It makes a statement that you care about the environment."
Anthony Caggiano, CNLP, of Plant Connection, Inc., notes that green walls cut down on smog and other pollutants, as well as toxins in the air, and can reduce the "heat island effect." This sort of wall acts as a layer of insulation, keeping a building cooler in the summer and warmer in the winter, as it "insulates and cools the building envelope, as well as protecting it from the elements."
Interior green walls can be especially beneficial, helping with oxygenation, humidification, and reduced volatile organic compounds (VOC's for short), which are suspected of causing or worsening all manner of physical ailments in people of all ages. Dave MacKenzie, a horticulturalist, biologist, and inventor of LiveWall, a green wall system, has a simple explanation: "People surrounded by plants are happier, healthier, more contented, creative, productive and relaxed."
Another benefit of particular interest to urban residents: sound reduction. "Plants, soil, trapped air, and moisture in the soil are great acoustic insulators," MacKenzie explains. "Studies have shown that green walls can reduce ambient noise by up to 40 decibels, an important benefit to those who work or live close to noisy streets, highways and airports. Because the decibel scale is logarithmic, every 10-decibel reduction equals a tenfold decrease in intensity.
If you live on a busy street, ambient noise levels may average 75 decibels. The design for a quiet office may target 60 decibels, a quiet urban neighborhood may average 40 decibels at night and a quiet library may seek to operate below 40 decibels."
"The visual benefits are probably the most popular reason why people want green walls these days, and it's hard to deny that they are incredibly beautiful and can really bring an indoor space to life," Schantz says. "The other main benefit of these installations is the improved air quality—a most indoor plants will help to filter the air, and make oxygen, which is good for our health, particularly in urban environments. And of course the upside to having an edible green wall is that you can harvest your own vegetables or herbs right there in your home—it doesn't get much fresher than that!"
The Value of Green
Green walls can also help with a different kind of green, increasing real estate value. And do-it-yourself units are an option.
"There are small DIY units that people can find and assemble themselves online, and I think it's a great option for people with a limited budget," says Schantz. "You can usually find low-maintenance indoor tropical plants at your local hardware store or florist. Large and custom green walls, like the ones we install for our clients, tend to be more expensive, and the average cost is in the area of $100 per square foot of wall space (including plants, installation, and irrigation)."
Some Things to Consider
Of course, green walls are not foolproof. There are challenges, too, in maintaining them—and sometimes those challenges can be prohibitively expensive. For one thing, plants are affected by their environment, and New York City is not the most fertile place to grow flora in this way. "There are a lot of successful walls in Europe because they don't have the kind of wind we have in New York," says Marni Majorelle, green roof specialist and the founder of Alive Structures in Brooklyn, "and our winters are brutal."
Another challenge is in irrigation. Plants need the proper amount of water and soil to grow. According to Anderson, "The single biggest factor to a living wall success is having properly designed systems that support the long term health of the vertical garden."
"If you don't have automatic irrigation, the labor involved with watering the plants could be onerous to some people—although many of us (myself included) get a certain joy out of watering and caring for our plants," Schantz says. "With any indoor plants, you have to properly care for them, and over-watering can kill plants and attract insects."
While this can be achieved, finding the right balance can be costly. Majorelle says that when making a new green wall, "You have to be prepared to replace a lot of plants." In some cases, "It doesn't always work." She recommends doing a lot of research before investing money is the project. "Install with caution," she advises.
It's not an accident, perhaps, that the Hanging Gardens of Babylon is the only one of the Seven Wonders of the Ancient World, never to have been found.
Greg Olear is a freelance writer and frequent contributor to The Cooperator.