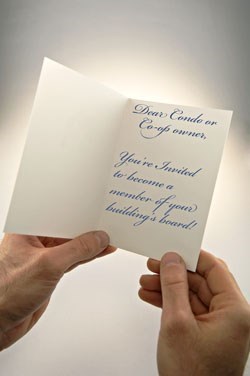 Who wouldn't want to be on the board of directors of their co-op or condo, watching over their most precious possession and probably their most significant investment—their home?
Most people, actually. It's a rare co-op or condominium corporation that has candidates vying for the job. According to attorney David Brauner of the law firm of Windels Marx Lane & Mittendorf and president of his co-op board, come election time it's more about "persuading people to serve, than reducing the number of people anxious to serve."
Indeed, "there are cases, especially in smaller buildings, where people just drop off and the building doesn't have a board," reports Stephen Elbaz, a property manager and the president of Brooklyn-based Esquire Management Corp., which runs co-ops and condominiums New York and New Jersey. "I have a seven-unit building where there hasn't been a board in seven years."
Why is That?
According to real estate attorney Helene W. Hartig, who also serves as president of her co-op board, "Many shareholders are just too tired or stressed at the end of the day to sit at a meeting and discuss flowers in the lobby or issues with the staff. They would rather go to the gym or chill out by watching The Voice." Plus, time pressure has gotten more intense in recent years, she adds, "with the impact of the recession, which means longer hours at work."
Another reason people don't volunteer, says Elbaz, "is they don't like being cornered in the hallway, the elevator and the laundry room and have to listen to people's complaints." Residents often approach a board member, he says, if, say, their sink is leaking, even though they know the normal protocol is to contact management. ("Though it probably is effective," he admits.)