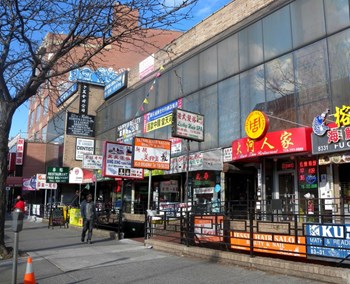 One of the most beloved New York characters in sitcom TV, Carroll O'Connor, the actor that played the cantankerous Archie Bunker, grew up in this section of Queens that came to signify a quintessential middle income, working class neighborhood. By way of contrast, Elmhurst, in western Queens, a mix of older multifamily homes and co-op and condo apartment buildings, was also the childhood home of Supreme Court Justice Antonin Scalia, actress Patty Duke, standup comedian Don Rickles and William Casey, the former director of the CIA.
Most New Yorkers are probably familiar with Elmhurst thanks to the local traffic reports. "Traffic is good on Queens Boulevard through the Elmhurst gas tanks" was a popular refrain of the radio reporters of the day. While its demographics have changed over the years, Elmhurst is still considered one of the most ethnically-diverse neighborhoods in New York City, and represents a virtual Instagram snapshot of the entire borough of Queens.
The Early Years
The village was established in 1652 by the Dutch as Middenburgh (Middleburgh) and was a suburb of New Amsterdam (Nieuw Amsterdam) in New Netherland (Nieuw Nederland). The original European settlers of Elmhurst were from the nearby colony of Maspat (now called Maspeth), following threats and attacks by local native Americans.
When the British took over New Netherland in 1664, they renamed Middleburgh as New Town (Nieuwe Stad) to maintain its Dutch heritage. This was eventually simplified to Newtown. Among the English settlers in the present Elmhurst section of Newtown was Gershom Moore, in whose orchard a chance seedling produced the Newtown Pippin, Colonial America's most famous apple.
The village of Newtown was established as the town seat for the township in 1683. The village was eventually renamed Elmhurst in 1896 to identify the area with a new housing development and to avoid association with the larger township and the polluted Newtown Creek.
Once Queens joined the City of Greater New York in 1898, Elmhurst developed into a more fashionable residential area when Cord Meyer Jr., a local developer, began constructing housing there, just north of the Port Washington Branch railroad station. The Cord Meyer Development Company expanded their holdings between 1905 and 1930, including Elmhurst Square, Elmhurst South, Elmhurst Heights, and New Elmhurst. Elmhurst also became home to the Grand Street LIRR station just west of the current Grand Avenue–Newtown (IND Queens Boulevard Line) station.
Prior to World War II, Elmhurst was an almost exclusively Jewish and Italian neighborhood. Following the war, Elmhurst's population and ethnicity soared. By the 1980s, people from 112 nations had made their home in the borough. And this immigrant population, global culture and strong ethnic ties have made Elmhurst a popular place to lay down roots.
A Model of Diversity
Today Elmhurst's diversity is everywhere you look. Walking down Queens Boulevard, you'll find a hotbed of retail beginning with the Queens Center Mall and Queens Place, plus every kind of cuisine New York City has to offer. The Georgia Peach Diner with its massive menu is a major hangout for most locals. There are also Indian, Korean, Chinese, Eastern European, Mexican establishments to cater to every palate, and so much more.
Because of its proximity to Midtown Manhattan, and the fact that it's served by so many mass-transit options, it's easy to get to Elmhurst. Throughout the neighborhood you'll find all types of residential housing from single family homes to amenity-packed condo complexes. And if you remember the Eddie Murphy flick Coming to America, the fictitious McDowell's restaurant portrayed in the movie as a clone of McDonald's was actually filmed in a Wendy's restaurant in Elmhurst that has since closed down. The space is now occupied by new condominiums.
East Elmhurst, just to the south of LaGuardia Airport, also was an enclave for black entertainers and sports figures. Notables such as Ella Fitzgerald, Louie Armstrong, Dizzy Gillespie, Sidney Poitier and Harry Belafonte lived in the neighborhood. And Hall of Fame baseball star Willie Mays and his wife also had a house there. During their time with the New York Mets, outfielder Tommie Agee and third baseman Ed Charles lived there as well.
Resales and Rentals
According to Trulia.com, affordable buys can still be found in Elmhurst. The median sales price for homes in Elmhurst, Queens for November 2013 to February 2014 was $400,000 based on 15 sales. Compared to the same period one year ago, the median sales price increased 12.9%, or $45,800, and the number of sales decreased 59.5%. Average price per square foot for Elmhurst was $425, a decrease of 3.6% compared to the same period last year. There are currently 156 resale and new homes in Queens on Trulia, including 2 open houses, as well as 9 homes in the pre-foreclosure, auction, or bank-owned stages of the foreclosure process. The average listing price for homes for sale in Elmhurst was $480,216 for the week ending February 26th, which represents an increase of 8.6%, or $37,915, compared to the prior week. Rentals can range anywhere from $900 to $1,000 a month to $1,500 and up.
Needless to say, Elmhurst has been a well-kept and guarded secret for many years. People today flock to Astoria and Long Island City, but Elmhurst, right next door, is still relatively unknown. So, if you're looking for a great neighborhood, with plenty of transit and housing options, check out Elmhurst.
Liam P. Cusack is associate editor of The Cooperator and a Queens resident.