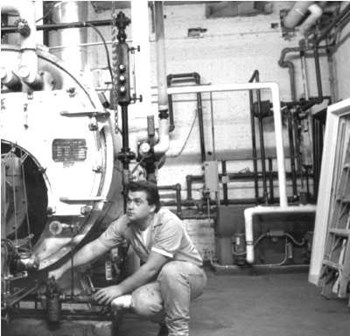 One of the major initiatives which will soon benefit New York City's co-op and condominium landscape is the ongoing effort to certify the resident managers and superintendents that live and work in city housing.
It's time to dust off Administrative Code 27-2055, effective since 1968. This section of the housing code requires that superintendents become certified, but up until recently enforcement of the regulation has become a priority for the New York City Department of Housing Preservation and Development (HPD).
HPD, among its other duties, is the agency that monitors the city's housing stock and facilitates the repair, rehabilitation and construction of thousands of units of new housing.
Attaining a Level of Competency
The original code states that the owner who has a janitor in its employ "shall certify in writing to HPD that such owner's janitor is competent to perform janitorial services required to be performed by this article in a competent fashion and is capable of operating the incinerator and the furnace, boiler and other machinery that provides central heat and hot water." The code provides that a level of competency will be obtained if the super or janitor has satisfactorily completed a course of not less than 15 hours in the basic skills required for the performance of janitorial services as approved by HPD. The required coursework may be offered by a school, association, agency, labor union or other public agency, according to the specific language in the code.
According to Margie Russell, the executive director of the New York Association of Realty Managers (NYARM), an organization that offers coursework to obtain certification, there are two ways for a building to be in compliance. First, the building owner can sign an affidavit certifying that their superintendent is qualified and file it with HPD. Industry attorneys, however, have advised owners to seek counsel before submitting any such affidavit.
Hitting the Books
Or secondly, she adds, the superintendent can meet educational requirements as prescribed by HPD. These requirements consist of successful completion of various seminars and/or course work in the following disciplines:
• Heating & Air Pollution Control
• Integrated Pest Management
• Local Law 1 (pertaining to Lead Poisoning) along with the Safe Work Practices pertaining to it.
Additionally, the resident manager or super can receive credit outside of the classroom, as well. Work experience in some cases will be acceptable for the plumbing, carpentry, electricity, and heating aspects of the certification as long as the level of proficiency is approved by HPD, Russell explains.
Now's the Time
"It's definitely the right time [to look harder at the certification requirements,] says Peter Roach, president of the New York Superintendents Technical Association's Manhattan chapter. "All the different clubs; we're trying to get superintendents recognized in the state of New York to become certified. We encourage them to take classes and seminars, and to continue to get all the certifications."
And, Mike MacGowan, president of the Manhattan Resident Building Managers Club, agrees. "Many of our members are in the middle of getting certified by taking the seminar programs required by HPD through the New York Association of Realty Managers," he says. MacGowan notes that the certification effort is an attempt to educate those directly responsible for the operation of apartment buildings about complying with the myriad of laws affecting the safety and health of the occupants that live in the city's multi-family housing.
MacGowan says that the city recently began retraining its enforcement agents, totaling in excess of 400, to look closely and thoroughly if the multifamily housing stock is in compliance. HPD will have 400 agents out in force verifying supers' credentials—so if your building superintendent is not certified, your building could be subject to violations and fines. While such penalties may represent another bureaucratic headache for building boards and managers, the price of having a well-educated workforce will pay dividends in the long run.
"We strongly encourage our members to pursue the extracurricular education available out there whether it sponsored by the union Local 32BJ, HPD or NYARM," according to MacGowan. "We have to stay on top of our game," he says. "No matter how many times you go back, as much education you have on building maintenance there's new information coming out every year, and there's always something new in the local laws," he adds, citing the lead paint law as an example.
The lead paint guidelines—Local Law 1 of 2004—requires building owners to remediate lead hazards, to notify tenants and residents and investigate the existence of possible hazards, especially if there are any children under 7 living in an apartment, correct any lead hazards that are found using safe work practices, make apartments lead-safe upon turnover, and do all renovations and repairs safely.
Al Suarez, president of the Scandinavian-American Building Managers Guild, also sees a strong need for the city's building management associations to work together on professional certification. "We need to get as much education in us as we can," he says. "This industry is changing on a daily basis, and we need to keep up with these changing times." The guild, which was founded in 1934, and is one of the oldest clubs still in existence, has 130 members and is still growing, according to Suarez.
And Peter Grech, the outgoing president of the STA, encourages that each organization collaborate with their colleagues on education and compliance with certification requirements. "First, we want to bring better education to superintendents and resident managers," says Grech. "Second, we want to work well with the New York City Department of Housing Preservation & Development (HPD) on certifications."
Knowledge is Key
Currently, courses and seminars to obtain certification are offered through HPD, NYARM and SEIU Local 32BJ, the building service workers union. Information can be found in the education section of each of their websites: www.nyc.gov/hpd, www.nyarm.org and www.seiu32bj.org.
Debra A. Estock is the managing editor of The Cooperator.