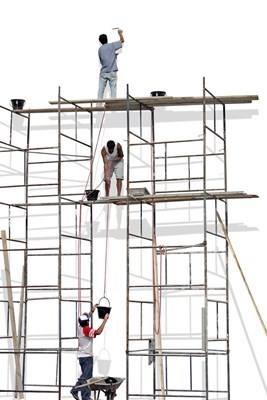 After 60-year-old architect Erica Tishman was tragically killed the week before Christmas by loose material falling from a building façade near Times Square, the New York Department of Buildings (DOB) is expediting changes to its façade inspection rules, reports CBS News.
In order to address The DOB plans to strengthen the routine Façade Inspection Safety Program (FISP) as well as the Local Law 11 (LL11) inspection process by replacing the practice of visual examinations from the ground using zoom lenses in favor of having inspectors use scaffolds to scale and physically inspect façades on all NYC buildings over six stories. The DOB has also doubled its façade inspection team from 12 to 24 inspectors, and the city council has also proposed a bill to allow drones to inspect buildings from the air.
Many industry groups applaud the notion of increased scrutiny and more inspectors to stay on top of the city's constantly-under-construction skyline. "As architects, we know too well the dangers that arise from a lack of effective government oversight and proper maintenance by building owners," said a statement released by the New York chapter of the American Institute of Architects in the days after the accident. "AIA NY will continue to advocate for safer building conditions throughout our city. Our thoughts are with Erica Tishman's family."
But others argue that the cost of such hands-on, up-close inspections—particularly the scaffolding implementation and rental they entail—might be too much to bear for many of New York's already cash-strapped buildings, CBS News reports. It is also questionable whether the enhanced inspections will actually keep the city safer, since the DOB had already issued violations to the owners of the building whose façade killed Ms. Tishman. The owners paid the fines, but did not address the violations. CBS News adds that failure to correct violations could incur steeper fines under the proposed rule changes.