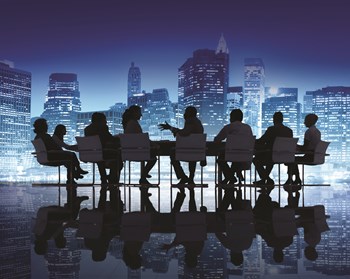 They say that two heads are better than one—but what about eight? It seems that when a group of people in the same line of work get together to discuss what they do and how they do it, they often come away with new information, fresh perspectives, and possible solutions to the challenges they face on a daily basis.
Such was the case as The Cooperator and the Federation of New York Housing Cooperatives and Condominiums (FNYHC) hosted another in a series of board presidents' breakfast roundtables this past February. Six board presidents, plus two representatives of the Federation and the president of the New York Superintendents Technical Association (STA) gathered to discuss a range of topics including building bylaws, term limits for board members, and orienting new officers to the board.
That was really just the tip of the iceberg, however—the spirited conversation ranged from security measures to maintenance assessments to resolving conflict between neighbors and between board members themselves.
Who Was There
Guests at this installment included Al Pennisi, an attorney with the Manhattan-based firm of Pennisi Daniels & Norelli, LLP and president of the FNYHC, Greg Carlson, the owner of Queens-based Carlson Realty and executive director of the FNYHC, and Peter Grech, president of the STA and himself a building superintendent with nearly three decades of experience. He is presently the super at Turtle Bay Towers, a 26-story condop with 337 apartments, located near the United Nations between First and Second avenues.
The board presidents included Marc Haken, president of Hilltop Village Co-op IV in Queens, Jeffrey Schwartz, president of One Overlook Avenue in Great Neck, Warren Schreiber, president of Bay Terrace I in Bayside, Queens, Donna Klein, president of 314 West 56th Street in Manhattan, Susanna Davidson, president of 2900 Ocean Avenue in Brooklyn, and Ed Yaker, president of Amalgamated Houses in the Bronx.
Making More Opportunities
One of the reasons The Cooperator's roundtable discussions are so popular is that such venues for board members to meet and talk shop are surprisingly few and far between—even in a city where such a significant proportion of homeowners are living in co-op or condo buildings. Trade organizations like the New York Association of Realty Managers (NYARM) exist to help managing agents, and advocacy groups like the Federation and Council of New York Cooperatives and Condominiums (CNYC) often act as information clearinghouses for boards and other building decision-makers, but in terms of relaxed, informal discussion and idea exchange, networking options for boards are somewhat limited.
Klein agrees. "Certainly there aren't as many networking opportunities for board members as there are for professional real estate managers," she says, "but there is the Federation and the CNYC. Both organizations hold annual educational conferences. The Federation's is on April 29 at the LaGuardia Crowne Plaza and the CNYC holds theirs in November at Hunter College."
Pennisi also periodically moderates another Board Presidents' Roundtable in conjunction with the National Association of Housing Cooperatives (NAHC) and facilitates networking events at the Federation's annual seminar.
According to Schwartz and Schreiber, some communities are taking a proactive approach and banding together to make their own opportunities. One of the most common problems faced by boards of directors is apathy on the part of shareholders or unit owners and getting people to run for positions on the board. And there is often a big learning curve to serving—that is why professional development is so important.
"There are not many opportunities [for board members to network,]" says Schwartz, "but out here in Great Neck a co-op/condo council was formed which has meetings every two months where there's some exchange of ideas. Board members from the various buildings in the area attend, and a guest speaker talks on some topic of interest. The concept is good—as an attorney and board president for over 20 years, I usually know more than most other board presidents, but it is a start."
Schreiber adds, "Just this year I became president of the Bay Terrace Community Alliance (BTCA). The BTCA is an organization representing over 4,000 families residing in 19 individual co-ops and condominiums in Queens. Many of the directors are also board presidents. The organization allows us to advocate and speak as one voice. We hold town hall meetings and annually sponsor one of most well-attended Meet the Candidates Nights in all of Queens. I would very much like to create a location-focused group such as the BTCA on a larger scale."
According to Yaker, finding those opportunities—or making them from scratch—is an important part of a board president's job. "We often face the same, or similar issues," he says. "Networking provides feedback on what has already been tried, what works, what does not. It offers an opportunity for the germinating of new ideas. Sometimes there are political issues in which common lobbying efforts can benefit the broader co-op community."
"It's imperative that every co-op and condominium send at least one or two board members to each of these educational forums to get up to speed on what's happening in the industry," Klein stresses. "They need to know what legislative events impact their buildings, and learn about financial, environmental and quality of life issues. Too many board members do not realize their positions require constant education and updates."
Topics of the Day
The discussion agenda for this roundtable session was submitted to the attendees ahead of time to give everyone a chance to prepare their comments and come up with questions of their own to ask their fellow board presidents. Klein herself was recently elected president of her own Upper West Side board, and so came to the event hoping to get some insight into the challenges she's facing in her new position.
"I realized that even though my building is small in comparison—only 33 units—we all have the same problems: escalating fuel, insurance and real estate tax costs, quality of life issues, arrears, and so forth," says Klein. "I also learned there is so much involved in heading up a corporation—especially one that is unique in that the shareholders rely on the board of directors for the safety and security of their home. As board members, we can never afford to be complacent and must continue to investigate new and alternative ways for the betterment of our building."
She added that the biggest problem she faces is balancing the co-op's budget based on a large shortfall she inherited from the previous board of directors. "Implementing a 15 percent maintenance increase and a $14,000 assessment really hurt," laments Klein. "And the board really agonized over the financials and we realized it was the only way. And we're still not even sure if that's going to help us meet our obligations this year."
The morning's forum began with a major sticking point for boards—bylaws and house rules and how to amend them. The attendees discussed how they assessed rules and regulations in their own buildings for fairness and timeliness, and then moved on to talk about how they had worked to change old rules, adopt new ones, and work with their buildings' shareholders to draft fair and reasonable community guidelines.
Next, the group discussed how each of their buildings had handled the periodic need to raise funds to fuel the treasury. Some in the group discussed their own strategies for introducing maintenance increases and special assessments, and the issue of shareholder/unit owner response to those increases was explored.
One of the most difficult things they face is establishing effective communication between the board and its shareholders about the need to maintain the building's efficient operation, and in turn, preserve property values.
"You have to have enough people, usually it's your board and others, who care about what's going on," adds Yaker. "And a lot of my people who don't care want the place better, but they're not going to talk up. It's the guy who's worried about his pocketbook who is the most vocal. The key is education. Pump out information: here's what we were paying for oil last year, here's what we're paying for oil this year. How are we going to pay for it? We pump paper at them but our biggest problem is they stop reading it," he says.
From there, the conversation moved on to the subject of new board members—how they are chosen or elected, and what kind of support and orientation policies various buildings have to ease those new board members into their position. The general consensus of the attendees centered around the difficulty in attracting new board members and retaining old ones. Many of the board presidents, and board members, for that matter, have been entrenched in their position for 10 years or more—most often out of necessity rather than by choice.
Security and the Right to Privacy
Another important issue, says Pennisi, is security, and privacy rights of those living within a building. Because there is no common law right of privacy under New York law, security issues are usually upheld by the courts, he says. Two buildings, University Towers and Stuyvesant Town-Peter Cooper Village, filed individual lawsuits alleging breach of privacy when building management replaced a metal key system with an electronic cardkey & photo ID system. Both cases were dismissed in court, he says. "It's just a caveat to be careful, but the law's not going to be enforced against cooperatives and condominiums. So you have to be careful."
Another tricky situation, says Carlson, is safeguarding residents' personal information and maintaining control over things such as board admissions packages. Personal financial information, he says, might fall into the wrong hands if improperly handled. The board presidents replied that they make sure that such information is kept confidential and shredded when no longer needed to make a decision.
Another issue of concern is subletting and a building's admissions policies. The same protections a board has in vetting a prospective shareholder doesn't exist for a sublettor. "You know sometimes you don't always know who's taking in a roommate," says Schreiber.
The Benefits of Networking
The attendees at this roundtable session found that coming together to get others' input on the common challenges and problems that board members and their support teams face gave them some fresh perspective—not to mention encouragement in knowing they're not alone in their day-to-day struggles to govern.
"The key benefit of talking to other board members and presidents is to learn how others handled things you now face," says Schwartz. "With this knowledge, you're less dependent on managing agents, while at the same time being in a better position to determine if your managing agent is performing a given task or project properly or in the most efficient, inexpensive way."
Interesting and Educational
While this year's roundtable was scheduled for three hours, the participants found they could have talked much longer. The conversation moved briskly, and much information was shared, but only about half of the proposed subject areas was covered by the time the noon hour rolled around. It would seem that when you get more than half-a-dozen board members and experts in a room and get them talking about what goes on in their building communities—as well as what goes wrong—time really flies.
"I gained a greater understanding of the range of operating styles and circumstances of co-ops smaller than my own working with managing agents," says Yaker. "My own co-op is the direct employer of all of our staff."
"I took away the fact that we all face the same types of issues and could certainly learn from each others' experiences," adds Schwartz, "and in the process probably save time and money and perhaps keep relations with shareholders smoother when we face those issues."
"I came out of that discussion with a better idea of where I need to concentrate my efforts in my own building," according to Grech. "By hearing about others' challenges and issues, I noticed that in a few cases I was guilty of what was being said. That's since been corrected, and I'm better at my job because of it. The session also reinforced for me that board members are human too. The board members in that room had genuine, caring motives—not personal or ego-driven agendas."
Talk of the Town
Given the enthusiastic response and participation in this latest roundtable session, The Cooperator and Federation are already planning the next roundtable, and this session's participants had their own input as to what they'd like the next group of panelists to address. A manager's roundtable session is also in the offing.
"I would like to see a discussion of building an integrated political network so that we can lobby with a greater voice," says Yaker.
"Issues out in Great Neck are different than the city," concludes Schwartz, "but there is some overlap. Based on the theory that you can never be too educated when litigation lurks everywhere, it would definitely be helpful to talk about how boards should deal with issues that often result in litigation by shareholders or prospective shareholders. Usually by the time the board consults its lawyer, it's too late."
Pennisi adds that he would be interested in exploring more legal and procedural issues at future roundtables—such as new statutes and case law affecting co-ops and condos, management oversight and common management issues, and the hot topic of objectionable conduct and the legal issues that can result from it.
For his part, Grech says that he'd like future roundtable sessions to cover issues such as what to expect from a managing agent and firm, how to hire a superintendent, and how to run a more effective board meeting.
Those interested in participating in the next roundtable, please feel free to contact us via email at editorial@cooperator.com or call us at 212-683-5700, x364.
Networking opportunities like the roundtable meetings, adds Schreiber, "are about forming friendships and meeting people who can understand the problems I face on a daily basis. We exchange ideas, share information about contractors, and discuss methodology and procedures."
Carlson agrees. "No matter how big or small the cooperative is, no matter whether you're a 25-year veteran board member or a brand new to the job, there's a commonality of problems and needs that have to be dealt with."
Thanks to programs run by the CNYC and FNYHC, and events like The Cooperator's roundtable series, finding those commonalities and exchanging ideas between board members is becoming easier and more rewarding.
"I've really come to respect the talents and dedication of many of my fellow presidents," says Yaker. "They have made me realize that no one individual has all the answers."
Hannah Fons is The Cooperator's Associate Editor.