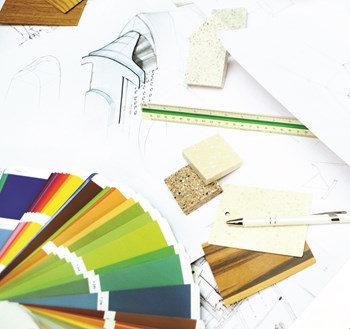 There's no question that human beings respond to light. Its absence can affect our sense of well-being, and this may be why bright, sunny apartments tend to be the easiest to sell. Whether you have an interior designer map out a detailed lighting plan or you choose the do-it-yourself approach, today there are more lighting options than ever before. And the results are always amazing. With an abundance of light in all the right places, even the darkest apartment can be transformed from a dreary space into a home that is envied by all.
An Acquired Taste
Light can be used to create a specific mood for a variety of functions from studying to entertaining. It can help create a sense of luxury and make your furnishings seem important. Some say it can even help you sell your apartment. I would rather be in an empty room with a great lighting design than one that has the best furnishings and improper lighting. Light is a luxury that people should afford before they buy a sofa, says Marjorie Hilton, founder of Marjorie Hilton Interiors, a design firm in Manhattan that does residential and commercial interiors.
Hilton admits that the cost of a professional lighting jobwhich should be done before you move into a new apartmentmight scare some people away. In a 2,000-square-foot space, the cost for electrical labor alone can run between $10,000 and $20,000. But even if you're on a limited budget, Hilton suggests splurging on lighting installed by an electrician according to a designer's or an architect's specifications. Do the shell of your new home correctlythe floors, lighting and wallsand fill in the blanks later, she advises. You can always add the furniture, piece by piece, after you've moved into your new apartment.
But while interior designers, architects and some savvy apartment owners see light as an essential component of residential interior design, others are lagging behind. When you walk in most apartments, there's no light, explains Hilton. This is not a problem for some people, because if you've never had light, you don't miss it. But once you've had light, then you can't live without it. Hilton is referring to those generations who have grown up with the traditional mix of ambient and task lightingtable lamps, a single overhead light per room and an occasional wall sconce.
Hilton recalls one such client who said she didn't need any lighting work done on her recently purchased Upper East Side co-op. One of the first things we determine when assessing a new site is where the dark spots occur. This client had no awareness that the entire front vestibule was as dark as the Black Hole of Calcutta, recalls Hilton. She told me, 'Let's just decorate.'
But Hilton prevailed, and the vestibule now has an abundance of light created by two wall sconces, a pendant-shaped chandelier and a pair of unobtrusive light soffits that cast an elegant wash of light on the ceiling above. These hollow beamsthat house round recessed fixtures known in the design industry as high hatswere attached to two opposing walls.
I like having a lot of lights, says another Hilton client, who lives in a studio apartment in Manhattan. The lights make the ceiling look higher and the space appear larger than it is. When I have a dinner party I dim the lights so it's not as bright. I can create any atmosphere I want in my apartment.
Approaching the Project
Professional lighting jobs are typically planned by an architect, interior designer or a specialized lighting designer. For us, lighting isn't the secondary thought, it's the only thought, explains Corinne Strumpf, a lighting designer based in Little Silver, New Jersey who has done extensive residential lighting projects in New York City co-op and condo apartments and common spaces. A lighting designer works only with lighting and is familiar with everything new on the market. We know what technology can be used and where. We work with interior designers and architects to realize their vision of the environment, says Strumpf.
As with all lighting design situations, Strumpf sits down with the clients who will be occupying the space to find out how they live and what's comfortable for them. She points out that different people have different needs. An older client may have special concerns about the light he will read by, while a young family with children will be concerned about child-proofing. This is especially true in the city, where children will probably be spending more time playing indoors, Strumpf says. You have to be careful not to select lighting that can be knocked over or that could cause tripping. Another concern in the city is that, in the typical apartment, each room may serve multiple functions and so will require task lighting for a variety of functions.
Achieving a Full Range
A successful lighting scheme employs lots of dimmers so that light can be fine-tuned, and it combines ambient lighting for general illumination with task lighting for specific activities. It's almost like a chorus, explains Lisa Boyarsky, Hilton's assistant. We use many singers to achieve a full range. High hats, installed directly into the ceiling or in a light soffit, are a popular choice for lighting the perimeter of a room as well as over a coffee table, dining table or any other point of interest.
Another popular ambient lighting option often used for the perimeter is the mono point, a free-standing light mounted to the surface of the ceiling that resembles track lighting minus the track. Since mono points are flexible, they are more versatile than high hats. You can achieve drama by throwing light onto any number of items in the room including a bare wall, a piece of art, a centerpiece or a painting. Ambient uplightingfrom a sconce, torchiere or other source such as a soffit containing high hats that has been placed on top of a cabinet or armoirealso creates a pleasing effect. Here light is reflected off the ceiling and then back down.
You can also give your apartment a new look through lighting without having an electrician do invasive surgery on the walls. When electrical work is out of the question, there are unusual track systems made of fine wire that can be mounted on the ceiling. As with the soffit or traditional track lighting, you don't need additional wiring. In these cases the lighting professional designs with the location of the existing outlets in mind.
Task lighting also comes in a variety of shapes and styles. When strategically placed above a piano or some other work area, a high hat or mono point can also be used for task lighting. Table lampswhich create a sense of coziness by pointing their light source downare always a popular choice for illuminating tasks such as reading, writing or sewing.
A typical residential mix includes many lighting techniques, explains Gregory A. Roach, president of GAR Associates, an interior design and construction consultant firm located in Manhattan. The key is to get the balance correct. According to Roach, a good lighting designer will look for placement and intensity. For example, you can have a special light focused on a bowl of fruit or flower arrangement, but the eye must not question where the light is coming from. Good lighting should be as inconspicuous as a good soundtrack in a motion picture.
Every apartment is idiosyncratic, Roach adds. Every occupant and their usage is idiosyncratic. The good lig ffb hting designer works in support of that occupant and their use of that space. Recently Roach was hired by a couple who told him they would need to knock out a wall because they would need a larger space for the frequent parties they throw. To their surprise, he achieved their goals without moving the architecture around. This is the case three out of four times. We buy buckets of paint and install good lighting. We make them swoon for a fraction of the cost. They can turn on their 'day set' or their 'night set.'
This reference to the theater is no accident. In fact, according to Strumpf, the architectural lighting design profession began 20 to 25 years ago in part when members of the theater lighting community branched off to do commercial assignments in restaurants and hotels. As consumers became exposed to these concepts in public spaces and sought to bring them into their own homes, the trend toward residential lighting got off the ground. The necessary equipment becomes more accessible and less expensive, explains Strumpf, in much the same way that museum lighting techniques are being brought into the homes of those clients who have developed a collection.
Doing it Yourself
Some lighting techniques can be implemented without the help of a designer, and the experts at lighting stores are on hand to describe the full range of do-it-yourself options. We have a large selection of traditional, contemporary and modern styles that begin as low as $14.95, says Matthew DeCillis, president of Columbia Lighting, a retail and wholesale lighting store in mid-town Manhattan that also provides lighting design and installation services. After you come to the showroom to see what we have, we can do a free consultation in your home. A visit with DeCillis can save you time and money. He can shed light on the project and help you select the proper tools. According to DeCillis, cement ceilings are the norm in all Manhattan buildings that are more than six stories. A special drill is required when installing track lighting or other ceiling mount units.
If you do it yourself, it will be a little different from a professional job, but still effective and nice, says Michael Love, an interior designer located in Manhattan who works frequently with co-op and condo owners. You can purchase light strips to illuminate bookcase or cabinet shelves or the ceiling, if placed on the tops of furniture. Torchiere floor lamps also enhance a room and its furnishings. The light bounces off the ceiling and illuminates the whole room, says Love, who also points out that torchieres are available at IKEA for as little as $79 or at a high-end lighting store for as much as $1,000.
A low-voltage lamp pointed toward the ceiling, concealed behind a sculpture or plant, also creates a dramatic effect. According to Love, a dimmer can be installed on just about any type of lighting that you already own or intend to purchase. She adds, If you know what you're doing and you're careful, you can create a nice look. Let's face it, some people simply don't want to do a big, expensive lighting number.
Whether you choose to do a complete lighting overhaul or just make a few strategic additions to your current lighting, you'll find that good light will make an enormous difference in both the look and functionality of your home. Once you've seen the light, you'll never want to go back to your dark days again.
Diana Mosher is Associate Editor of The Cooperator.