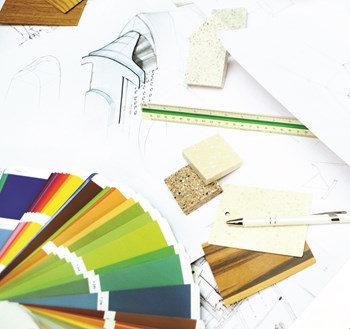 Personality. Every individual has one, every couple, every family. Whether vibrant, artistic, intelligent, meticulous or expressive, every individual's personality varies and shines through in their every action, every word, every movement. Blending personalities in interior design can be an artful experience or an awful mess. Ask Jamie Drake, ASID, of Drake Design Associates Inc. who has been trying to distinguish his clients' personalities and design their homes accordingly for 17 years.
Designing With a Difference
Whether he is designing an urban house in Washington, D.C. for a family with children, a townhouse on the Upper East Side for a couple or a co-op apartment on Fifth Avenue for a person living alone, Drake's design schemes are reflective of the people involved. Personalities become the scheme, says Drake, and the schemes become reflective of those personalities.
As a designer, Drake is intuitive to the reasons the client has hired me. I respect the limits imposed consciously or subconsciously and how far they want to go in the visual statement they are making. I give a sense of ease. Elga Stulman, one of Drake's clients, who owns a co-op on Central Park West, concurs: We worked great together; we were on the same wavelength. I trust him entirely.
Regardless of whom he is designing for, Drake combines luxury and functionalism in all his work. Luxury comes into a room through colors and accessibility, says Drake, whereas, functionalism takes into consideration pets, children and the daily soot of the city. Drake's hallmarks include sophisticated and unusual palettes and eclectic furnishings. He uses at least three colors when designing any room to create a distinctive harmony, he says.
When beginning a project, Drake does a quick study of his clients and analyzes their needs. He will meet at their current or future residence and get a feel for their lifestyle. He will discuss what they want to accomplish, how much work is involved and what type of budget they have to work with. After surveying the existing furnishings, photographing every inch of the place in its existing condition, Drake will have an in-depth interview with the client about their needs and dreams. Always shoot for the moon, says Drake.
Look Out for the Children
Practicality is the key, says Drake when children are involved. The children are part of the package, they are part of the personality, he says. My designs focus on them. Because they have a tendency to leave their fingerprints everywhere and drop liquids, Drake suggests keeping mirrors out of reach and avoiding reflective tabletops and polished marble. He also advises using resistant fabrics such as wool and velvet, solution-dyed nylon carpets that are stain resistant, matte finishes, and glazed walls with multi-pigmented finishes.
Overcompensate the child's room, says Drake, by building storage under the bed, leaving open floor space for play and a large work surface that can be converted into a desk when the child grows up. The bathroom is always the greatest cost. Design it to grow with the child, says Drake by using neutral colors and fixed elements.
In the kitchen, it is important to keep the refrigerator close to the dinner table so beverages are always at hand. It is nice to include an art display area to ffb show off the child's work. An island can be used as a work surface for cooking and for the children, and later converted to a table, with chairs that fit completely under. This allows children to be close by while the adults are preparing meals.
When decorating a living room for a family, Drake incorporates audio and video equipment in a way so that it is concealed, and creates toy boxes that can be used as seats with durable fabrics such as leather or tapestry. These seats offer a quick way of eliminating the presence of children when space is being used as an adult room.
Safety has to be taken into consideration when designing for children. Drake uses soft, rounded corners and avoids shower curtains. He sets up the kitchen so that cooking elements are kept away from the sitting area and utensils are stored in the highest drawers.
When children aren't involved in the design scheme, fabrications can be bold. Indulge in luxurious, lighter colors and delicate fabrics such as silks that are truly reflective of the personalities, says Drake, and display accessories and artwork. When there is only a single person involved, There is no compromising. You don't have to balance personalities, says Drake. The decor is a true reflection.
The kitchen is rarely used by people living alone, and so, not much effort or money will be devoted to designing it. Instead, singles spend their money on bathrooms and dressing rooms, says Drake. A minimal design will be created with eating quarters for at least two people, and furnishings such as stock cabinetry, laminate counters and cork floors. The living room, whether for a couple or single person, often incorporates massive audio and video equipment designed to function well at formal, or informal, gatherings.
When making design decisions, let's not forget our furry little pets. Even they have personalities and designing your home to accommodate them can sometimes mask your own design personality. I'm more conscious of them than I am of children, says Drake, they're more erratic. He advises using solution-dyed carpets that clean easily and washable bed covers. Drake matches the color of the pet's fur to that of the furniture and carpets so hair is not visible. He also suggests avoiding hanging materials, such as tassels, on the bottom of chairs, that can be easily chewed on.
Drake's greatest achievement is the number of clients he continues to work with. He designed Elga Stulman's first apartment and her current home as well, and now her daughter uses him. He always does his best to work with what you have, says Stulman. I used the same furniture when I moved and he never said it wouldn't work. According to Robert Lombardo, a co-op owner on West 62nd Street, who has used Drake to design his two homes, Jamie tries to create a pleasant atmosphere. He doesn't impose ideas on you, but uses your suggestions. He has an open mind.
Mark Lameier, a co-op owner living on West 79th Street, is a continuing client of Drake. He provides more than one design possibility and he always has an alternate plan, says Lameier. Drake is very intuitive to individual needs and doesn't push his ideas but works with you to achieve a common goal. According to Drake, the infinite solution is that there is never one choice.
Designing should be an enjoyable experience, says Drake. The hardest people to work with are those who have unrealistic expectations when their budget is too restricted to achieve what they want. Those involved in the expenditures don't enjoy the process; their personalities will not be reflective in the scheme.
Many of Drake's clients rely on him to do everything from designing their home to buying light bulbs, candles and glassware. Most clients are comfortable leaving everything in my hands, he says. I know my services are valuable and my eye is tuned to only the best.
Ms. Esposito is Assistant Publisher of The New York Cooperator.