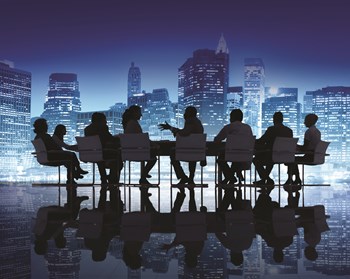 In the aftermath of the World Trade Center attacks, much has been said about the massive recovery effort and the grievous loss of life. While work crews continue to toil around the clock to recover and clean up, a lesser crisis has been playing out in the blocks surrounding ground zero. Dozens of residential buildings had to be evacuated on September 11th, and now they must be cleaned up in order for residents to return home. In some cases, buildings have needed to repair structural damage and restore lost power and phone service. In the real estate community, practical questions are being asked about how to best manage co-op and condo buildings in emergency situations in order to minimize chaos and displacement–or just discomfort–for residents. The simple answer appears to be the famous Boy Scout motto: Be Prepared.
Fortunately, the emergencies that occur most frequently in co-op and condo buildings happen on a smaller scale than what happened in lower Manhattan. However, the impact of even a minor maintenance or structural problem on the individual building and its shareholders can still be emotionally and financially challenging.
Bob Marino was board president of Columbus Common, a 60-unit luxury condominium on the Upper West Side, when a non-life-threatening emergency struck last year. Just as the building was about to welcome a new super, a minor gas leak occurred behind a shareholder's stove. In spite of a knowledgeable board member and riser locator charts, Con Edison employees were unable to locate the riser shut-off valve. According to Marino, a decision was made to shut off gas at the next available valve, resulting in a total loss of gas supply to the building.
What followed is the stuff of a condo board's nightmare. According to Marino, ConEd would not restore gas until the riser could be tested. The efforts to restore gas were delayed by faulty valves, which needed replacement, and units that were inaccessible because shareholders had failed to provide new keys. Original estimates for the restoration of service were two to six weeks of work, at a cost of $60,000 to $200,000. In the end, Marino cites the diligent teamwork of the board and management with quickly bringing resolution to the crisis. The building was back to normal within 11 days, at a cost of only $25,000. "We worked together as a community," says Marino, "and used the talents of various individuals to get through."
Donald H. Levy was the property manager of 32 Gramercy Park South in 1989, when a steam pipe exploded, killing three people and contaminating the neighborhood with asbestos. The 185-unit co-op had to be evacuated for more than a year while repairs were made. While ConEd and the Department of Environmental Protection (DEP) took over the physical aspects of the cleanup, the management company took over the administrative side. "We needed to keep track of all the tenants," says Levy. "It was necessary to issue regular communications and hold weekly shareholder meetings. We had to maintain the liaison with outside professionals and keep track of the financial aspects." Because the building was unlivable, no maintenance was collected. In light of the situation, Levy also negotiated with the Department of Finance to get a break on the property tax, which slowed the financial drain on shareholders.
Although the board must make final decisions in times of crisis, the management company plays a key role in coordinating any activity. As Marino says, "They don't just manage the books, they manage the building. Your managing agent should be able to place someone in the building every day and make their presence known." During the cleanup at 32 Gramercy Park South, Levy set up a trailer at the site staffed with full-time personnel dedicated to the building. It was necessary to coordinate communications with the government agencies involved–such as the DEP–that had to examine the building before it could be declared livable.
Levy, who is now director of management at Manhattan's Lawrence Properties, says of his experience, "The important thing to remember in an emergency is not to respond as a hero and try to handle situations that you are not trained to handle, [but to] know who to call [and how] to handle what comes up."
During a crisis, communication is vital. "As long as people are kept apprised of what is going on, they are more likely to cooperate and be patient," says Eric Kornfeld, executive vice president and director of management at Heron Realty. "When people are not told what's going on, they become apprehensive. It's important to manage people's expectations, as well, and only tell tenants what you know to be true. If you get carried away with the desire to give good news and then don't come through, people think something's gone wrong."
Any professional or board member who has been through a crisis will tell you that the more prepared they were when the emergency hit, the smoother the recovery. According to Dick Koral, secretary and treasurer of the Superintendent's Club of New York, "In every building there should be a set of binders for every system, and in them should be all the operating instructions supplied by the manufacturer of the equipment and the contractor who installed it." Marino concurs and points out: "In older buildings especially, make sure all shut-off valves are properly labeled and located. We took for granted that the plans were correct, and they weren't." Levy also recommends that a board should "always know who works on what, and keep that information easily accessible." It's always advisable to keep plans and blueprints where anyone who needs them can find them. In Marino's building, the schematic charts are now posted in the service hallway outside the super's office.
You Know the Drill…Don't You?
In addition to knowing the building, it's also important to know procedures. Plan in advance who will do what in the case of emergency. Local laws now mandate that evacuation and fire safety procedures be posted in every apartment and at elevator banks on every floor. The fire department will train any staff and shareholders as needed. If the board or management company does not feel competent or are unwilling to assume the liability of developing evacuation and security procedures, it is worth the investment in an outside security firm to have these created. It is also essential to know your building community. Be aware which apartments have children in them, handicapped individuals, or pets. Have a plan outlining how those tenants will be assisted. Make sure the super has keys for every apartment, and emergency contact numbers for every tenant, and have emergency drills at least once a year.
Kornfeld recommends a simple, three-point plan for managers and board members in case of emergency:
Get to the site and understand what has happened.
Get to the right people including remediation crews and any relevant government organizations.
Make sure the board understands all the logistics and finances involved. "It's very important to keep careful track of the money," says Kornfeld. "You don't have the luxury of soliciting bids in an emergency. The super can help by keeping copious notes on what workers are on the site, what was done and how long they were there. The board and the manager then have to keep on top of the filing, because during a crisis paper comes in hot and heavy." It's vital that recovery efforts be organized so that anyone looking at the files can immediately see what is being done.
Bruce Cholst, a partner with the Manhattan law firm Rosen & Livingston, says preparation for an emergency also means protecting the corporation and the board against liability. During a crisis, the board and the managing agent will have to make speedy decisions. An apartment may need to be broken into if the owner cannot be reached, for example. Walls may need to be opened up to find faulty wiring or pipes. It becomes difficult to act if a board is hobbled by fear of shareholder lawsuits. "It's very important that boards have proactively protected themselves against liability by making sure that they are adequately covered for foreseeable and unforeseeable acts of the agent," stresses Cholst. The law generally protects the board as long as they have acted in "good faith," and it's important to be sure that the Articles of Incorporation include this language as well. In addition, the law protects management companies who are acting as agents of the board. Commonly, language in the management contract protects the company from liability except in cases of "gross negligence." While freeing the management company to act, such language also prevents a building from being able to sue when a crisis is created or exacerbated by acts of the agent. Says Cholst, "Boards need to preserve the right to seek recourse against the managing agent without having to prove a level of negligence that shocks the conscience. By crossing out the word "gross" at the inception of the relationship, the board has that protection." Cholst recommends that a clause to the effect that "Nothing shall preclude the Board from suing the Managing Agent(s) for injuries arising from the Agent's own negligence" be put into a management contract to further protect the building.
Next, Cholst suggests, "a board needs to be sure they have adequate Director's and Officer's (D&O) liability insurance, both individually and corporately, and with varied incident coverage." Before embarking on a costly and time consuming lawsuit, individual shareholders and boards would do well to consider whether the agent acted reasonably in the context of the situation. According to Cholst, "A board should not assume that bad results translate into negligence for which an agent can be held liable. Have an attorney thoroughly investigate the circumstances before rushing into court."
"Besides," he adds, " A board that has a reputation for suing their managing agent will have a hard time getting anyone good to handle them in the future."
Preparation is your building's best friend when emergency strikes. To survive crises with a minimum of chaos follow these simple rules:
1. Know your building, and be sure that the super, the manager and at least one experienced board member know where everything is–blueprints, floor plans, schematics, key boxes, and the like.
2. Know your building community and tap into their expertise when needed. Be sure those residents with special needs figure into any emergency action plan.
3. Develop emergency procedures and practice them seriously.
4. Protect the building with adequate insurance and precise legal language in the governing documents.
5. If emergency does strike, stay focused on the goal of restoring life to normal and working together as a team.
If an emergency–small or large–strikes your home, hopefully you can use the tools of preparedness and teamwork to pull together and meet the challenge.
Ms. Mulhare is a freelance writer living in Forest Hills, New York.