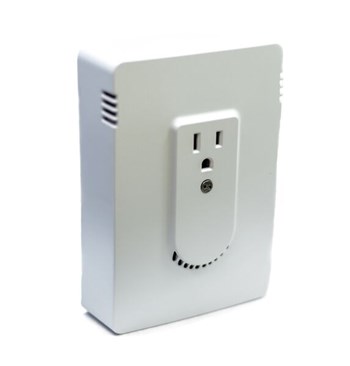 For those who live in multifamily residential buildings, the scenario is all too familiar: a neighbor lights up a cigarette inside their unit, and the smoke travels through the hallway and finds its way into neighboring residents' homes. Sometimes we know who the culprit is and sometimes we don't. Either way, it's a nuisance that can pose dangerous health hazards for everyone in the building.

According to the American Lung Association, second-hand smoke has been attributed to more than 7,300 deaths from lung cancer and nearly 34,000 deaths from heart disease annually. The organization adds that 37 percent of children in the U.S. have been exposed to second-hand smoke.
Now a company based out of Lebanon, New Hampshire is looking to crack down on those who smoke in prohibited areas. Called FreshAir Sensor, the company developed a plug-in device that cannot only detect nicotine and marijuana in the air through sensor technology, but it can report where the violation occurred and measure the amount of smoke. Since April, this new monitoring detector—which costs $120 plus a $4 month monitoring fee—has been sold to property managers and hotels, says FreshAir Sensor founder and president Jack O'Toole, who notes that pilot programs are taking place in a number of multifamily dwellings.
"Smoking in multifamily housing is a huge problem," says O'Toole. "About two-thirds of people living in multifamily housing are unwillingly exposed to smoking during an average year. So our detector will allow people who are property management companies, co-op boards and condo associations to ensure that everybody's living up to their agreement in places that don't allow smoking."
How Does It Work
O'Toole and his partner Joe BelBruno, a chemistry professor at Dartmouth College, developed a polymer-based sensor that behaves like a biological receptor. "When that target molecule comes along, it binds to a sensor," says O'Toole. "And we measure the presence and amount of that target molecule by changing electrical properties on the sensor. So it's really sensitive, and it's really specific."