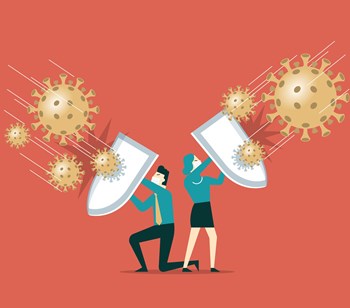 It seemed to come out of nowhere, and hit the city like a whirlwind. As grim daily reports rolled in from China, Italy, and other hard-hit countries, Americans—and perhaps in particular New Yorkers, those most intrepid of city dwellers—watched from afar as COVID-19 closed down entire nations. It still seemed so far away...until it wasn't. Once the pandemic crashed into New York, the gravity of the situation became far more real—more akin to a flash flood or tsunami.
Analysis of our city, state, and nation's response to this unprecedented crisis will take years—as will recovery from its impact. There are so many questions; among them, how is the co-op and condominium community doing? Were managers and boards prepared? Were efforts to stop the wave—or even just slow it—successful? That's something we won't have an answer to for a while, but the professionals tasked with keeping the city's multifamily communities functioning are making decisions all day, every day to cope with the crisis and keep their communities as safe as possible.
Fast Action
Daniel Wollman, CEO of Gumley Haft, a Manhattan-based co-op and condo management firm, describes his company's response to the situation so far: "The day-to-day function of our buildings is, of course, affected in ways we could never have imagined," he says. "It's like a Twilight Zone [episode]—and we're looking forward to the end of the episode. Buildings are on virtual lockdown. Amenity spaces are closed."
As for the residents, Wollman continues, "Imagine living in a beautiful building, and yet you're unable to utilize all of the comforts and amenities it has to offer. Our residents are practicing social distancing. They're not congregating in public spaces. They ride the elevator alone, or only with family members. Obviously, deliveries are not as convenient as they should be. And there's a somber mood among neighbors after being in their apartments all day long." Additionally, he adds, "We have to continually explain to residents what our mandates are for trying to tamp down the virus," as new information and federal and state guidelines and orders filter in daily.
Despite this very challenging new reality, "The day-to-day operations of our properties are being met," says Greg Cohen, president of Impact Management, with offices in Manhattan, Long island, Queens, and Westchester. "The governor clearly mandated that building personnel are essential. The trash is being removed, the common areas are being kept clean, and building mechanics like boilers and elevators are being maintained. We're limiting the need for building personnel to enter the apartments to emergency situations only, and have also mandated that all construction be halted." That includes work on individual apartments, except for emergency situations. This will delay projects such as Local Law 11 work, boiler conversions, elevator modernizations, and other major-but-not-immediately-crucial capital projects slated to begin or already underway at many buildings.
As the crisis has evolved and deepened, it's become clear that, as Wollman points out, "Nobody was ready. The medical communities weren't even ready. Now, everyone is searching for the same supplies that hospitals, nursing homes, and other institutions need in a higher priority than multiple-unit apartment buildings." The question of how or whether residential communities will be ready for the next major crisis event—whatever form that might take—is still very much open. Undoubtedly, boards and managing agents will be assessing their readiness for future challenges much more seriously than they might have in the past. Like the 9/11 attacks, the COVID-19 pandemic is likely to change our lives and how we live them permanently—and those changes will have to be incorporated into how we move forward as multifamily communities in dense urban areas.
"New York communities aren't strangers to emergency situations," says Cohen. "We have dealt with snowstorms, 9/11, city blackouts, and Hurricane Sandy. Each situation leads management companies and boards of directors to become more prepared to handle these events as they take place. I believe it all comes down to communication between the managing agent, the board, and residents. Managing agents and boards must reassure their residents that we have spoken to the buildings' vendors and that there will be no stoppage in service."
First Response
Faced with a completely new set of factors, many of which were unknown (including the actual severity of the virus and how it spread), boards and managers were confronted with something almost war-like—a 'surprise attack' situation. Much depended on the initial response of managers and boards. "When we first learned of the spread," says Cohen of his company's first moves, "we immediately called all of the vendors to make sure that services would continue to be provided in the event of a citywide shutdown. We called our supply houses to ensure they had disinfectant cleaners, gloves, and bags on hand for the buildings that needed them. We also called other management companies to share protocols and procedures, and to pool resources if needed. We put up posters from the CDC pertaining to COVID-19 in the common areas of the buildings. We also mailed letters to all residents about what actions and precautions to take."
Wollman concurs. "We've implemented strict cleaning procedures per the CDC and Department of Health," he says, "and plan to maintain enough staff to see this through, without seeing them get sick themselves. Planning for replacement staff is ongoing. Every day brings new challenges that we need to solve, and fast."
Moving Forward
The path ahead is uncertain. Managers and boards are dealing with the unknown, navigating without much of a map. "Clearly," says Wollman, "we need to predict whether there are things that haven't happened yet, and what will continue to happen, and how to prepare in advance for something we don't even know we'll be confronted by. The various authorities coping with the crisis recommend having a two-week supply of food, medicines, and essentials on hand in your home. That's a rule that more people will follow after this." It's also a good idea for co-op and condo communities as well in terms of the supplies they use daily and weekly to maintain operations.
"The long-term fallout of this is still unknown," adds Cohen. "We still don't know how many people won't be able to pay their maintenance bills due to being out of work, for instance. Those associations that have healthy reserve funds or credit lines on hand will be able to handle this situation better than those who do not. Properties still have financial obligations that need to be met: mortgage payments, payroll and taxes, utilities. We are watching this situation closely and will be reporting to our boards if meeting these obligations becomes a problem."
Long-Term Changes to a Valued Way of Life
"There isn't anyone out there who hasn't been affected by this virus," says Cohen. "What never ceases to amaze me, though, is in times of crisis you truly get to see the best in people. We always come together as a city, always help each other out. Residents have been taking this seriously and staying home, and they have been helping their elderly neighbors with chores and checking in on those who may be in need. As managing agents, what has surprised us most is how quickly people were able to adapt [to] the technology available in order not to put life on hold. We have been conducting board meetings via video conferencing apps such as Zoom, as well as others. Besides worrying about their health, I think the most difficult part for residents is the unknown. Not knowing when their children can go back to school, or when they can go back to work. They are also worried about whether their lives will ever be the same as before."
Wollman, a veteran New Yorker, perhaps sums it up best: "One of the most difficult parts of the COVID-19 pandemic is the restrictions on New York City life. This city, known for its 24/7 accessibility, culture, and nightlife, is now as barren as any town in the Old West, with nothing to do except cook and watch Netflix. Not being able to go out, socialize in person, take your kids to the park—these are unfathomable to a New Yorker. But this is the state of things. It is the 'new normal.' Closing amenities is something people may be surprised by, but then accept when they understand more and more about the virus, and how it can be so easily transmitted to others. Short-term, people are going to be disappointed by limits on visitors for the Easter and Passover holidays. In our buildings, we are issuing guidelines on limiting holiday celebrations right now. People simply cannot congregate in groups without risk, unfortunately. Long-term, people are not only worried about getting the virus, they're worried about their loved ones getting it, being quarantined, alone, and dying."
"Every tragedy is different," Wollman continues. "When 9/11 happened, we thought we would never ever see something in our lifetimes as horrible or senseless as that again. We will always remember the innocent lives lost on that day. This is different. The coronavirus is changing lifestyles, changing how we work, live, socialize. It is not an over-and-done-with event. Having lived through 9/11, Katrina, and the wildfires in California and Australia gives us a new perspective on acceptance. Acceptance that life is not in our control, and that we must accept and adapt to unfathomable situations in order to manage our emotions and fears through them."
A.J. Sidransky is a staff writer/reporter for The Cooperator, and a published novelist.