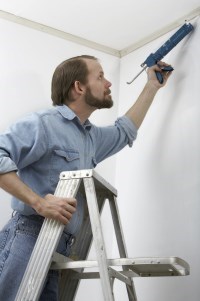 You know that you need to upgrade your apartment so that the building can both maintain its value and avoid costly repairs and maintenance down the road. But have you considered the common areas in the building as something that can affect your co-op or condo's property value? For owners, common areas might not seem like a huge priority when it comes to making upgrades, but many experts beg to differ.
First Impressions
According to residential interior design experts, a building's common areas should not be neglected since shabby lobbies, hallways, community rooms, or even doorways and vestibules can detract from a building's overall appearance, and possibly take away from the value of each individual unit.
"The look of common areas is important, especially the lobby, which is the first impression one has of the building," says Liz Morehouse, president of Morehouse Design Associates, Inc. in Manhattan, and a specialist in designing public areas of residential apartment buildings. "The lobby shows visitors whether the building is well-maintained or not."
John Buscarello, president of Manhattan-based John A. Buscarello Inc., agrees. "If the common area is dowdy but the apartment is spectacular, those are two things that really don't go together," he says. "And a dowdy common area might really color a buyer's view of the apartment, and whether or not to make an offer on an apartment [for sale]. And even though a homeowner may maintain their own apartment very well, [a poorly maintained common area] could lead to thoughts in the buyer's mind that maybe there are some financial problems in the building."
"Good-looking common areas are important as a prelude to the rest of the building," says Marjorie Hilton, president of Manhattan-based Marjorie Hilton Interiors. "You want people to have a good, solid, significant impression when they walk in."
Most homeowners would probably agree that the look of their lobby could potentially detract from the value of their apartment. When it comes time to sell, they might wish for a better view upon entering the building. But what goes into the upgrades necessary to well-maintained common areas?
Wear and Tear
The first elements to get worn in a building's common areas tend to be the walls, the flooring and any furniture present. Walls suffer extensively from people moving in or moving out and also take abuse from delivery people, messengers and anyone else bumping into wall coverings.
Floors also "take a beating." The closer the floor is to the outside door, the quicker it will take abuse from dirt in the summer and salt in the winter.
Hilton recommends hard-surface flooring like stone, marble or granite.
"Because wear is so significant on your flooring, go with a permanent material on the floor that will be cleanable, and won't wear out as fast," she advises. "You can also have this type of flooring polished once a year or once every two years."
Hilton does not recommend rugs, since they are not as resilient.
And, if you do have rugs or furniture in your common areas, experts suggest cleaning them every 12 to 18 months. Morehouse, who has been designing residences, hotels and apartment buildings for over twenty-five years, suggests choosing durable fabrics for public spaces—like vinyls that look and feel exactly like leather and chenilles on sofas with accent pillows.
Even though you only spend a few seconds per day in the elevator cab, everyone squeezing in with their bags and umbrellas makes it an easy target for scuffs and scratches. Wood-paneled elevators are especially susceptible to noticeable design damage.
"If the client wants the look of wood on the walls in elevator cabs, I recommend an embossed plastic laminate that looks like wood surrounded by real hard wood moldings. There are some great wood grain plastic laminates on the market that look like real wood," says Morehouse.
Inexpensive Upgrades
The truth is, none of these improving elements—flooring, wall covering, elevators, furniture or carpet cleaning, furniture re-upholstery—would be that expensive by itself. It's only when you add them all up that you realize a hefty bill. Some buildings are reluctant to spend that much of the budget on an area they might see as secondary to their own private spaces.
Interior designers recommend certain elements that will make a big impact—but won't break the bank. For instance, you might choose to make changes to the lighting in your lobby and hallways.
"Changing the lamps in the light fixtures from a cool white to a warm fluorescent lamp is an improvement, as is changing the signage on the walls," says Morehouse.
"Drop a chandelier in an area where the lighting is dim," suggests Buscarello. "Upgrade light bulbs, upgrade light fixtures. I see very poor lighting in many buildings and lighting is very important. If you think about it, 99 percent of spaces in the city don't have natural light—they rely on electric lighting. So that's a big, big factor."
Other ideas for inexpensive upgrades include re-upholstering furniture and adding table or floor lamps near furniture groupings to create more of a residential look in a public area, according to Morehouse.
"Inexpensive art framed in expensive-looking frames with oversized mats add color and interest on walls," she adds. "Framed mirrors also add sparkle on a wall. A table added in the center of a lobby with several orchids in a decorative cachepot creates a focal point. Orchids can last a month to six weeks versus fresh flowers in a vase that need to be changed every week. Area rugs can be added to cover unattractive stone floors and add color and pattern in a cold, sterile lobby. Adding plants and planters in the corners of a room is also a nice touch."
Buscarello agrees that little things make a big impact.
"People often don't think about furniture, artwork and how these things can make a space change and feel a little warmer," he says. "A lot of times they don't consider the ceilings, how they can put a little color there to create a focal point and make a nice and dramatic difference. Sometimes just painting the walls a brighter or more dramatic color can help. A designer has a fresh eye and can visualize a greater impact some of these things might have."
According to Hilton, it all comes down to "new carpeting, new wall coverings and improved lighting."
Morehouse warns against changing some key elements and ignoring others. "When you install something new such as carpet, it makes the old wall covering look worse," she says. "But sometimes the light [fixtures] can be reused in hallway renovations which, of course, saves money."
Another good strategy for design inspiration that your building can take part in (free of charge)—spying! Buscarello recommends checking out other buildings similar to yours to get ideas about how to upgrade your common areas in the most efficient way possible.
Cost Reality—and Hiring a Professional
"I think that a lot of people are clueless about what things cost," laments Hilton, who points out that hiring an interior specialist for common area upgrades is a better idea than doing it yourself. "It's like dying your own hair. I guess some people do it themselves. But then you get the stuff all over your bathroom and the color doesn't come out right, and your hair starts splitting. If you go to a colorist, they do it for you, theirsink gets messed up."
"I have a client who said, 'I can save money for the building by installing that chandelier,'" she adds. "Well, he almost electrocuted himself. He saved the building fifty bucks, but he could have gotten himself killed."
Also consider the fact that some designers are flexible and can be a big help in a way that fits your budget. Some designers buy all of the necessary components to the common area's redesign and then charge the client for them, as well as charging a flat fee for services rendered. Other interior design firms offer a full range of design services and clients can get anything from a couple hours of consultation to a complete renovation.
The hourly method of payment allows buildings with smaller budgets to get the advice of an interior specialist, even if they can't afford to hire them for the entire job. This way, you can definitely work with a designer, at least to get advice, according to Buscarello.
"I highly recommend that even buildings with a modest budget use an interior designer," says Morehouse.
She points out that, in many cases, a designer can actually save a building money since they better know where to purchase materials like light fixtures and custom carpets at very reasonable prices.
Even small improvements can go a long way when it comes to the aesthetics of your building, and it's not as complicated as you'd think. All you really need is a decisive board and a very small committee to make decisions for the project, says Hilton. And of course, a modest budget. Then, after common areas are evaluated for elements that need improvement, the designing commences and hopefully the end product will create a more pleasant common-area experience for both residents and potential buyers.
Domini Hedderman is a freelance writer and a frequent contributor to The Cooperator.