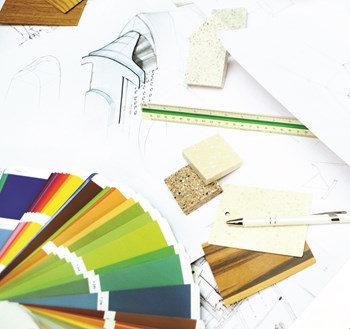 Have you and your family outgrown your apartment? If so, it is time to find a space large enough for everyone to be spread out in. A three-bedroom apartment would be ideal; but, unfortunately, few are available and prices are escalating rapidly. The search for the right space can lead to another more creative alternative which may provide the answer: combining two apartments.
Whether you purchase the co-op or condo adjacent to yours or buy two adjacent units in another building, combining two apartments takes lots of planning. With knowledge of the process, lifestyle goals in mind, a professional leading the way, and a well-informed board of directors, however, the results can be amazing. Combining can be a wonderful way to live, says Jerold Richland of Richland Design, an interior design firm in Manhattan. It is an exciting transformation.
Gaining in Popularity
It makes a lot of sense to combine two smaller apartments because you never see larger units for sale, says Gregory A. Roach, of GAR Associates, an interior design and construction consultant company based in Manhattan. And the value of the combined units becomes more than the sum of its two parts.
Bill Blind, vice president of William B. May, adds that one-bedroom and studio apartments are unattractive in today's market. You can get both pieces pretty cheap and combine them to increase the value of the two halves, he explains.
Combining apartments can also be very beneficial to a building because it eliminates vacant units and the building becomes more saleable, says Lorri Gorman, a real estate agent at William B. May. And people can move to a larger space without leaving the building. Al Volpe, treasurer of his co-op board in Woodside, New York explains that the corporation is encouraging the combination of units because there is a surplus of studio and one-bedroom apartments in the building. They are no longer desirable, sighs Volpe. Large units will make our building more attractive and keep it filled with children. We want to create a family atmosphere and we can't do it with small apartments.
Re-Sale Value Versus Comfort
Combining apartments is not so much a trend as a need for something more, but what do you need more of? Before you begin such a tremendous project, ask yourself why you want to do it and what you want to gain from it. If comfort is your priority, Make sure the cost of the combination and the additional maintenance is worth it to you as opposed to buying a larger apartment, says Gorman. If you decide to go ahead with the project, Live the way that is most comfortable for you and don't think of the next guy.
If your concern lies with the value of your real estate, as opposed to creating a lifetime home, you may want to take a conservative approach says Gorman. If you are combining apartments with the intention of selling at a future date, don't make any serious commitments about where the separation is. Don't install built-in bookcases or anything that can't be removed, says Gorman. Leave the space flexible enough to be returned to its original configuration, and design the apartment so that it works for someone else. Otherwise you could be laying the groundwork for a difficult sale, points out Roach. With this type of design, if you have difficulty selling the combined units you can always put a wall up and sell ffb them as two apartments.
James Luisi, a co-op resident in Woodside, New York for eight years, is in the process of obtaining bids from architects. I still have to decide whether I'm interested in increasing the real estate value of my home or creating a place where my family is comfortable, he explains. Luisi wants to purchase the two-bedroom, two-bathroom apartment adjoining his one-bedroom unit. The combination of units will create a total of 2,500 square feet, giving his growing family more room, and keeping them in the neighborhood and building they adore so much. Is it worth it financially, or am I digging myself into a hole? Luisi continually asks himself. Once the bids are in, Luisi will make his final decision.
It is a good idea to have a professional with design and architectural sense look at the space early in the project, Roach says. Before you make a commitment you want to be reasonably assured of a plan that is aesthetically appropriate.
Board Approval Process
The board approval process varies from building to building. Some boards may not even have a specific process, if your proposal is the first they have encountered. Getting board approval of your plans is very challenging, says Doug Cutsogeorge of Cutsogeorge & Tooman, a Manhattan-based architectural firm. Find out if the building has any rules and regulations before you approach them.
Sometimes the board may want to see the plans before they make a decision. If so, have a licensed architect or engineer draw up plans based on your ideas and needs. Use a professional to ensure the quality of work, says Robert Cohen of Robert A. Cohen, Architect in Brooklyn, New York. Get as many bids as you can and look for professionals who have done the job before in co-op buildings, explains Luisi.
Luisi also advises, Keep the board involved and informed of your plans for construction and obtaining permits, and make sure they understand what you want to do. Luisi sent a letter to the board laying out the procedural issues and who he would consult to accomplish the project. The building gave him the green light to explore the issue further and will give its final decision when the architectural plans are completed. I think the board is considering how the shares and voting rights will be determined, Luisi says.
Conquering the City
Once you have overcome the board approval hurdle, you are ready to conquer the rules, regulations and procedures the city sets forth. If you decide to continue with the plans, an alterations application is filed at the Department of Buildings (DOB). Amongst other basic requirements, the application will also be reviewed for handicap code requirements, and if everything is in order, the plans will be approved by the DOB. If there is something in the plans that does not meet the city's requirements, you will have to adjust the plans before approval can be obtained.
Once you have an O.K. from the city to proceed, the contractor listed on the application goes to the DOB with proof of disability and compensation insurance and the work permit is issued. At the same time the engineer or architect will submit an application to amend the certificate of occupancy (C of O) for the building on behalf of the owner. Any time a building reconfigures the number of rooms in a given apartment, a C of O has to be amended stating the new legal configuration of the unit. When the job is near completion, an inspection of the plumbing, mechanical and electrical work is done by either the city's inspectors or the architect or engineer of record. The C of O is issued upon completion of the project.
David May, one of the principals of Superstructures Engineers + Architects in Manhattan, and a resident of a Murray Hill co-op, has received approval from his board to combine two units in his building. Before you propose your plans to the city, check to see if there are any violations against your building or a backlog of requests for a C of O. If there are any, you may not be able to obtain an amended certificate, says May. The more you know about the process going into it, the more aware you are of your responsibilities.
Once Construction Begins
Seeing your plans come to fruition is the most exciting part of the project, but be prepared for unforeseen design challenges. The biggest challenge you will face is maximizing the space, light and storage to bring order and form to everyone's life, says Cohen. A big decision is what to do with the second kitchen and all the extra plumbing pipes. It is a great opportunity to create another bath, make an existing one larger, or design a laundry room or dressing room.
Another challenge involves the building plans. Sometimes the actual construction of the walls differs from the original building plans, explains Cohen. You can find a pipe that was not expected or a column that is a different size than you thought. You just hope the plans are accurate, says May. Meeting the handicapped codes can also challenge your design, adds Cutsogeorge. You may have to design another plan that makes everything accessible and adaptable to the codes.
Whether your decision is based on real estate values or your family's needs, combining apartments can be very rewarding. However, you will face many challenges along the way. But do not fret. Challenges are about compromises, says Richland. You can have everything you want if you are willing to make compromises. Cohen agrees, There is always a possibility of unforeseen conditions. But everything can be worked out. Everyone can benefit from the combination of units.
Angelina Mason is the former Assistant Publisher of The Cooperator.