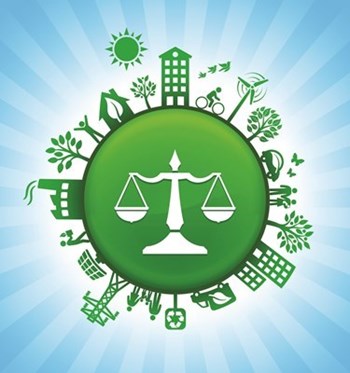 While many NYC building owners and managers have committed to reduce energy waste in their properties, promote efficiency, and strive for a greener city and planet, the sweeping nine-bill Climate Mobilization Act passed in May of 2019 and taking effect this year will have the real estate industry scrambling to get with the program -- and to avoid the steep financial penalties for noncompliance.

According to Steven Cohen, principal engineer with SC Associates in Manhattan, 70% of New York City's carbon emissions come from its buildings. Much of this output is a result of older infrastructure, and the reliance of systems in the city's built environment on fossil fuels, as well as heavy HVAC use in summer and winter. While on one hand New York's efficiencies of scale and well-used mass transit reduce its total carbon footprint, its sheer density is responsible for the substantial impact that buildings have on the environment -- which is why the Climate Mobilization Act focuses on buildings specifically.
There's another reason for the legislation's focus on buildings: bureaucracy. According to environmental advocates working with the city to push back against federal decimation of climate policy and a less aggressive agenda at the state level, buildings are the one impactful area fully under the city's jurisdiction. New York City has doubled down on its commitment to sustainability, passing what has been characterized by Committee for Environmental Protection Chair Costa Constantinides as "The single largest carbon reduction effort in any city, anywhere."
The new laws build off of the Greener, Greater Buildings plan enacted by the Bloomberg administration. The laws under that plan set benchmarks for buildings' energy and water consumption (LL84/133), established an Energy Conservation Code (LL85), created energy audits and retro-commissioning (LL87), and mandated submetering and lighting conservation by 2025 (LL88).
The new laws pertaining to buildings are:
LL92 and LL94—All new buildings' roofs and and existing roofs undergoing major renovation or replacement must include green and/or solar.
LL95—Starting this fall, letter grades based on LL84/133 benchmarking will be assigned to all buildings over 25,000 square feet.
LL96—Property Assessed Clean Energy (PACE) financing will offer up to 100% funding for energy efficiency and renewable energy projects with minimal upfront costs, low interest rates, and 30-year terms paid through a building's property tax bill.
LL97—Based on its occupancy type, every building over 25,000 square feet will have a carbon limit starting in 2025. A registered design professional (PE, RA) will have to benchmark the building by 2024 and file a report every year thereafter. The penalty will be as much as $268 per metric ton of carbon dioxide equivalent over the established limit each year. The limit adjusts incrementally every five years until the carbon reduction goal of 80% by 2050.
LL98—Wind energy will be a renewable option to come online in the next five years.
According to city estimates, compliance with LL97 is projected to cost buildings more than $4 billion. And while there are exemptions from penalties for certain city-owned buildings, nonprofits, and multifamily properties with rent-stabilized or income-restricted units, such buildings still have to comply with an "alternative path" to carbon neutrality starting in 2025.
According to Cohen, achieving the metrics established in this path might be just as costly as the penalties for limit differentials. The repairs and replacements that the alternative path requires include heat and hot water temperature controls, elimination of all leaks, installation of insulation on all pipes and systems, ventilation upgrades, weatherization, and installation of individual temperature controls. Benchmarks and annual assessments still need to be achieved and filed by a qualified design professional.
"Industrial facilities primarily used for the generation of electric power or steam" are exempt from the regulations, per the law. This has raised the question of whether buildings or facilities with co-generation plants can also be exempt. Allowances for carbon offsets, which can be obtained on a yet-to-be-established exchange process for offset trading, and a way to purchase credits from a renewable ESCO are also part of the plan. Additionally, there are certain circumstances for dispensation, such as for a building that has extreme power usage from a commercial data center.
These and many other determinations and clarifications are now the purview of the NYC Climate Advisory Board established by Mayor de Blasio and City Council Speaker Cory Johnson in December. The 15-member board is tasked with delivering a report to the mayor and speaker by January 1, 2023 that addresses the finer points of implementing the new laws and its hefty fines.
What Should Building Owners Do Right Now?
The first step (and one that is currently required of buildings every 10 years) is to perform an energy audit—an analysis of a building's systems and equipment for the production and consumption of energy. This fall, says Cohen, buildings will get their letter grades in conformance with LL84 based on benchmarking that is due May 1, 2020. He adds that when his firm conducts this benchmarking for a building, it also performs a carbon projection, so that the building is aware of where it stands with respect to the law. "When you do the benchmarking on your building," says Cohen, "see where your carbon lies and see what the limits as published in the law are. And if you exceed that limit, you could start working on addressing what carbon management plan you need to put in place to address that by 2024. Because even though the law goes into effect in 2025, it will be based on your 2024 building performance."
Cohen predicts that some buildings that have been proactive on upgrades and maintenance may only have to do minor modifications to conform with the 2025 limits, which could get them to 2030 or even 2035 without huge costs involved. But older buildings or those that use oil or gas to create steam or hot water might need to consider converting to an electric system to meet emission limits. Such a conversion would not only be expensive, but it could cause a logistical headache in occupied buildings that will need to access each unit to install a new system. "There's going to be some major pain here to make this change," says Cohen. "We'll see in 2025 how that's going to hit."
To take some of the sting out of getting compliant, PACE financing that allows commercial and multifamily buildings in the state of New York to finance energy efficiency and renewable energy projects over time with low upfront costs will become available later this spring. Additionally, New York State Energy Research and Development Authority (NYSERDA) offers its support to buildings undergoing or considering such projects in the form of objective information and analysis, innovative programs, and technical expertise. Go to https://www.nyserda.ny.gov/All-Programs/Programs/Commercial-Property-Assessed-Clean-Energy to find out more information about these programs.