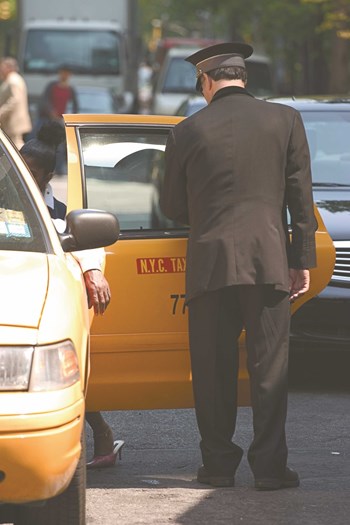 Jane Jacobs, the late, legendary urban planner whose grassroots activism prevented Robert Moses from turning Battery Park into a series of bridges, highways, and on-ramps, wrote at great length of the importance of well-used sidewalks keeping neighborhoods secure. The more eyes on the street, she said, the safer that street.
"In some rich city neighborhoods… such as residential Park Avenue or upper Fifth Avenue in New York," Jacobs writes, in The Death and Life of Great American Cities, "street watchers are hired. A network of doormen and superintendents, of delivery boys and nursemaids, keeps residential Park Avenue supplied with eyes. At night, with the security of the doormen as a bulwark, dog walkers safely venture forth and supplement the doormen."
So important are the doormen to the feeling of security, Jacobs maintained, that their loss would wreak havoc on even the finest residential street. If the rents on Park Avenue "were to slip below the point where they could support a plentiful hired neighborhood of doormen…it would undoubtedly become a woefully dangerous street," she concludes.
Rents on Park Avenue—and listing prices and maintenance fees—are not in danger of slipping anytime soon, and with any luck, we will never know if Jacobs' dire prediction would come true. But her point is clear: doormen are essential to the security of their buildings—even if providing security is not something they actively do.
"Doormen say—and many tenants agree—that their main job is security," writes Peter Bearman, a professor of sociology at Columbia, in his study titled, appropriately, Doormen, "but few doormen can ever recall doing anything that was security related, except for protecting tenants from the behavior of other tenants."
Skills and Traits
When it comes to what set of traits or skills makes for an exemplary doorman, "The first thing is communication skills," says Richard Bassik, president of Downtown Properties, Inc. in Manhattan. "And not just the ability to talk intelligently and use reasonably good grammar. They need to be able to listen, and to speak in an appropriate tone."
For example, a doorman might carry himself like a bouncer at a trendy nightclub—or, if you prefer, St. Peter at the Pearly Gates—and regard every caller to the building with obvious suspicion. This will not fly.
"If it's a stranger, it may be an important stranger," says Bassik. "You don't want to challenge everybody with, 'Why are you here?'"
This is a subtle, but important, distinction. So, too, is carriage. In a way, doormen are living, breathing perquisites, uniformed symbols of a building's status.
"Presentation is important," says Bassik. "It's got to be a person who assumes the appearance of someone able to do the work."
At the legendary Dakota on Central Park West, for example, the doormen operate from a gilded booth reminiscent of the guard stations at Buckingham Palace. Like the British beefeaters, the doormen at the Dakota appear to have perfect posture, befitting the elegance of the building.
But there's more to it than elegance. Doormen are also de facto security guards, and it helps to look the part.
"Part of the job is security," says Bassik. "If you have someone who is four-foot-eight and weighs 80 pounds, it might not be as effective as hiring someone bigger."
Hiring the Right Doorman
If doormen are agents of security for a building, the hiring process is particularly important. Who screens the applicants for these special jobs?
The search for the doorman is conducted "usually by the managing agent who runs the building," says Tim O'Brien, president of Criminal Intelligence Administration in Astoria, an independent security consultant. "It's up to the managing agent to do the due diligence to make sure they're OK to hire."
Most of the time, the board of directors gets involved with the hiring process, often doing a second round of interviews.
"Because of the sensitivity of the position, the managers will insist that the board participate in the interview process," says Bassik.
The doorman, after all, is the face of the building—someone every resident will see every day. A bad hire will flood the board's inbox with complaints. If the manager has the board approve the hire, Bassik says, the managing agency will share culpability with the board.
Indeed, there are only so many doormen jobs in New York City to begin with. Once hired, doormen are known to stay at their positions for decades. It is not historically a high-turnover position. It is also not a diverse one in terms of gender—the overwhelming majority of doormen are well, as the name implies, men.
Once available however, doorman jobs need to be filled as quickly as possible. What if your building finds itself in sudden and urgent need of a new doorman? What are some tips on what to look for in the applicants?
According to the professionals, the first tip is the same no matter what job you're hiring for, but it's especially important here: take your time. Many supervisors, when faced with a disruptive and unexpected job vacancy, try to save time by hiring the first person that walks through the door. Don't do that. Interview at least three people, and make sure the person you hire is the best fit for the job. Remember: they'll probably be there for a long time.
Second, do a criminal background check. Doormen are intimately situated within the confines of your home. You want to know if the person signing for your packages served time for petty larceny—or, worse, if he is a registered sex offender. "If he has a criminal record, you have to make sure it's understandable," says Bassik.
O'Brien advises to be thorough in your detective work. "It's important to do the criminal history for each place they lived in—Connecticut, New Jersey, New York," says O'Brien. "Sometimes, the managing agent will just do the criminal history in New York. Meanwhile, the guy's a convicted murderer in New Jersey." Criminal history checks should go back at least seven years, he says.
Employment history should be verified as well. If the applicant says he worked at Zeckendorf Towers for 10 years, you should make sure he worked at Zeckendorf Towers for 10 years. Sounds basic, but many people skip this step, taking a resume at face value.
A final piece of information to look at: "Credit checks," says Bassik. "If someone has too much debt, they can have temptation." (Although in this current market, there might be some leeway here).
Other Considerations
Although doormen are thought of as security agents, most of them are not—not officially, anyway.
"They need to be licensed from New York State if they are going to perform any sort of security function," says O'Brien. "Any time you talk about security, they have to be licensed."
Most doormen, O'Brien says, do not have licenses. They are what Jacobs says they are: hired eyes. But do they make the building more secure?
"Absolutely," O'Brien says. "Absolutely, yes," agrees Bassik.
How is this accomplished without a license, a firearm, or what have you? Mostly by being simply being there, and keeping non-tenants out.
Bassik offers an example. Let's say you don't live in a doorman building. There's a guy outside the building, a stranger, in a jacket and tie. He comes in when you do. He looks presentable, non-threatening—he's wearing a suit, right?—so instead of verifying his credentials, you hold the door for him. Contrary to what outsiders say about New York, it is human nature to be nice.
"When the person who opened the door is out of range, the intruder is in," says Bassik. This happens all the time in non-doorman buildings. "People are just not able to confront a stranger and say, 'Who are you and why are you in my building?' Doormen prevent that from happening."
Another key function of a doorman is to sign for packages and dry cleaning deliveries. In addition to being convenient for residents, this also limits the number of non-residents who have access to the building.
"Perhaps that delivery person will look down the steps for things that can be stolen," Bassik warns. "We have had instances where people will put on caps they buy in Times Square that say FedEx or UPS or whatever, and people will buzz them in. They will come up, and people will open their door to a robber. A doorman will prevent that from happening."
Having a doorman at your building's gates goes beyond the basic sense of safety that having a set of hired eyes provides. They are not police, but nevertheless, doormen protect a building. They are sentries, and their presence alone helps ward off would-be criminals. A well-chosen, well-trained doorman is an asset to a building, and adds the best amenity of all: peace-of-mind.
Greg Olear is a freelance writer and a frequent contributor to The Cooperator.