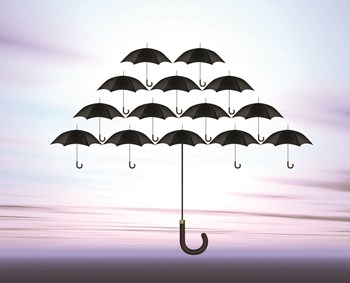 Before last September, chances are that most people didn't give much thought to whether acts of terrorism were covered by their homeowner's insurance. Co-op boards and condo associations were more concerned with whether their "all-risk" policy covered damage from water seepage and other chronic ills than from malicious, catastrophic damage. Since that fateful day when terrorist-flown airplanes brought down landmark commercial buildings and caused millions of dollars in damage to the surrounding residential properties in Lower Manhattan, the insurance industry has undergone tremendous changes. Although most New York City residents doubt that they will be the victims of a terrorist act, insurers and lenders have to picture a worst-case scenario.
Insuring the Insurers
The insurance industry has multiple layers. According to Joseph Faccibene, president of independent insurance agency JAF & Associates, cooperative corporations and condominium associations buy their property and liability insurance from one of two types of carriers. Consumers choose from "admitted carriers" - which are licensed and regulated by the New York State Department of Insurance - or "non-admitted carriers" that operate outside the State guidelines.
Admitted carriers are usually established companies who write policies conforming to New York State standards in exchange for state-funded backup in case the insurer suffers losses they can't cover. By contrast, non-admitted carriers are often younger companies, which can offer cheaper rates on policies that sometimes have more exclusions. That's not to say non-admitted carriers are less able to insure their policyholders. According to Faccibene, "Many non-admitted carriers are owned by major admitted carriers and have a great deal of financial stability behind them."
The potential for trouble in our post-September 11th insurance landscape appears at a deeper level of the equation, however. Primary insurance companies, whether admitted and non-admitted, insure themselves against excessive loss through reinsurance companies. "Prior to September 11th," says Faccibene, "every liability policy only had two exclusions: war and nuclear disaster. No policy ever had a specific terrorism exclusion."
That has caused some confusion and heated debate among industry pros. Although the lines between terrorism and acts of war are blurry, "War is defined as a military action by a foreign government," explains Robert Solberg, president of Campbell Solberg Associates, a downtown New York insurance brokerage firm. "Since September 11th, the reinsurance companies have decided to exclude terrorism coverage on all policies that they renew. As of July 1st, 100 percent of reinsurance policies have [come up for renewal]. Without supplemental coverage for excessive losses, the primary insurance companies find that they can't afford to offer terrorism coverage."