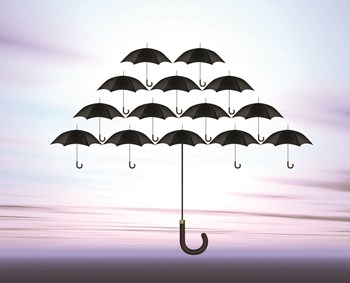 Before last September, chances are that most people didn't give much thought to whether acts of terrorism were covered by their homeowner's insurance. Co-op boards and condo associations were more concerned with whether their "all-risk" policy covered damage from water seepage and other chronic ills than from malicious, catastrophic damage. Since that fateful day when terrorist-flown airplanes brought down landmark commercial buildings and caused millions of dollars in damage to the surrounding residential properties in Lower Manhattan, the insurance industry has undergone tremendous changes. Although most New York City residents doubt that they will be the victims of a terrorist act, insurers and lenders have to picture a worst-case scenario.
Insuring the Insurers
The insurance industry has multiple layers. According to Joseph Faccibene, president of independent insurance agency JAF & Associates, cooperative corporations and condominium associations buy their property and liability insurance from one of two types of carriers. Consumers choose from "admitted carriers" - which are licensed and regulated by the New York State Department of Insurance - or "non-admitted carriers" that operate outside the State guidelines.
Admitted carriers are usually established companies who write policies conforming to New York State standards in exchange for state-funded backup in case the insurer suffers losses they can't cover. By contrast, non-admitted carriers are often younger companies, which can offer cheaper rates on policies that sometimes have more exclusions. That's not to say non-admitted carriers are less able to insure their policyholders. According to Faccibene, "Many non-admitted carriers are owned by major admitted carriers and have a great deal of financial stability behind them."
The potential for trouble in our post-September 11th insurance landscape appears at a deeper level of the equation, however. Primary insurance companies, whether admitted and non-admitted, insure themselves against excessive loss through reinsurance companies. "Prior to September 11th," says Faccibene, "every liability policy only had two exclusions: war and nuclear disaster. No policy ever had a specific terrorism exclusion."
That has caused some confusion and heated debate among industry pros. Although the lines between terrorism and acts of war are blurry, "War is defined as a military action by a foreign government," explains Robert Solberg, president of Campbell Solberg Associates, a downtown New York insurance brokerage firm. "Since September 11th, the reinsurance companies have decided to exclude terrorism coverage on all policies that they renew. As of July 1st, 100 percent of reinsurance policies have [come up for renewal]. Without supplemental coverage for excessive losses, the primary insurance companies find that they can't afford to offer terrorism coverage."
Post-9/11
After September 11th, non-admitted insurers immediately added terrorism exclusions to their policies upon renewal. The admitted carriers, however, find themselves between a rock and a hard place; New York and California are the only two states in the union that have refused to allow terrorism exclusions. "New York has a very consumer-oriented insurance department," says Solberg.
Joanna Rose, spokesperson for the New York State Insurance Department agrees. "We've had a good amount of filings [petitioning] for terrorism exclusions," says Rose. "To date, we have not approved any of them because the superintendent found them to be overly broad. The language left property owners not knowing what was covered and basically holding the bag."
While customers of admitted carriers may breathe easier knowing they have terrorism insurance, they pay a high price. Their insurance companies must go to non-traditional reinsurers to get their own coverage, and these reinsurers are charging millions of dollars for the protection. Costs are then passed down to the consumer. For example, a non-admitted carrier offers a policy with terror exclusion for $95,000. The identical coverage from an admitted carrier with terrorism included costs $150,000.
Warren Heck, chairman and CEO of Greater New York Mutual Insurance Company, tells one company's story; "The primary company had to find reinsurance coverage. They had to buy a stand-alone product (a rider just covering acts of terrorism) from a new company that formed in Bermuda. Forty million dollars of coverage cost eight million dollars a year in premiums."
"The market is very tight and shrinking to start with," says Solberg, "mostly due to the adverse relationships between landlords and tenants." On average, insurance premiums have been going up 25 to 35 percent per year for the last three years. Since September 11th, a policy with an admitted carrier could go up as much as 300 percent. Many buildings - those generally recognized as significant landmarks, or those in close proximity to potential targets - will be denied renewal as being too risky. Some may find that their insurer is lowering the amount they are willing to underwrite. "Our company has cut back from a $250 million cap to a $50 million dollar cap," says Heck. "About 96 percent of New York co-ops and condos are within the $50 million value. The bigger buildings had to use more than one company or a potpourri."
Another change in the way policies are now written is the end of so-called "blanket coverage." Prior to 9/11, many property owners and residential complexes purchased a sort of general, all-purpose insurance that covered all their buildings. Even though no single building was insured for its full value, the aggregate amount was enough to cover losses at any one building - though not enough to cover the loss of all the buildings in a single catastrophic event. "Many buildings were underinsured by 30 to 40 percent," explains Heck. With the end of blanket coverage, premiums could rise by as much as 200 percent to adequately cover multiple buildings.
Who Needs It?
In truth, most buildings in New York City will never need terrorism coverage. The ones that do are in high profile neighborhoods like Times Square, or the area around the United Nations. In order to make their decision, boards need to weigh the potential risk versus the increased cost of such coverage. Complicating the decision is the position of mortgage lenders. Most mortgages require "all-risk" coverage. Prior to 9/11, even policies that excluded terrorism were considered comprehensive. That is no longer the case. A landmark decision is pending between Four Times Square - a commercial property owner - and Cigna Investments, Inc., a lender. Cigna claimed that the tenants at Four Times Square (which include high-profile publishing enterprise Conde Nast) were in default on their mortgage because their insurance policy no longer covered terrorism. The court's initial ruling was in the bank's favor, and Cigna was granted the right to seize between $3.5 and $5 million in rents from the tenant in order to pay one year's premium for terrorism coverage. The case is currently in appeal.
"I have not experienced a bank denying an underlying mortgage to a residential building based on their insurance," says Eric Gonchar, an attorney.
Attorney Alan Fried, a partner with Manhattan law firm of Ganfer & Shore LLP says he "would be shocked if there was a huge rush of banks requiring terror insurance. My guess is that the banks are going to wait and see what happens." Fried adds that litigation such as the Cigna suit is risky and costly for lenders. "If they lose on appeal, the bank will have to cough up a lot of money."
Another potential issue for boards to consider when they evaluate their terror insurance needs is Directors and Officers (or D&O) liability. If a building is underinsured for any reason, shareholders can sue for "failure to maintain insurance." Fried, however, also feels that the court will uphold a board's decision to decline high cost premiums when the risk appeared so low. "That is a business judgment," explains Fried. "The court will not review business decisions. The plaintiff has to prove that the board was negligent in making the decision. That's going to be a tough thing for a shareholder to prove."
The good news for individual shareholders is that all homeowner's insurance is through admitted carriers and covers property damage resulting from terrorist acts. All the same, it is important to review your policy and make sure it covers enough. As 9/11 has shown, in the wake of an attack, you might be unable to inhabit your apartment for weeks or months. It's important to know if your policy covers not only property replacement, but rent of a comparable property during the time your space is unavailable. And if you're a building owner, you need to know if your building is in a target zone, and if your coverage is enough to rebuild the building at current construction costs. Faccibene has one client whose building couldn't afford to rebuild itself after 9/11. The man's homeowner's policy is paying his rent indefinitely, but his apartment - his investment - no longer exists.
Help From High Places
Help may be in sight for beleaguered New York consumers. In June, the Senate passed Act S.2600, commonly called "The Terrorism Risk Insurance Act of 2002." According to Senator Hillary Clinton's news release on the measure, "The legislation provides a temporary government""industry program for sharing property and casualty insurance losses - in short, a government backstop." The backstop minimizes an insurance company's risk in the New York market and may result in more affordable availability.
"If losses exceed $10 billion but are less than $20 billion, the federal government would pay 80 percent of the losses and the insurance industry will cover 20 percent. If there are more than $20 billion but less than $100 billion in losses, the federal government will pick up 90 percent of the losses." In addition, losses over $5 million up to $10 billion will be shared by the entire industry, with each company contributing based upon their market share.
According to Heck, "It was very important for the government to do this. Last year the House passed something. Now the Senate passed S.2600, but it's very different from the House [legislation]. We still need them to agree on legislation and then get President Bush to sign it."
According to most brokers, New Yorkers are remaining calm about the risks of terrorism and getting on with their lives. There has not been an increase in requests for terror coverage. And although some buildings are having difficulty procuring adequate coverage, most are not. Faccibene says, "I don't see mass hysteria and panic. [The industry denials] could be a knee-jerk reaction. Sooner or later the market will settle down. For example, you can buy wind storm insurance in Myrtle Beach and Miami."
With so many questions, what are property owners to do? Professionals recommend that you review your insurance needs three months in advance of renewal with a professional. Be sure an attorney reads over the fine print. Says Gonchar, "The line to follow is, what kind of insurance does our building need after 9/11? And what measures are the building taking to prevent intruders? Aggressive security can minimize your risks."
Rebekah Mulhare is a freelance writer living in New York City.