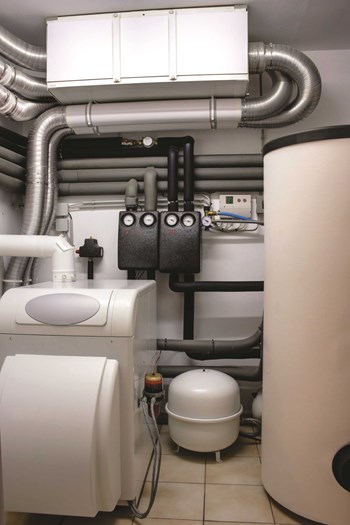 The rarely stated—but all too well understood—Murphy's Law for Boilers—asserts that if your boiler quits working, it will do so on Christmas or New Year's Eve, or at 4:45 p.m. on the coldest day of the year. With some planning, though, that broken-down boiler won't be yours on those inopportune frigid days. An association's management and staff can head off a worst-case scenario by scheduling regular maintenance and keeping an educated eye on the whole system.
With the heating season in the Big Apple extends from October to May, being certain that your building's boiler will function well should be a high-priority concern for each building's management. Maintenance also saves money by improving efficiency and extending the useful life of mechanical equipment.
Spotting Trouble
Obviously, the type of problems your building's boiler might have depend in part upon the type of boiler you have. For many multifamily buildings in New York City, particulate buildup on the inside of the fire tubes is a common problem, says Michael Sandler, president of Nu-Way Compactor and Boiler in Brooklyn. "By cleaning the boiler, you make it so the boiler fires less often, and is therefore more efficient."
Oxidation and the resulting deterioration of a boiler is also a common problem. Sometimes oxidation is caused by excessive make-up water in the system, says Steve Sibrizzi, installation and service manager for Castle Oil in Harrison. Too much water going into the system—as well as too little—can cause problems. That's why monitoring the system's water use is important, as is using a chemical water treatment for those boilers that require it, because those treatments help reduce oxidation. While a properly-trained building staff member can monitor the daily intake of water into the system by checking the water meter, chemical water treatments for boilers that require them should only be done by a company specializing in that line of work, and on the schedule spelled out by the boiler manufacturer or other qualified technician.
If a boiler is having issues, the nature of those issues might be related to how the boiler was installed—and how it's been maintained since. For example, according to Clevie Stewart, a licensed oil burner inspector and owner of Precision Combustion Consultants, Inc. in the Bronx, a steel-construction boiler, installed correctly and maintained properly (including chemical water treatment service), can last 25 to 30 years. But if improperly installed, a new boiler can begin to leak in just two or three years after installation.