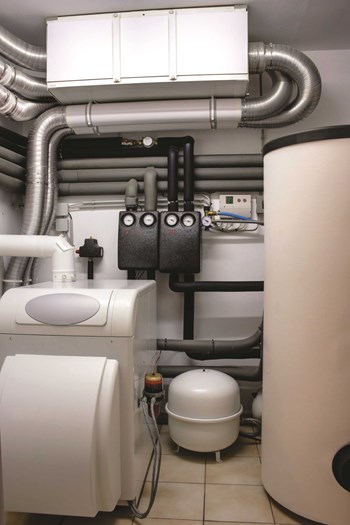 The rarely stated—but all too well understood—Murphy's Law for Boilers—asserts that if your boiler quits working, it will do so on Christmas or New Year's Eve, or at 4:45 p.m. on the coldest day of the year. With some planning, though, that broken-down boiler won't be yours on those inopportune frigid days. An association's management and staff can head off a worst-case scenario by scheduling regular maintenance and keeping an educated eye on the whole system.
With the heating season in the Big Apple extends from October to May, being certain that your building's boiler will function well should be a high-priority concern for each building's management. Maintenance also saves money by improving efficiency and extending the useful life of mechanical equipment.
Spotting Trouble
Obviously, the type of problems your building's boiler might have depend in part upon the type of boiler you have. For many multifamily buildings in New York City, particulate buildup on the inside of the fire tubes is a common problem, says Michael Sandler, president of Nu-Way Compactor and Boiler in Brooklyn. "By cleaning the boiler, you make it so the boiler fires less often, and is therefore more efficient."
Oxidation and the resulting deterioration of a boiler is also a common problem. Sometimes oxidation is caused by excessive make-up water in the system, says Steve Sibrizzi, installation and service manager for Castle Oil in Harrison. Too much water going into the system—as well as too little—can cause problems. That's why monitoring the system's water use is important, as is using a chemical water treatment for those boilers that require it, because those treatments help reduce oxidation. While a properly-trained building staff member can monitor the daily intake of water into the system by checking the water meter, chemical water treatments for boilers that require them should only be done by a company specializing in that line of work, and on the schedule spelled out by the boiler manufacturer or other qualified technician.
If a boiler is having issues, the nature of those issues might be related to how the boiler was installed—and how it's been maintained since. For example, according to Clevie Stewart, a licensed oil burner inspector and owner of Precision Combustion Consultants, Inc. in the Bronx, a steel-construction boiler, installed correctly and maintained properly (including chemical water treatment service), can last 25 to 30 years. But if improperly installed, a new boiler can begin to leak in just two or three years after installation.
In contrast to steel boilers, cast-iron boilers usually don't need chemical water treatment; in fact, water can actually damage the gaskets on some models of these boilers. And when it comes to taking care of tubes leaking in a boiler, Stewart avoids the piecemeal approach. "We recommend that when you notice a few tube leaks, you replace them all," he says.
Green Heat
With New York City's Clean Heat initiative and its efforts to reduce heating-related pollution, other potential problems have been spawned. The mandatory switch of buildings to cleaner burning fuels including No. 2 oil, No. 4 oil and natural gas has helped to make natural gas a more attractive option for the management of some buildings. Not only does natural gas satisfy requirements that the heating fuel for the building be cleaner burning, it's also currently cheaper and more efficient to heat a building with gas (after a conversion of the system, if needed).
So for boards of many buildings, the obvious answer has been to switch from an oil burning system to a gas burning system. The two types of systems aren't the same, though, and require very different maintenance. Failing to notice warning signs of trouble, especially with a natural gas system, could be fatal.
"Certain malfunctions on a gas system will bring an explosion," Sibrizzi says, adding that a converted system calls for a new approach to maintenance. "So the building maintenance staff has to be re-educated on how to maintain their boiler equipment."
While some boilers may only last a couple generations long, many last much longer. How long a boiler lasts depends not only on its construction and how it was installed, but mostly upon how it is maintained. "There are 100-year-old boilers in New York City that are still running. Boilers can last an extremely long time if they're well-maintained," Sandler says.
In-House and Professional Care
Properly maintaining a boiler isn't as simple as checking the equipment from time to time, it's about being vigilant. While much of the work that needs to be done on a boiler must be done by outside companies, some things can be done by the building's superintendent or another building-maintenance staff member tasked with the job. To start, the super can ensure that the boiler gets the requisite attention from those outside professionals. Regular servicing of the boiler and its machinery is crucial.
'Regular servicing' can mean different things for different boilers. The need for more frequent maintenance and cleaning depends largely on the particular system—whether it's oil or gas, steam or hot water, large or small, old or new, steel or cast-iron.
For example, oil burners need more frequent cleaning than those that run on natural gas. A major cleaning is an 8- to 10-hour process, and the boiler must be shut off and allowed to go cold first, which is why it makes sense to do a major cleaning before the heating season starts. On the other hand, a supplementary cleaning can be done while the boiler is still operating, and typically costs about half the price of a major cleaning.
Experts recommend that No. 2 oil-burning boilers have supplementary cleanings at least two or three times during the heating season, in addition to the major cleaning. A building with a boiler that's burning dirtier No. 6 oil should have an outside company come and clean the boiler monthly during the heating season. Permits for boilers using No. 6 oil are being phased out. The fuel oil will be banned as of July 1, 2015, and by 2030, all buildings in New York City must use cleaner fuels such as No. 2 oil or natural gas.
It's Routine
Cleaning a boiler is a crucial part of a boiler's routine maintenance. "The less often you clean, the more you'll need repairs. It removes sulfur from the boiler, and is preventative maintenance," Sandler says.
In general, boiler experts recommend one major cleaning during the heating season and one burner maintenance inspection sometime during the year. More frequent maintenance and cleaning of a system depends largely upon the needs of the particular system. And given that replacing a boiler or large parts of a boiler system can be quite costly, routine maintenance is downright cheap in comparison. Depending upon the size of the boiler, it costs between $300 and $1,200 to clean. For smaller boilers, a cleaning can cost as little as $200.
In between professional visits, your superintendent or chief engineer should monitor the daily intake of water into the system by checking the water meter. Check the stack temperature every day to see that the temperature is not elevated above normal. Check for leaks. Indications of leaks might be condensation, wet spots on the equipment or the floor (in the case of heating lines buried in the floor), or obvious dripping of water from the system. In addition, the super should monitor the fuel strainer, which can have residue buildup that will affect the system's efficiency.
And just as your average motorist more or less knows how his or her car sounds when it's running properly, a superintendent should have an ear for the building's heating system. "The super should know what the system sounds like when running properly. He should be able to differentiate unusual sounds that could be signs of problems," Stewart says. Obvious signs, however small, should never be ignored. If the super sees a leak, he should call the service professional for help. Same goes, should the super see smoke coming from the system; a quick phone call to the boiler service could alert the super to shut down the system and avoid a major catastrophe.
Legally Speaking
Local Law 62 of 1991 requires that inspection be done yearly, and it must be done by a licensed boiler installer. The inspector's report must be submitted to the New York City Building's Department by the end of the calendar year. The building owner has 45 days to fix the deficiencies, before he or she faces fines.
Board members, residents, supers and other building staff members should remember that dangers associated with boilers are very real. Electric shock, inhalation of noxious gases, and other potential threats from such a system shouldn't be taken lightly. Stewart recommends to some property owners with older boilers that they have their systems inspected every few months. When he personally inspects a boiler, he examines the system first before talking with the super about how well it is operating.
"I've had supers say they've been falling asleep in the boiler room, not realizing that it's the combustion fumes have been making them sleepy… There are times when I've called the fire department or department of buildings to report on known hazards with a boiler," Stewart says.
Carbon monoxide can be released because of incomplete combustion. It can build up in the boiler's breaching, and cause a very dangerous situation. But a properly completed combustion test will check the draft, stack temperature and carbon monoxide and carbon dioxide levels, alerting boiler pros and building staff to malfunctions that must be fixed.
And proper maintenance also saves on cash not thrown away on fines for breaking the law. New York City law requires that every building's boiler be inspected annually, by a qualified professional who could be a licensed plumber, a licensed oil burner installer, or a qualified boiler pro from an insurance company.
Maintaining a boiler properly is of paramount importance not only because it creates a safer atmosphere for residents and building staff, it also saves money from not wasting energy in running a boiler inefficiently.
Jonathan Barnes is a freelance writer and regular contributor to The Cooperator.