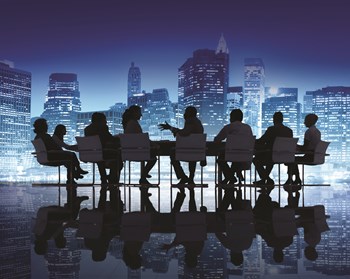 Serving on the board of directors for your building brings on a range of emotions: pride that you were selected to represent the best interests of your fellow shareholders; unease at the thought of the additional time commitment of meetings; and, perhaps most importantly, nervousness that you will do or say something that will ultimately be problematic for your board or for you personally.
This article will discuss some of the more common legal and ethical pitfalls that board members might face and give advice on how to recognize and avoid falling into those traps.
Training of New Board Members
Experienced board members should help newer members learn the ropes, not only to protect the new guy, but also to protect the whole board collectively from errors that could cost them a court battle.
"It is important for veteran board members, the building attorney and the managing agent to remind both new and incumbent board members that every member has a fiduciary responsibility to act in the best interest of the cooperative or condominium," advises Rosemary Paparo, director of management at Buchbinder & Warren, a Manhattan-based property management firm. "Perhaps that should be the first order of business whenever a new member joins the board."
Some board members may indeed not care about adhering to rules and ethics, while others simply may not realize what the rules are. Frequent reminders of how to act from those in the know—board attorneys, managing agents and veteran board members—is essential to having an ethical board.
"Sometimes people take it for granted that board members know what they're supposed to do," points out Daniel Altman, a partner with the Manhattan law firm of Belkin Burden Wenig & Goldman LLP. "But if you haven't served on a board of a corporation before, you may not know."
Altman describes a client—a recently elected board president—who contacted him for advice on what to do and what not to do in his new position. Those who have questions about how to act ethically and legally in their roles as board members can consult various sources, including the website of Altman's firm, where board members can find advice on what behavior is acceptable and what is not.
As a veteran board member himself who has served on two other boards in the past, board member Michael J. Vezzi, who lives in a 93-unit co-op in Mineola, suggests that the best way for him to teach new board members how to behave is to act ethically himself.
"I'm representing 10 to 25 of the shareholders [in my building]," he says. "I should make sure to do the best job I possibly can."
Some of the ways he works hard in his position include attending every meeting, doing his homework between meetings and taking an active part in controlling the investment policy and not simply relying on the managing agent to do it.
Keep It to Yourself
Those who embark on a board membership should realize that the power and prestige that may come with this new position do not come without a cost. Board members move in the public eye and must constantly be vigilant that they do not say or do anything that could be seen as a potential conflict of interest or ethical mistake.
Ignoring confidentiality is one way that board members can get themselves into trouble. For many reasons, discussing board business outside the setting of an official meeting is not a good idea.
"I try typically to dissuade board members from having conversations about board business [outside of the official meeting]," says Altman. "If a conversation is important enough and the board member is going to be taken to task, or the decision or the conversation may be called into question later on, I'd just as soon do it in the presence of another board member or the co-op's managing agent. Then it's two against one and usually two people have a better recollection of what happened when they're speaking with a non-board resident as opposed to a one-on-one conversation where it becomes a he-said/she-said battle."
Paparo agrees. "Private conversations can certainly be problematic when sensitive issues are under discussion. Unless a particular board member is explicitly charged with discussing or negotiating a particular issue, board business should not be part of one's general conversation with other residents, building staff and one's own family and friends. We could say, 'The better part of valor is discretion' or, alternately, 'Loose lips sink ships!'"
In his private conversations with non-board member shareholders, Vezzi keeps his responses to questions about board business simple and honest.
"Just tell the truth, but don't expand on your response," he advises. If you as a board member feel that you shouldn't give any response at all to questions posed by shareholders, Vezzi suggests simply diverting them by saying you'll "look into the matter."
Some topics should be avoided altogether.
"Boards are privy to the personal business of residents, staff members and applicants—these issues and subjects should be strictly confidential," says Paparo. "Nor should a board member ever discuss anything to do with pending or potential lawsuits."
Vezzi also avoids talking about money, since how the board decides to spend the co-op's resources can be such a volatile topic for many shareholders.
Another word of advice is to watch out how you use email correspondence, as well.
"I would think one should write emails with the assumption that they could end up being read in court," says Paparo.
Altman warns his clients against "copying any non-resident members of the co-op on any controversial topic that may come back to haunt them later on. Also avoid having an email flurry between you and a non-board member shareholder unless it's absolutely necessary."
Conflicts of Interest
Vezzi also cautions against holding private meetings outside the regular board meeting, which can seem exclusive and secretive.
Altman brings up another common way board members fall into the murky territory of 'conflict of interest.'
"Sometimes when an apartment is going to be sold and the seller is a friend of the board member, that board member may just want to get the prospective buyer accepted, even though the prospective buyer may not truly qualify," Altman points out. "It appears that sometimes board members try to use their influence on the board to have the sale approved, even though the price may be a little less than what the building's going for."
This is a case when board members forget that their primary responsibility is to the board and to the greater good of the co-op corporation and simply go about doing what's best for themselves or their friends.
Another no-no is when board members play favorites as far as parking space waiting lists are concerned. "Putting their friend higher on the list is abusing their powers and is not doing what's best for the board," Altman says.
"Unfortunately, it is also not unusual for board members to lobby for deferring necessary operating cost increases and capital projects because of their own financial situations," reports Paparo, who has managed cooperative and condominium properties in Manhattan for more than twenty-five years. "And then there is the problem of the occasional board member who acts as a personal advocate for another owner."
Paparo points out that board members who promise things to specific residents during the course of a one-on-one conversation will very likely get themselves into trouble. When residents are disappointed when what they were 'promised' never actually happens, they might even try to sue you, assuming that a single member can speak for the entire board, she says.
Hiring—and Paying For—Goods and Services
When it comes to the books, people get sensitive. This is the reason board members should be extremely wary when it comes to hiring contractors for necessary services, as well as writing checks for said goods and services.
Vezzi recalls a time he recommended that a friend hire an acquaintance of his for some contracting work. When this contractor did a very poor job, Vezzi felt as if his reputation suffered for it. Because of this, he cautions against being too over-emphatic about hiring your friends, but he does think it's okay to add them to the list of potential candidates.
"I tell boards that it's okay for you to suggest somebody so long as they're not the only one you suggest to the exclusion of other capable professionals and contractors," explains Altman. "I would suggest that they have a total of three or four prospective candidates for any particular job. And, as long as the process is objective and you disclose your relationship [with the contractor] to the rest of the board, then there's nothing wrong with that."
He does say that a board member might consider abstaining from the voting process if theirs is the tie-breaking vote.
Paparo doesn't see anything amiss with board members suggesting names for contracting work, either. She does, however, warn that "'referral fees' and/or free or sharply discounted work in one's own apartment is a kickback."
As far as paying for work done in your building, the experts seem to agree that two or more signatures should find their way onto checks for services rendered.
"At least two board members should be involved in handling the bills and the checkbook," says Paparo. "The main control is that an independent certified public accountant should annually perform a strict audit of the building's accounts," she adds.
Another way to keep the books transparent and fraud-resistant would be to have the managing agent in sole charge of paying the bills, says Altman. Typically, the managing agent would not need board approval for paying the rudimentary and recurring payments such as gas, electric and mortgage—only those extraordinary or non-recurring payments would need at least two board members to sign for.
It is obvious then that serving on a building's board comes with a whole slew of legal/ethical considerations—many of which the new board member or board president may never have stopped to consider. What's important is for board members to stick to common sense when carrying out their role: no favoritism toward friends, no unnecessary disclosure of business matters and always try to steer your thinking towards the good of the whole.
Domini Hedderman is a freelance writer and an aspiring novelist living in Erie, Pennsylvania.