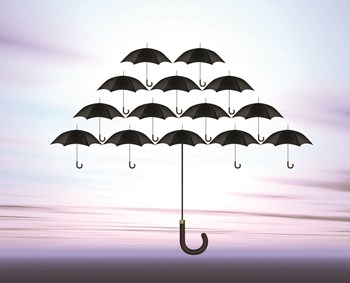 By definition, insurance doesn't fit into the mold of predictability. It's something we buy, but hope we'll never need. With some 30,000 structural fires taking place in New York City last year, it's clear that the unexpected can and does happen-and it's easy to see the importance of properly insuring against potential tragedies.
Getting the Coverage You Need
"Anybody living in a co-op or condo needs homeowners insurance," says New York City regional manager Roger Septoff of Utica-based Adjusters International.
A basic policy starts out at around $150 or $200 per month. "You're covering the improvements you've done to your co-op or condo, as well as the contents of your home," Septoff says. "The condo owns the floors, walls and ceiling."
While policies vary in dollar value, most homeowners insurance is "pretty much boilerplate," Septoff says. "Except for ALE expenses." ALE (which stands for Additional Living Expenses) provides funds to ease the time period after catastrophic incidents. If a fire or flood makes your building uninhabitable, you will have to live off site. ALE covers the cost of hotels, food or rent. Some people have their policies set up as set dollar amounts, while others opt to cover a certain period of time after a catastrophe.
Getting this coverage-and investigating the maximum coverage available-can be vitally important should disaster strike. Residents of an Upper West Side co-op ravaged by fire some 18 months ago have not yet been able to move back into their homes and still have several months to wait while repairs are made. While still liable for their mortgage payments, cash can be tight and the ALE can make a huge difference. Septoff points out that, "in New York City, $20,000 to $50,000 doesn't last that long."
While monthly homeowners insurance payments might seem burdensome, in the end, they're more than worth it. "Every year you gamble," Septoff says. Without insurance, "you might save $200 [a month]. That's great, but after college you start accumulating things of value. You may save, but you may lose much, much more." [$1,800 to $2,400 a year.]
You've Got the Policy-Now What?
So you've got your policy. You're set with your additional living expenses. You've even considered flood insurance-but decided against it since your apartment is ten floors up. You couldn't be any better-prepared, right? Well, actually, you could.
In the case of a fire or some other catastrophic event, how can you prove you once had that signed first edition Dorothy Parker? Will you remember the titles of all your CDs or the value of all your jewelry? In the aftermath of a traumatic event, it's hard enough to carry on emotionally, let alone intellectually. This is not the time to try to recreate a detailed list of all your lost possessions.
"People know they should [draw up a personal inventory]," says Marilyn George, president of Safe Haven Home LLC, a company devoted to helping people prepare for the worst. "They realize they should do it, but no one does."
George knows exactly what it's like to lose everything. Several years ago, her house burned to the ground, leaving her with nothing. When it came time to submit a claim, she compiled a list of furniture, clothes, jewelry, kitchen appliances-all of the little things that make our houses homes. What troubled her, however, was the nagging notion that she was forgetting something. Actually, a lot of somethings. For months afterward, she continued to remember items she'd left off the list. While her insurance company remained cooperative, the stress of remembering was akin to having to live the experience of the fire all over again. "Trying to recreate from memory was very difficult. I wound up standing in the debris and trying to remember what once stood there," George says.
Realizing her mistake was no doubt being repeated by thousands of people across the country, including her own family, George decided to take action. Last year, she published a booklet entitled, "How to Inventory and Document Your Possessions For Recovery in the Event of a Disaster."
George's booklet outlines a simple, five-step process describing the best ways to document every important-and perhaps, not so important-item in your home. The guide shows how to provide indisputable documentation by photographing or videotaping all items, how to organize and identify photos for quick access and retrieval, how to create inventory lists for each room as well as identification cards with specifics for important items, and how to gather receipts and other validating documents and safely store your records. It sounds like a lot to do-and it is-but George's plan divides it up into manageable chunks.
Photographing-the most common and most effective means of personal inventory-should be done methodically. George suggests doing one room every weekend. To capture the contents of an entire room, people should shoot from one corner of a room, then move to the opposite corner. In this manner, it should be possible to scan the whole room in two simple moves. Documenting individual items takes more time. Clothes should be taken from drawers and laid on a flat surface to show quantity and variety, as should pots and pans.
Unlike still photos, video taping also allows you to narrate your walk through rooms. When video taping, don't forget to turn on the date and time settings. By including date and place of purchase in your voice-over, you'll be able to provide added verification if you should ever have to give the tape to your insurance company.
When photographing or video taping electronics equipment–stereos, DVD players, VCRs, computers, faxes-be sure to keep a record of serial numbers. People often forget to make back-ups of computer files and programs as well. And it's best to keep digital valuables in secure, off-site locations, like safe deposit boxes, or mini-storage units.
Once the photos are developed, be sure to go through and catalogue them into manageable sets that can be cross-referenced on inventory sheets and item cards. It also helps to do rough sketch floor plans of rooms, using graph paper to show layouts and placement of furniture, electronics and other large items.
Little things tend to be neglected. In the bathroom, toiletries, cosmetics and medicines should all be catalogued. Jewelry should be photographed, with rings placed in the folds of dark-colored, tucked cloth. Rings laid flat are not visible.
Receipts are also vital in ensuring adequate detailing of possessions. "These papers make up the audit trail of your life and are usually difficult if not impossible to replace," According to George, "If you received items as gifts and have no proof of purchase, a documented letter telling the value and how the gift came to you can be substituted," she adds.
Once you've got all your photos, videotapes, receipts and lists in order, it's time to find a secure storage place for them. Fire-resistant safes are good spots as are-believe it or not- freezers, which are fire-resistant to a point. If you have a large stash of valuable documentation and if you can afford it, bank safe-deposit boxes or commercial safe-deposit vaults provide other alternatives.
In addition to the added sense of security that comes from documenting your possessions, this in-depth examination of home and hearth serves other purposes. "It's like spring cleaning," George says. "It's a good opportunity to clean house. And it's amazing, in the course of a year, how much stuff we collect. The home documentation project is a cleansing, just to go through things, organize and prioritize."
In the end, it will have been a long job, but the final result will let you sleep better at night. And with your insurance needs squared away, you know you've made a step toward making an uncertain future just a little more secure.
Ms. Lent is a freelance writer living in Bloomfield Hills, Michigan.