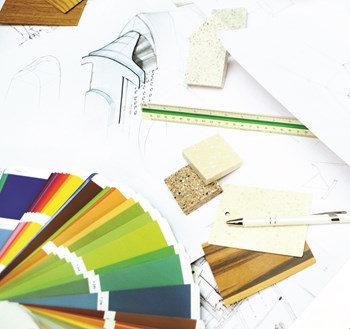 Now that the city has shed its dark winter shades and spring is finally here, it's time for the renovation work to begin. Whether yours is a 250-unit high-rise or a seven-unit walk up, buildings all over the five boroughs are getting ready for a makeover. One of the best ways to give a building a new look is with a fresh new paint job. The results can be astounding - without a budgetary hemorrhage.
Just because spring has sprung doesn't necessarily mean you have to run out and grab a paintbrush. Most buildings, depending on the size and level of traffic, will do a thorough lobby or hallway repaint as often as every five years or so. "It depends on the treatments," says John Marino of JMPB Painting, Inc., in Mt. Vernon, referring to the types of paint - or even alternative wall coverings - used. "Some treatments are a little more durable. It also depends on how much traffic there is and what type of tenants you have. Some are a little rougher on the walls than others."
If your walls are indeed looking a bit dull, and that mid-70s brown-and-orange color combo simply isn't serving its artistic purpose any longer, than it's time to call in a professional or two to get the paint process rolling.
Pre-Paint Procedure
As with any large-scale and potentially expensive undertaking, it's vital to plan ahead. Boards and building managers need to sit down and discuss the scope of the project before delving into details like vertical stripes versus wallpaper borders. "My strongest recommendation is to first get the budget for the project before seriously starting to discuss what you want to do with colors and patterns," Marino says. "Then to ensure the project goes smoothly, the board needs to hire an interior designer, because that person will work as a guide and liaison."
Securing expert advice before a leap into the fray takes some of the load off the board's shoulders and also sets the stage for a successful effort. Your designer can serve as the go-between - or more likely, as an additional voice in conversations between the board and painting professionals. Many painting and refurbishing companies will come to the building and do a free survey. "We give them budgets detailing various treatments, from a basic budget for painting doors and installing wall material all the way up to the top of the line," Marino says. "That way, they know what their options are and what they can afford." Boards should always get a consultation, he adds.
Finding a company that can provide personalized attention could be the difference between a frustrating situation and a relatively smooth, stress-free process. "Often, smaller companies can give more personal service," says Don Fahrbach of Paint "˜N' Paper in Manhattan. "I just did one bid where a board wanted a faux finishing option. I was able to meet with them several times and came up with a number of different options. In the end, we managed to give them a lower price and were also able to match the color of another recently renovated area."
Many times, the early meetings and consultations will do more than just secure the best price. They'll save a lot of confusion and - occasionally - anger between board members. Marino strongly encourages boards to hire outside designers in addition to consulting with painters and other contractors. "The thing that pushes a schedule back the most is deciding, getting approvals, and trying to get the board to agree," he says. "Often a board will think they can do everything in-house. They'll waste a lot of time, then realize they need help later. After six months or a year, they finally hire a designer or an architect and then they have someone with a wealth of experience to spearhead the project. You need someone in a leadership position. It saves a lot of time and frustration."
Sea Foam or Salmon?
The best part about repainting is the breadth of choice available to building boards. No matter what the taste or preference, there's a material out there to please even the most fickle tastes. And if there isn't, there's likely a company out there who can make it to order.
Consider the paint itself; the average customer will generally think of paint as simply that colorful stuff that comes in those heavy, squat buckets. In reality, there are as many different types of paint and treatments as there are colors - and there are a lot of colors. There's flat and glossy, custom blends and faux finishes. "[With faux finishes], we can make a wall look like almost anything," Fahrbach says. "There's striated glazing, wood staining, faux marble finishes. Glaze finishes are very popular."
Many buildings go for the glossy finishes or glazes in common areas like halls or lobbies. "The flat finishes are less durable," Fahrbach explains. "They're going to get marked up with fingerprints and dirt, and they're not washable. Glazes and protective coatings can wipe clean." This cuts down on long-term wear and tear and makes painting a far less frequent expense.
In addition to paint, "there are a million and one vinyls," Marino says. "Nine and a half times out of ten, that's what designers will choose for their wall treatments. They choose them for their price, for durability, and their ability to hide surface imperfections." Sold in 54-inch sheets, the materials are affixed to a wall and can go up relatively smoothly.
Choosing the type of paint or glaze suitable for your building depends not only on personal preferences, but what kind of structure and history the building has. "Straight painting is more typical in the Upper West Side in smaller buildings with fewer units," Marino says. "There's a lot of painted stucco in those buildings. But almost all of the one-hundred-plus-unit buildings use wall coverings. They're much more durable than paint or wallpaper, much more stain resistant than fabric and easy to repair."
Selecting a color may be much more challenging than picking the finish. At times like those, it's often a safe bet to go with the popular choice. "Premier whites are popular," Fahrbach says. "And sage green. Everybody has been using it." There's always the chance, however, that a color can become so popular and be seen so often that it quickly falls out of favor. It's often difficult for even the professionals to make suggestions that will please all tastes. "Color is something that, unless we're trying to match something else, we try to stay out of," Fahrbach says. "It's very contentious with boards. I just try to give them enough samples so they can choose for themselves."
Bring Out the Drop Cloths
When the rough decisions have been made, the color chips safely put away and everyone has come to peaceable agreement, then it's finally time for the painters to come in and work their magic. The intricacy of the process varies greatly, depending on the type of wall covering or paint selected. "It all depends on what level of finish the client wants," Fahrbach says. "We'll do everything from wash the walls to a full-skin coat. It really depends on the designers and budgets."
With a good, professional company, the inconvenience for residents should be kept to a minimum during the painting process. "We try to use low-odor products whenever they're available," Fahrbach says. New technologies make it easier to do just that. "More and more products are coming out that have the durability of oils without the odors. There are more water-based alternatives." Finding the right product is part of the painter's job duties, he believes. "That's part of my service," Fahrbach says. "If a plan came through that asked for Zolatone (a product with substantial odor) in a high-traffic area, say near the laundry facility or in an area that couldn't be ventilated, my job would be to say, "˜Have you thought about doing this instead?'"
Smell can be just one of several problems if a painting or wall covering project gets out of hand. Professional companies should be dedicated to maintaining a clean workspace - no matter how long or how big the job is. "A significant portion of our labor is spent on maintaining a certain standard of cleanliness in hallways and common areas," Marino says. "We go to extensive lengths to minimize dust, because we know we're in people's homes. We vacuum halls at the end of the day and never leave any debris." Marino says his company also tries to keep the walls looking good, even in mid-process. "If we're going to remove wall coverings, we immediately prime the walls after so everything's white. That way, if there are any delays in final selections or things like that, we've kept everything clean and looking neat."
If the board and designer planned ahead and came to relatively quick decisions, then residents should not have to worry about looking at drop cloths and paintbrushes for too long. Even in large buildings, Marino says a job could be finished in several months, depending on the level of work needed.
Like anything else, the key to getting a good result in your hallways and lobbies is to plan, plan, plan. Taking a few extra steps and considerations at the beginning of a project will get you to the finish line in an orderly fashion a whole lot sooner.
Liz Lent is a freelance writer and a frequent contributor to The Cooperator.