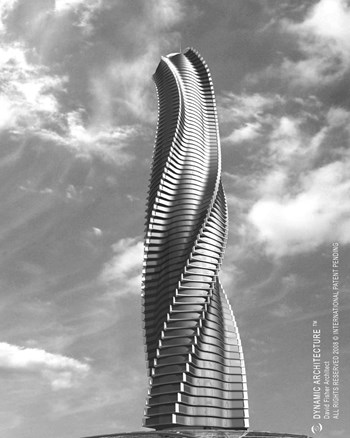 Buckminster Fuller, a thinker, inventor, artist, mathematician, (the list goes on,) once said, "People should think things out fresh and not just accept conventional terms and the conventional way of doing things." Fuller, most famous for his invention of the geodesic dome, sought to solve the problems facing mankind before they were insurmountable, thinking so far 'outside the box,' that he based most of his designs on the tetrahedron. Thinking so far into the future that, decades ago, he was trying to solve the problems we face today.
Among Fuller's many inventions was the Dymaxion House, which was energy-efficient, pre-fabricated in a factory, and easily assembled around a centralized core. This was over 50 years ago, a commercial failure, and further fuel for his critics. Perhaps, Fuller's genius was too radical to be accepted by a more conservative society during his time.
In some ways, though, it seems that Dr. David Fisher, a Florence, Italy-based architect with Dynamic Architecture, might be picking up where Fuller left off. Fisher has begun work on The Dynamic Tower in Dubai, which according to the company's press release, will be "the world's first building in motion."
The Dynamic Tower
The Dynamic Tower is an 80-story mixed-use building, in which each floor rotates around a centralized core at different speeds. Floors will rotate in accordance with a wide selection of proprietary computer programs, with the exception of the luxury villas, whose movement unit owners can control independently. According to the architecture website WorldArchitectureNews.com, the tower's segmented design will allow the floors to turn independently of one another using voice recognition technology. A full rotation of each floor will take up to three hours. "In the Dubai building the voice recognition will be able to interpret such instructions as 'left' or 'right' in English, Arabic or Italian, says the website." And the result will be a constantly changing external structure, which the press release states as introducing a fourth dimension to architecture, that of "time."
"Time is the most powerful dimension of our lives. All our life depends on time," says Fisher. "Today's life is dynamic, so the space we are living in should be dynamic as well, adjustable to our needs that change continuously, to our concept of design and to our mood," he states, in a press release.
The first 20 floors of the Dubai building will be office space, followed by fifteen floors of a six-star hotel. Floors 36 through 70 will be residential apartments, capped off by ten floors of full-floor luxury villas. Apartments will range in size from 1,330 square feet for the smallest units, (with prices starting at $30 million dollars) to the custom-made luxury penthouse villas, featuring 12,900 square feet of space, a swimming pool, sauna, 360 degree view, home theater, and elevator-accessible parking space at the entrance of the unit. Yes, if you live in a luxury villa on one the top floors of the building, you can drive your car into an elevator and park it in your apartment. If this is the case, odds are, we're not talking about a Geo Metro.
Green, Green
The Dynamic Tower features further innovation in its usage of energy-efficiency. Each floor will be separated by a horizontally-mounted wind turbine. Manhattan-based architect, Robert Cane, points out that "the wind turbines would have to be isolated to prevent unwanted vibration in living spaces." But, according to Fisher, the turbines are quiet due to their special shape and the carbon fiber material. "You cannot sell luxury apartments of 10,000 square feet, if you cannot guarantee that there is no noise," he says.
Michael A. Newman, a partner with Manhattan-based Dunn, McNeill, Ramsay, Inc., consulting engineers, mentions that in order for the wind turbines to work properly, the building would need some open space, which would reduce the turbines' functionality in a city like New York. How the wind turbines will ultimately function remains to be seen, but implementing them horizontally in the space between floors does demonstrate Fisher's ability to adapt and meet head-on with varying design opportunities and problems.
In addition to the 79 wind turbines, the Dynamic Tower will have photovoltaic cells placed on the roof of each rotating floor to produce solar energy. Throughout the day, "approximately 20 percent of each roof will be exposed to the sun."
The combination of wind and solar energy is expected to make the tower entirely self-powered, generating enough electricity for the Dynamic Tower itself, in addition to surrounding buildings.
The interiors of the tower will be made with recyclable materials, including stone, wood, and glass. "Insulated glass and structural insulating panels will be employed," further hammering home the prevalence of green building on the project.
One of the most notable aspects of the Dynamic Tower, is that Dr. Fisher plans to save energy by prefabricating individual units in a factory. The units will be completely constructed at the new Rotating Tower Technology factory in Italy, and exported from there. By building units in a factory, Dynamic Architecture aims to save energy, reduce energy usage, and cut building costs. The approach is expected to allow for the completion of each floor in a mere seven days, which includes all necessary plumbing, electrical systems, flooring, lighting, and everything in between. "At the site, the preassembled units are simply hooked to each other mechanically. This results in environmentally clean construction sites, with limited unloading of materials and low levels of waste, noise and pollution," says a press release. Eliminating, or at the very least, greatly reducing noise pollution from construction is something that Dr. Fisher believes will be a benefit of building in a factory, in addition to being able to provide better-quality, custom-made units.
Also, by prefabricating the individual units, fewer workers will be needed to complete the building, which is currently slotted for 2010. The onsite construction in Dubai will be conducted by 80 technicians, "instead of the 2,000 workers for a normal job of the same size," according to Dynamic Architecture. A total of 600 factory workers will assemble the units in Italy.
Professional Skepticism
One of the most intricate processes of assembling the units, will probably be the piping on a rotating floor. Initially, Fisher says he thought he would have to use a system in which flexible piping rotated 540 degrees and would then have to come back so as not to break. But, "then I got a better idea," he says, involving a smart system that "allows the pipe to become flexible pipe."
William Pyznar, PE, an engineer with Falcon Engineering, which has offices in Manhattan, New Jersey, and Philadelphia, points out that the tower has a lot of room for failure with so many never-before-seen, potential problems. For one, it would require "unique and complicated plumbing fixtures," which makes completion of the building more difficult, considering the fact that simple plumbing fixtures cause frequent problems in stationary buildings.
When asked how the new plumbing system will work, Dr. Fisher said that he was not currently at liberty to discuss it. "All I can tell you is that it works," he says.
Cane says of the proposed tower, "My reaction is that this is a 'visionary' but completely unrealizable project, due to a variety of engineering and practical concerns."
For one thing, "all floors would require very inefficient structural cantilevers from the core. How would these both resist wind and gravity forces and yet move at the same time, without complex and cumbersome engineering?" he asks.
Newman, a says, "it's an exciting idea, it's a revolutionary idea, it's an attractive idea…but we have no data. We have no time line. We don't know how long it will actually take to construct. " Another consideration, Newman mentions, is the infrastructure that would be needed to service a rotating building, if say, a floor stopped turning. That said, says Newman, "this Dr. Fisher is a genius, obviously."
Plans for Dr. Fisher's revolutionary tower were announced earlier this summer. Although Moscow is supposed to follow Dubai, plans for other dynamic towers have been discussed for major cities including New York, London, Paris, and Hong Kong. Currently, construction has not begun on the tower in Dubai and no agreements have been announced yet for other cities. In terms of a rotating tower in New York City, Newman mentions that the city's strict building codes would certainly pose much more of an obstacle than in Dubai.
Clearly, such an immense and unorthodox project is bound to draw skepticism and criticism. The feasibility of the construction, safety, and inevitable completion of the building certainly raises some eyebrows. On the same token though, what Fisher is proposing could prompt a new wave of four-dimensional buildings and a radical new form of architecture.
With any new approach, there are bound to be unforeseen setbacks. But the building's conception should inject some new thought and lifeblood into architecture, engineering, construction, and the way we think about buildings and the spaces where we live and work. Most of us won't be throwing down a few dozen millions for an apartment in a rotating tower, but that doesn't mean we can't revel in the thought of staring at constant peristalsis from the obsolesance of our buildings confined to a mere three dimensions.
Brendan J. Flaherty is an associate editor atThe Cooperator.