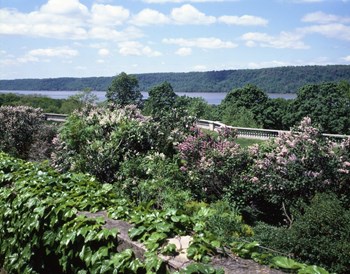 When people think of the Bronx, most probably picture an urban landscape of tenements and commercial buildings surrounded by acres of concrete and asphalt—the image of a leafy suburban enclave is perhaps not the first thing that comes to mind. That's one of the things that makes the neighborhood known as Riverdale so special.
Bounded on the west by the Hudson River and on the north by the Westchester County line, with borders extending south to 224th Street and east to Van Cortlandt Park and the Henry Hudson Parkway, Riverdale's landscape is characterized by winding streets, hilly terrain, and dramatic rocky outcroppings along the river. A large portion of the neighborhood has been designated a greenbelt, with open spaces, public facilities and outdoor recreational opportunities, and the views of the high, rocky cliffs of the Palisades and the Hudson River are magnificent.
Indeed, not much has changed in the landscape since The WPA Guide to New York City, published in 1939, described Riverdale this way: "The homes are set along rambling lanes; on the crests of hills overlooking the Hudson; atop ravines that lead to the river; amid flower gardens and picturesque rock formations."
Thanks to strict zoning regulations, the neighborhood has more or less maintained its look and character since the WPA Guide was published—but that's not to say the area hasn't borne witness to some interesting changes over the years.
Meadows and Mansions
In 1786, farmer William Hadley bought the wooded hilly tract that is now Riverdale as a homestead on which he intended to cultivate and raise livestock. His near neighbor, Frederick Van Cortlandt, was successfully farming wheat. The Van Cortlandt House, which was built in 1748, claims the title of the oldest surviving residence in the Bronx, and is now a museum. George Washington made it his headquarters several times during the Revolutionary War.