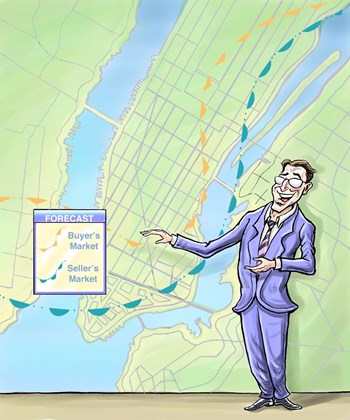 The year 2008 is likely to go down in history as one of the most disappointing (or maybe flat-out alarming) for the U.S. economy in general. To be fair, the city hasn't suffered as much as most of the nation has—but the co-op and condo market has not escaped the crisis unscathed.
The subprime mortgage crisis sent shock waves through the economy, and now, many new condo developments have gone for months with barely half of their units sold. Some have lowered prices, some have switched gears and become rentals, and in extreme cases, some have just stopped construction altogether.
A Very Bad Year
Ask how the tanking economy affected the residential real estate market, and you'll see that there are many ways to say "not very well."
"For many brokers," says Kirk Henckels, executive vice president of Stribling Private Brokerage, the well-known luxury brokerage in Manhattan, "the first half of 2008 was the best they have ever had, and the last half was the worst."
The hard numbers compiled by Yale Robbins, Inc. (The Cooperator'sparent company) and owner of Condo-Sales.com bear this statement out. While the average price of a condo in the city increased 1 percent from $1,550,284 to $1,563,058, the number of units sold was down significantly. Total condo sales in 2008 numbered 7,348, down from 8,107 units in 2007—a decrease of nearly 800 units. Month-to-month decreases in the first part of this year point to an even greater decline in sales. For example, February of 2008 saw 551 condo units sold, but February 2009 saw only 236 units change hands—a 57 percent nosedive.
"For the first time," says Jacky Teplitzky, managing director of Prudential Douglas Elliman and leader of the Jacky Teplitzky team, "we have a downturn in all market segments. Until now, if we had some lows, it was more segregated by the price ranges. Usually the high end remained resilient, but now it's been impacted too."
Any number of explanations have been given for how the economy hit residential buying in 2008: the fact that many would-be buyers were impacted by layoffs in the financial industry, that many people lost millions in bad investments, that government regulators were too lenient with financial institutions, and so forth. Regardless of the reason, we are not where we would like to be—and it's a strange feeling, given the legendary robustness of the New York City housing market.
Some people believe that things will soon be looking up because of the new presidential regime which brings with it a new way of looking at the economy, although others say in the words of the old song, "It's too soon to know."
Of the Obama administration, Henckels says, "I think the changing of the guard is viewed as a positive in most people's outlook going forward. Except for the fear of capital gains—which now looks unlikely—the impact has been positive, but not strong enough to overcome a bad economy."
Comparison with Years Past
With all the problems of today's market, comparing it to the early 2000s is tricky because of the effect of the 9/11 attacks, especially in Lower Manhattan. Still, recalling that time, Neil Binder, principal and co-founder of Bellmarc Realty says that horrific event only affected the market for about four months, and after that it rebounded successfully. That is not the case today.
"In the current environment, it's like we broke our arm and we're healing it," he says. "In 2001, we got a smack on the head."
Overall, says Teplitzky, during the early 2000s, "We were experiencing double-digit appreciation on a yearly basis. A lot of conversions and new construction took place. Now we are in negative appreciation territory or—if we're looking at a glass half full—only single-digit appreciation."
If prices are down, how much are they down? Henckels estimates that in co-ops, prices are down by about 15 percent, although he elaborates that this is not a function of too many units on the market but rather of the bad economic situation in general.
Teplitzky takes a more optimistic viewpoint—although she acknowledges that prices are down, she says they are still above the price level of 2005. "I call it a market correction," she says.
Condos or Co-ops?
No matter what the shape of the market however, people are still buying apartments—both condos and co-ops. According to Henckels, both types of apartments were "extremely strong" in the first half of 2008.
Many say that condos were more popular among the buying public because of the freedom involved—you don't have to go through a board to get in, you have ownership rights and so on. Others say it's a matter of inventory.
"If you go by absolute number," says Binder, "the total population of [owned, as opposed to rented apartments] in Manhattan is 80 percent co-ops, but all the new construction is condo, so condos are much more in the eyes of the public. In terms of an absolute number [sold], it's about 70 percent co-op, 30 percent condo."
Frank Percesepe, regional senior vice president for The Corcoran Group's Brooklyn operations, asks rhetorically, "Which is more popular? It depends on the perspective. We sold a lot more condos last year, but that was only because there were more condo buildings. It's a function of inventory, not popularity."
What Are They Looking For?
Buyers, particularly those of means, are still looking for attractive new features in their apartments. Features popular in the past year include health clubs, children's play rooms, bicycle rooms, storage bins, garages—and of course, more square footage.
For Stribling's high-income buyers in Manhattan, says Henckels, "Service has always topped square footage in valuation. The condominium seekers want a five-star restaurant, valet parking, a pool, etc.—and many of them also wanted square footage.
"In the old [pre-crash] economy," he says, "the wealthy wanted and expected everything."
Rosemarie Markgraf is a licensed real estate broker for the Brooklyn-based Markgraf Group Ltd., a small firm that is active in three boroughs, and also teaches real estate at several area colleges and the New York Real Estate Institute. She says that apartment-seekers are interested in "Appliances, granite counters, commercial ranges, light is always important, security and lots of amenities. Parking is a big thing, and the staff the building has is a big thing too."
No matter what the economic situation, Manhattan, of course, and areas near Manhattan, such as Brooklyn Heights, Greenpoint and Astoria, continue to lure buyers. The romance of the greatest city in the world and the excitement that surrounds it is a given, whether times are good or not-so-good.
"City living is more popular than ever," says Teplitzky, whose team was ranked number one in 2007 at Prudential Douglas Elliman. "People want to have access to supermarkets, playgrounds, movies, theater, restaurants, and museums just by walking. People look for the diversity and energy that the city has to offer. There are a lot of empty nesters who want to have fun, and the city offers that to them too. Families want to be close to their workplace and not have to endure arduous commutes."
And nowadays, Pecesepe reminds us, the romance of New York City includes Brooklyn too, with institutions like BAM, the Brooklyn Botanical Gardens and Prospect Park, as well as the Williamsburg art scene.
What Areas Are Affected?
Of course, not all neighborhoods are affected by the slump—or are they? As always, it depends who you talk to.
Binder says Greenwich Village and the West Side in general are still doing well because those areas have "unique units. Cookie-cutter units have a propensity to make prices go down, so Midtown and the East Side are vulnerable. East of Lexington, you have a large inventory of similar properties. The worst is the Eighth Avenue and 42nd Street corridor—those guys couldn't move anything. There was too much at one time coming aboard—too much inventory."
According to Teplitzky, "History tells us that the most established neighborhoods like the Upper East Side and the Upper West Side will be hurt less than others. The most vulnerable are the emerging areas—Financial District, the West 40s, Harlem, the Upper-Upper West Side, DUMBO, Long Island City and Williamsburg."
Markgraf says basically the same thing, but concentrates on Brooklyn. "The areas that are most vulnerable," she says, "are those that were just beginning to experience new buildings, such as Bushwick and East New York, where condos were fairly new."
Still, there seems hope for some neighborhoods, Although he terms it a "fringe neighborhood," Henckels says the East 50s "should offer some of the best deals in the recession. We feel that it is undervaluated and will have excellent prospects for appreciation going forward, especially the high end of the market."
Making the Market Work for You
What should prospective buyers do if they want to take advantage of the market?
Teplitzky advises readers to look for new or converted buildings with a lot of remaining inventory, apartments that have been on the market for more than five months, and co-ops that don't allow their shareholders to rent (this rule, combined with the economy, forcing some of them to sell).
"The best deals," adds Henckels," are those with sellers who have to make a deal quickly due to any number of different timing requirements, such as estate taxes or other liquidity issues."
All in all, prospective buyers should get on the Internet, find out as much information as they can, and deal with an experienced, qualified broker who has the inside scoop on sellers and developers.
And for many buyers, some good advice—now as in more prosperous times—might be that if you have your heart set on a particular neighborhood, you should concentrate on that neighborhood, at least for awhile, and not be turned off by high prices. Something good may come along at any minute. If you give up too easily, you could end up stuck in a neighborhood you're less than thrilled with.
Emerging Trends
What trends are emerging that could become big selling points in 2009 and beyond in terms of what people are looking for in their apartments?
"Thirty percent financing with 10 percent down would be great," says Markgraf. "Also, studios are becoming more popular," since more young people are still coming into the city, as well as retirees who previously lived in the suburbs or in larger apartments.
Pricing, says Henckels, "Will become increasingly important, and not just for the obvious reasons. As we weather this recession, the discount from the asking price is relatively high. However, as we go forward, smart sellers will factor in the 15 percent in values and price their properties close to the new value in order to stimulate buyers."
And, of course, physical features will still be important. Some of these may include home offices, a washer and dryer in the apartment, outdoor space, and two old favorites—health clubs and garages.
While it's very hard to predict what the coming few years will mean to the New York City residential market, it's clear that not even the historically solid Manhattan market is immune to the roller-coaster ride the U.S. economy has been treating us all to. In uncertain times such as these, doing one's homework and assembling a team of seasoned professionals who have watched the market's fluctuations for years may be the best strategy for anyone looking to either buy or sell in the current climate.
Raanan Geberer is a freelance writer, reporter, and editor living in New York City.