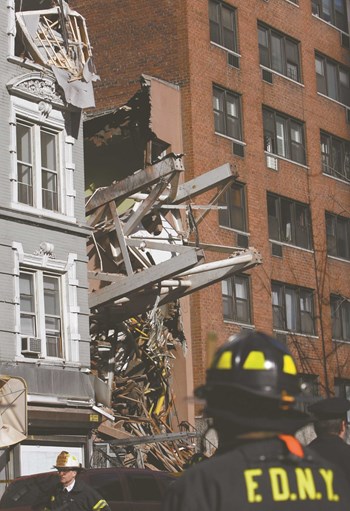 Workers' compensation, according to the New York State Workers' Compensation Board, is insurance that provides cash benefits and/or medical care for workers who are injured or become ill as a direct result of their job.
Employers—and, in the case of some co-op and condo boards, corporations that may not employ anyone—pay for workers' comp insurance, and it's not the workers who benefit. To understand why that is, we must look at the history of workers' comp.
Origins in Labor Movement
Although there are attorneys, boards of attorneys, doctors, and courts of law devoted entirely to the subject, workers' compensation laws were established in part to reduce the need for litigation.
"The origin was in Germany at the turn of the 20th century," says John H. Geaney, a partner with the law firm of Capehart & Scratchard in Mount Laurel, New Jersey, and a prolific author of material on the subject. "In America, workers' comp took root later in the 20th century."
Indeed, workers' compensation—or workman's comp, as it was known in those days when the workers were mostly men—was one of the many benefits earned by America's Progressive Era labor organizations, for whom we celebrate Labor Day.
Before the workers' compensation laws were passed, cases of workplace injury were considered under tort laws. This meant that injured workers had to prove that the employers' negligence caused their injury. So if Building Superintendent John Smith injured a knee at the ABC Co-op Building, he had to prove that the building was at fault.
This was a boon for tort lawyers, but no one else. The workers who sustained on-the-job injuries were almost always manual laborers with little money to hire attorneys. And if they did, the employers had deeper pockets, which in most cases meant better legal representation.
The workers' comp law is a compromise. The worker surrenders his or her right to sue for negligence, but gains the right to get benefits for injuries sustained at work—even if the injuries were the fault of the worker.
"Even if the employee is at fault," says Geaney, "the employee gets paid benefits."
Let's say John Smith is the super for a co-op building in Queens. His duties include using an industrial buffing machine on the lobby's marble floor. Safety guidelines indicate that Mr. Smith should wear protective footwear while going about his daily tasks, but for some reason, he opts instead to wear flip-flops. While polishing the marble, the buffing machine suddenly shifts into reverse, running over Mr. Smith's right foot and severing several toes. Mr. Smith is maimed—and even though it's arguably his fault for wearing substandard footwear on the job, he's still entitled to workers' compensation benefits. (The main exception would be if he were physically intoxicated, or worse, before punching the clock and making his unwise shoe choice.)
"From the start, it was designed to cover most non-agricultural employment where there is a valid employer-employee relationship," says Peter Rousmaniere, a workers' compensation consultant and columnist for Risk & Insurance Magazine.
Although they overtly bear the cost—too much of the cost, it has been recently argued in the state Senate—employers also benefit from the arrangement.
"Unlike tort law, in workers' comp, negligence is irrelevant," says Evan J. Spelfogel, who specializes in labor and employment law, and is a shareholder with the Manhattan-based law firm of Epstein Becker & Green PC. "This insulates companies from the massive awards a plaintiff can win in other kinds of court."
"From the outset of the workers' comp system, an 'exclusive remedy' rule has applied, which severely limits the right of the employee to sue an employer for negligence," says Rousmaniere.
Benefits
There are three different benefits that apply to workers' compensation claims.
The first, and most obvious, is doctor bills. "The injured worker has all of their medical expenses covered, without deductions or co-pays," says Rousmaniere.
If a building staff member tears his ACL while hauling garbage cans to the curb, for example, workers' comp will cover the surgery, the rehab, the brace, and anything else associated with the injury.
"Doctor bills, hospital bills, prescription drug bills—all of that is supposed to be covered," says Spelfogel.
If said staff member's primary task is dealing with the building's garbage, and he can't walk for nine months because of the bum knee, that impacts his ability to make a living. Workers' comp helps here, too.
"After a waiting period which varies by state and is never over seven days," says Rousmaniere, the worker "receives 'indemnity' benefits to cover for lost wages." Workers' comp doesn't cover the full freight of salary, Rousmaniere continues, but a certain percentage. Roughly speaking, it's about the same as collecting unemployment.
Now, if Mr. Smith tears his ACL, and ABC Co-op Building continues to pay his salary even while he's recuperating, he can't also collect workers' comp payments.
The third benefit involves the really serious accidents. Say Superintendent Smith doesn't just tear his ACL—an overloaded garbage can falls on his leg, crushing it, and requiring its amputation. Obviously, Mr. Smith will no longer be dealing with the building's garbage—or anything else. Workers' comp laws provide for this, also. "The third is loss of function," says Geaney. "You get paid for that, too."
Mr. Smith might not be able to put a price on his leg, but the insurance companies can. Their actuarial tables tell just how much is provided for loss of a finger, a thumb, an eye, a leg, and so forth.
So how long can a super, or manager, or other worker in a residential building collect benefits? "Workers' comp covers all the medicals and indemnity expenses for the lifetime of the claim," says Rousmaniere. "There are rules in each state defining limits to benefits for injuries not deemed permanent. In virtually all states, the injured worker and their insurer can agree to settle a claim, leaving the insurer without any further open obligation. In some states, many—if not most—permanent cases are settled."
Coverages
Workers' compensation coverage is at once simple and complex. Simply put, every workplace injury is covered. But sometimes, it's not that simple.
"Generally speaking, all traumatic physical injuries are covered," says Rousmaniere. "What are often not covered—or covered but with often complicated exclusions—are mental claims and disease claims [such as cancers from exposure to toxins.]"
The building worker who dons a rubber suit and goes into the old asbestos-lined boiler to clean away the chemicals by hand—if such a job does actually exist—and then gets deathly ill, may spend some time in court before receiving payments.
Another complication is when an injury has occurred. Let's say Mr. Smith, who is 59 years old, has a stressful day at work, lifting a lot of boxes in the supply room, and traipsing up and down multiple flights of steps to and from units. He has a heart attack on the drive home and dies. Does workers' comp apply?
"Generally these are not covered, but court decisions have addressed these issues in virtually all states, and these decisions, rather than the language of the law, tend to govern," says Rousmaniere.
Sometimes, the claims are thrown out. "The most common ground for rejecting claims—which can only be done by the insurer—is that the injury was not caused by work," says Rousmaniere. "A proficient adjuster should be able to make that determination, perhaps with the help of a doctor who inspects the worker."
Foot-dragging, in such an instance, can help the injured party.
"In many states, the adjuster can delay making such a decision for months," Rousmaniere says, "and if the adjuster decides then to deny the claim, the already-paid benefits to the worker are not returned."
Legal Complications
The main problem with the workers' compensation laws, as currently written, is defining who is and who is not an employee.
"Under workers' comp law, a person is not entitled to get benefits unless they are an employee," Spelfogel says. In most of his workers' comp cases, "I'm not arguing about medical issues, I'm not arguing about doctors. I'm arguing that this person is not an employee."
If a worker does work at a location—at your co-op, say—and is not an employee, what are they? Usually, he or she is considered an independent contractor. And independent contractors, as the name implies, are not entitled to benefits of any kind—workers' comp or otherwise—because they are independent. If the person is a subcontractor of a contractor, then responsibility will typically fall to that employer. Sound confusing? It can be.
"This is a very thorny issue," says Rousmaniere, "and the rules, set largely by court decisions, vary by states."
How do you tell the difference? "Typically, an independent contractor is being paid to complete a job, to complete a task, and is not being paid by the hour," Spelfogel explains. "He's being paid by the result."
Other telltale signs of independent contractor status: the ability to work "freelance," for more than one employer at a time; being incorporated or having "dba" status; getting paid as 1099 rather than W-2; not having taxes withheld on payments; not collecting benefits. Also significant: independent contractors are not directly supervised, like employees are.
"If I hire a painter to paint my house, I'm not supervising that person's every brush stroke," explains Spelfogel. "I'm paying that person to have the building painted."
What about workers who are in the country illegally? Are they entitled to benefits? As long as they fit the definition of employee, the answer is yes.
"Injuries by undocumented workers are usually covered by workers' compensation," says Rousmaniere.
In Co-ops and Condos
Most buildings in New York have regular employees, and are therefore required by law to have workers' compensation insurance.
"The management company typically does not employ" those who work directly on the premises, says Spelfogel, who moonlights as the president of his condo board. "The concierge desk, the porters, the superintendents, the maintenance people are all typically employees of the building."
That leaves the boards open to the system, and its potential pitfalls.
"There are a lot of abuses in the system," says Spelfogel. "A lot of employees come up with phony claims, a lot of doctors support the phony claims. Some employers take advantage and don't report everyone, trying to save premiums and fees."
That there is a cottage industry that just deals with workers' comp claims—you see the ads on the back pages of phone books across the country—only magnifies the potential for abuse.
On the whole, however, workers' comp is an extraordinary benefit to workers in this country, offering them wide-ranging legal protection unheard of for most of human history.
Greg Olear is a freelance writer and a frequent contributor toThe Cooperator.