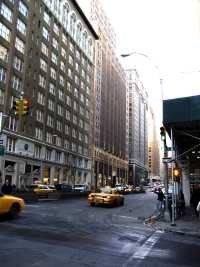 Want to know what it is like to live in the Murray Hill section of Manhattan—that strip between Madison and Third avenues that runs roughly between 29th and 38th streets? You could ask someone who lives there, but be forewarned - the answer you get will depend on who you talk to.
One resident may name-drop celebrities often seen in the area restaurants—familiar faces from the nearby Court TV studios, CNN's Anderson Cooper, gossip columnist Liz Smith, top chef Rocco DiSpirito, or pop singer Nick Lachey's latest squeeze, Vanessa Minnillo. Another may talk about how Murray Hill is now a happening hangout for the young post-college crowd, and yet another may talk about the appeal of the striking pre- war building architecture and the quiet feel of the neighborhood. One common concurrence runs through all of these diversified answers - those who live here are very fond and fiercely loyal to their neighborhood.
Total Transformation
As famous as Murray Hill is for its architecture and central location, its history is just as interesting, especially hearing from someone like Alfred Pommer, owner and operator of NYC Cultural Walking Tours. Among many other notable neighborhoods, Pommer conducts two- and three-hour walking tours of Murray Hill. He's quick to point out an important plaque located on 37th Street and Park Avenue. "It talks about how Mary Lindley Murray might've saved the Continental Army during the Revolutionary War."
According to the Murray Hill Neighborhood Association (MHNA) history (www.murrayhill.org), "The land originally known as Inclenburg was not far removed from the wilderness in 1753, the year Robert Murray moved to New York City from Pennsylvania and took up residence at the Corner of Queen (now Pearl) and Wall Streets." He owned Murray's Wharf and purchased a large plot of land that he called Belmont. "Murray Hill—as the estate quickly became known," according to the association, "extended roughly from what is now Madison to Lexington Avenues and from 33rd to 39th Streets.
Pommer explains that according to legend, after the battle of Long Island, George Washington ran across the East River, and the Continental Army was left behind in Manhattan. General Putnam and Aaron Burr surprised the troops and the Continental Army broke and ran. "Half the army was above 34th Street and half was below," says Pommer. "Right in the middle was the Murray Farm. Mary Murray invited the General in for tea, and if he had not squandered the whole afternoon at the farm (he was known as a ladies' man and the Murrays had three or four beautiful daughters) he might not have lost that opportunity. Instead Washington was able to send scouts and envoys to that part of Manhattan and got his troops united again. That was the first victory of the Revolutionary War and it might not have happened if Washington hadn't united his forces."