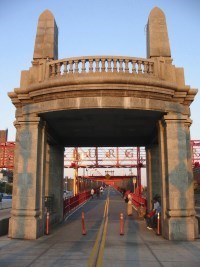 Over the past 15 years, freelance photographer Simon Russell and his wife, Ann Delilkan, worked hard to make a home out of their small basement-level apartment on MacDougal Street.
When "Men in Black" filmed in their neighborhood, Russell took the leftover shrubs and trees to plant his own garden. And when the couple had children, they put up curtains in the wall-less 850-square-foot room to give the kids their own space.
But the mostly co-op building was about to go condo, and when their landlord told them earlier this year they'd have to cough up $2,250 a month if they wanted to renew their lease, Russell and his wife decided the tiny space was not worth the money. They launched a citywide search, and it ultimately led them to a larger, one-flight walkup apartment for just a slightly higher price in Williamsburg, one of Brooklyn's swankiest destinations.
"When you look for a place, you want that sense of home," Russell said. "It's not just four walls and running water. It has to have a little something; a little edge."
For decades, the northern section of Williamsburg was known as a getaway spot for Manhattan artists who sought large and cheap studio spaces after they were priced out of their neighborhoods. But for the past several years now, the blossoming art scene of Williamsburg has begun to attract more than just artists. Condominium developers realized the area's potential and yuppies fell in love with Bedford Avenue's chic bars and boutiques.
Today, there are well over a dozen new condo projects literally changing the landscape of this artist enclave, and the price gaps that once attracted people to the area are rapidly narrowing. Prominent waterfront developments include Kent Waterfront Associates LLC's Schaefer Landing, at 420 Kent Avenue, with condos ranging from $825,000 to $1.2 million, and the Toll Brothers luxury living residences North 8 Condominiums at 49 North 8th Street and Northside Piers at 4 North 5th Street, both ranging from $450,000 to $1.8 million.
"Two to three years ago, most people who came were priced out and that was an alternative for them. Now, a lot of people are coming here by choice," said Lior Barak, the vice president of Prudential Douglas Elliman Real Estate, a member of Prudential Real Estate Affiliates.
The L Train's Oxygen
Part of the attraction to Williamsburg is Bedford Avenue, a vibrant corridor filled with upscale boutiques, moderate restaurants and old style pubs. The area resembles a junior Greenwich Village. Major landmarks in Williamsburg include Peter Luger Steak House, Boricua College and the Luna Lounge.
Aside from the art and bar scene, another attraction to the area is its proximity to Manhattan.
The Bedford Avenue station is a five-minute subway ride away from Union Square, making Williamsburg convenient for commuters and families whose children attend Manhattan schools.
"The L line is like the oxygen of Brooklyn," Barak said. "Everything close to the L train is hot."
New Zones
Barak said the first large-scale condo development landed in Williamsburg around 2001.
In May 2005, New York City approved zoning changes that would allow for open spaces, parks, affordable housing and light industry. Development plans soon followed as word spread about the 175-block rezoned area.
That paved the way for more residential development.
Even before the rezoning was approved, developers rushed to gobble up parcels of land along the East River, which is considered prime real estate, Barak said.
Today, prices per square-foot range in the mid-to-high $700s, although some new luxury condo developments, like 20 Bayard, the tallest building on either side of McCarren Park, have a going rate of roughly $900 a square-foot, Barak said.
Rents, however, are much closer to Manhattan prices, and more recently, Barak said that his company and other real estate firms have found themselves losing rental clients from Williamsburg to the Upper East and West sides where apartments are actually cheaper.
Co-ops, by contrast, are hard to find in Williamsburg, which is reflective of trends seen around the city.
The Evolution of a Neighborhood
Since the Dutch took it over before the colonial era, Williamsburg has reinvented itself from a booming trade port to a rich industrial town after the Civil War.
With the construction of the Williamsburg Bridge in 1903, many of the Jewish families who lived in Manhattan's Lower East Side crossed the East River to a better life in Williamsburg.
Then, when industries left the area, Williamsburg became an immigrant ghetto in the 1960s and '70s. The cheap rents available during that time, however, ultimately paved the way for what is now a thriving hub for artists from all genres.
Today, the neighborhood is an eclectic mix of people, from Italians, Polish and Hispanics to Hasidic Jews. The lifeline of the area is Bedford Avenue, which is home to both the gentrifying areas as well as the parts of the neighborhood that seem almost frozen in time.
"Hasidic Williamsburg has not changed," said Ron Schweiger, Brooklyn's official historian.
"They have to live within walking distance of their synagogue because on the Sabbath and religious Jewish holidays they can't drive."
Artists' Fears and Inspirations
Some residents continue to express concerns about the rapidly increasing real estate prices in the neighborhood. At this year's Conflux Festival, for instance, the festival's director and co-founder Christina Ray said that an increased number of art projects displayed focused on the issues of development in and around the waterfront region; a clear sign that the future of the neighborhood is on the minds of many.
But despite the gentrification of the area, some artists are still reveling in the little details that give Williamsburg a small-town feel that is often lost in Manhattan. In just two months here, Russell said the vibrant character of the neighborhood has inspired new ideas for his art. He'd like to photograph a man who still keeps a flock of over a thousand pigeons on a nearby rooftop, or take portraits of the World War II and Korea Polish veterans who gather for meetings on the floor below his apartment.
"The art came to me in a way," he said. "I turned up in the neighborhood, and suddenly all these options and possibilities opened."
So far, he said he has no regrets about opting to leave his small, but homey apartment in the Village for life in Brooklyn.
The hardest part was the psychological aspect of abandoning the city, but he's over that now.
"You're across the river from Manhattan where apparently everything goes on," Russell said. "The fact is, Williamsburg has pretty much all you need."
Sarah N. Lynch and Eugene Mulero are New York-based journalists and students at The Toni Stabile Center for Investigative Journalism at The Journalism School of Columbia University.