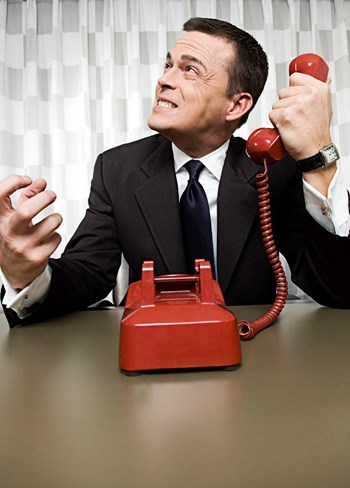 Whenever a problem arises, board members often have a knee-jerk reaction to call their managing agent immediately. In many cases, this is appropriate. But although it might be part of their job to communicate with the board, managing agents might not be able to respond to every call right away. And if your board is calling too frequently, your persistence might begin to irk your manager and put a strain on your working relationship.
The Best Times to Call
Because managing agents and management companies work for co-ops and condos, which are essentially operating 24 hours a day, property management is not a nine-to-five job. Managing agents are often reachable 24/7. But that doesn't automatically mean it's OK to call your managing agent at all hours of the night. If the matter isn't urgent, exercise some discretion in when you contact your agent or company via phone.
"Our tight schedules are taken up by juggling a multitude of challenging problems as it is, but all emergencies are the exception," says Edward Andron, vice president and director of management at Leebar Management Corp. in Manhattan. "There are a number of reasons why an agent would need to be notified immediately, especially if it involved fire, flooding, a power outage, elevator shutdown, lack of heat or hot water, a domestic dispute that might have involved or been witnessed by a staff member, criminal actions, and/or terrorist threats. Management must then respond and take immediate action involving the appropriate authorities or agencies having jurisdiction, such as Con Edison, DEP, NYPD, FDNY, the FBI, as well as insurance carriers and contractors."
"We're in the service business. We happen to be managing property, and we have to find a way to facilitate resident requests as they come in. Managers must have the ability and resources to answer questions as they come up," says Dan Wurtzel, chief operating officer of Cooper Square Realty Inc. in Manhattan.
Cooper Square Realty has established a call center for one of its larger clients, so callers are able to speak to a live voice within 45 seconds. "The call center has about 400 pre-answered questions through a Google-type search agent," says Wurtzel. This ensures that a property manager does not have to be called every time.
"We have a success rate of over 90 percent, and anything the call center can't answer drops down to the agent. With the call center, questions can be answered very quickly and board members don't have to wait. The property manager can then spend more time on-site at buildings," says Wurtzel.
"We make certain information available to residents so they can access it via a website. Applications, corporate documents and so on can be looked at online. This makes things easy for residents so they don't always have to rely on calling the manager. There have to be multiple ways for residents in a building to access information, not just one. There are several other ways that can and should be used, such as e-mail, a website or a call center," says Wurtzel.
Methods of Getting in Touch
One of the quickest ways to reach your managing agent is to send an e-mail. Today, many managers aren't relegated to checking e-mail via their computer—they're also able to check messages while on the road or out in the field, via various handheld devices currently on the market.
"The best way to reach a manager is by e-mail. All managers at Century are equipped with Palm Treos, which allows us to respond to e-mails while in the field. E-mail also allows us to set aside specific times during the day to go through our mail and respond. E-mail also avoids prolonged games of phone tag, which are not productive for either party," says Brian Rafferty, director of operations at Century Management Services, Inc. in Manhattan.
When contacting your managing agent, whether by e-mail or phone, clearly state what you need to know and why you're calling—especially if you're leaving a voicemail.
"The worst way to contact your managing agent is by leaving a voicemail where you only reference your name and phone number. Leaving more information such as your building name, your apartment number and brief statement about why you are calling, gives us an opportunity to prepare as much as possible for our return call or e-mail. Often when we get back to you we can have the information you are looking for," says Rafferty.
If you've called or e-mailed your managing agent and are waiting for a response, you should anticipate a little bit of a wait—but you should not be waiting around forever to hear back from your agent or company.
"At Century our motto is to return board members' calls immediately, if not sooner. We do try to return all board member calls and e-mails as soon as possible and shareholder calls within 24 hours," says Rafferty.
The time in which you'll get a response often depends on the urgency of the situation, although all concerns should be addressed in a timely manner.
"You should hear back the same day or by the beginning of the next day. If it's not urgent, they'll usually get a response the next day," says Wurtzel. "If there's no response, call again or e-mail. If a resident still does not get a response, they should let someone on the board know."
A board member who has received no response from the managing agent should speak to the property manager's supervisor.
For less urgent matters—particularly if you're voicing a complaint that is a non-emergency—snail mail is the way to go.
"If you object to a house rule or maintenance increase or assessment or have a suggestion about something, for example, it should be sent in writing so it is documented and shared with the board for consideration and discussion at the next board meeting. If the complaint involves a staff member it should also be in writing rather than by phone. The critical complaints that may involve their performance absolutely must be addressed in writing. All copies would be placed in their files after being reviewed and investigated, including possible disciplinary action taken if necessary. If it's a serious problem, management should be notified by phone immediately and then I would request them to confirm it in writing as well," says Andron.
A resident should expect a response within at least 10 business days after sending a letter, depending on the circumstances.
"I usually call them and tell them their letter will be reviewed and discussed at the next board meeting, and that a response would follow shortly afterwards," says Andron.
Common Communication Mistakes
The board relies on its managing agent for communication on matters relevant to the co-op or condo. When there's one managing agent, it's easy for the board to know who to contact. But with many members serving on a co-op or condo board, it can be difficult for a managing agent to do his or her job if each and every board member is calling or sending e-mails.
"If a managing agent gets conflicting instruction from different board members, it becomes very difficult for the manager to assess what should be done and how things should be handled. It becomes inefficient," says Wurtzel.
In order to keep an open line of communication, designate one person to communicate with a manager. If various issues are at play—such as staffing or financial issues—assign a board member to be responsible for communicating with the managing agent regarding a particular area. Consolidate and streamline the flow of communication between your manager and the board.
"On the flipside, it's important for the managing agent to provide regular updates on the status of pending issues that pertain to the building. You should encourage your managing agent to do this," says Wurtzel.
"We insist on our managing agents maintaining an action list and updating it regularly so we can keep track of where things are," says Wurtzel.
There are times when calling your management company is not appropriate.
"When boards deluge the agent with phone calls and e-mails daily along with wish lists of things to do, it is not only inconsiderate, but counterproductive. It is important that parameters be established when a new board is elected: who will chair each committee, and how they all can coalesce with the agent in accomplishing the goals as well as enforcing the house rules and proprietary leases of the co-op; balancing the budget; boosting the reserve; training and supervising the staff, with a customer service-oriented attitude, while maintaining the quality of life and keeping all residents and shareholders fully apprised as to where the board and management are and hope to be going forward," says Andron.
"One other waste of managers' time is when they get calls that the resident managers can answer that may concern making appointments with the exterminator or repairs in their apartments that the building may or may not be responsible for. As a rule of thumb, the building is responsible for all repairs electric, plumbing and structural inside the walls. Shareholders are responsible for all repairs outside their walls, which includes their appliances. The boards must be realistic about their expectations from management while management should be equally realistic about what they promise the boards," says Andron.
Managers' Pet Peeves
Nearly every job has a downside, and managing agents have their pet peeves as well. Among the list is a lack of appreciation for what they do. This service-based job is often time consuming, involving long hours that can cut into one's personal life.
"There are few industries where someone is supervised and critiqued by so many. This may lead to mistakes being magnified while accomplishments are sometimes overlooked. I think the more people can relate our experience as managing agents to their own work environment, a more cordial and productive atmosphere would follow," says Rafferty.
"We are not property managers, we are problem solvers and are here to help you because, yes, we do wear many hats," says Andron.
The job can become difficult when board members and residents don't keep in mind that managers rarely have a slow day.
"We have other buildings to manage besides theirs and are doing our best to keep everyone happy," says Andron. He thinks boards should keep in mind that:
— Management does not pay bills late. If the building's operating account does not have enough money to pay every vendor and supplier, it's the building's money, not management's.
—The board and management are not trying to force anyone out by raising the maintenance and/or instituting assessments. Management is practicing due diligence by balancing the budgets based on anticipated income and expenses for the coming year while maintaining services and achieving the goals and objectives of the board.
—Management does not fire employees, they give management reasons to get fired.
—Managers do have personal lives. "Yes, I do go on vacation and your building will be in good hands with the resident manager and the president of my firm while I am away," says Andron.
Sometimes, building issues are urgent and require the immediate attention of the managing agent. But by establishing a designated person or persons to liaise between the manager and the board, you'll cut down on the number of requests going to the manager. In addition, you'll streamline communication to allow your managing agent to focus on being at the building, and not fielding calls. Working to improve the lines of communication between the manager and the board will aid you in strengthening your working relationship to better focus on the needs of your building.
Stephanie Mannino is a freelance writer and published author living in Hoboken, New Jersey.