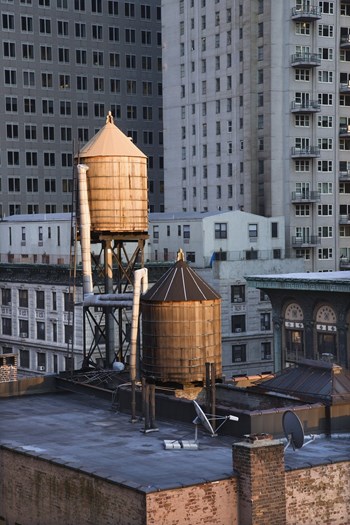 While they may seem like archaic pieces of urban art—if they're noticed at all—rooftop water tanks serve a vital function to countless high-rise buildings in New York City. Whether made of wood or steel, the care and maintenance of these all-important fixtures falls to a handful of niche companies catering to this often over-looked industry.
Tanks for the Memories
"The original purpose of roof tanks was to supply drinking and bathing water to people living above the sixth floor," says David Hochhauser, who along with his brother and sister owns Isseks Brothers, a tank servicing company based in Lower Manhattan. "Prior to the invention of the elevator, buildings were not built over seven stories."
In the late 1880s, when the elevator was introduced, New York's iconic skyline began to take shape. While building vertically was a progressive approach to city planning, the height water could reach without assistance was limited, and thus posed a challenge to the growing metropolis. "My great grandfather adapted his skills as a cooper in Eastern Europe, and developed the concept of the roof tank," explains Hochhauser. "This allowed water to be pumped up to whatever height the building was, and then gravity fed to those below. His firm was the first to install a roof tank in the late 1880s."
Hochhauser's is one of only three companies in New York that still works in this industry. These family-driven businesses, realized across many generations, hold to the adage "if it ain't broke, don't fix it." To this end, water tank construction has not varied that much over the decades, says Steven Silver, vice president of American Pipe & Tank Lining Co. in Long Island City. "The tanks have not changed; however, with the invention of power tools, the construction became quicker," he notes.
Andy Rosenwach, whose great-grandfather Harris started the third firm specializing in roof tanks, the Rosenwach Tank Co., (part of the Rosenwach Group family of companies), provides more history on the industry. "In prewar buildings, the piping is arranged where the lower floors are fed by street pressure and the upper floors are fed by the gravity tank. In postwar buildings, the entire building is fed by the gravity tank. The tank serves two purposes: providing water for washing and drinking, and providing water for fire suppression to standpipe outlets in stairwells and or sprinkler heads."