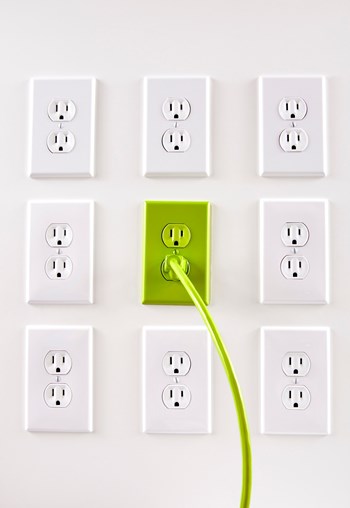 Once upon a time, like many cities across the nation, New York City had a government-regulated energy market. There was one number to call to make all the lights come on: Consolidated Edison of New York (or, more familiarly, Con Ed). This streamlined - if limited - way of doing things persisted until the summer of 1998, when the New York State Public Service Commission (PSC) began implementing a deregulation plan the commission had been formulating since 1996.
Looking to improve the safety and dependability of energy delivery, the PSC's move to deregulate made the simple task of switching on the lights a matter of personal choice. The actual delivery of energy remained in the hands of local utilities and continued to be regulated by the PSC, but splitting the suppliers and the delivery companies enabled utilities customers to choose where their energy was purchased. The idea echoed by lobbyists throughout the city and state was that good old-fashioned free-market competition, with energy suppliers vying for consumer dollars, would inspire better service, lower rates, and more available product. Even Con Ed - the people's only choice for so long - was in favor of a competitive market. Natural gas and electricity were deregulated simultaneously. New York residents could now choose an electricity and gas provider just like they picked between cable and telephone companies.
When deregulation was finalized, Con Ed joined the game by selling off all its power plants and becoming one of the initial eight electricity companies New York metro customers could choose from. Con Ed began purchasing its power from the market like all other utility distributors, but still maintained its old lines, provided the bulk of the city's power, and was regulated by the PSC. According to Michael Clendenim, a spokesman for Con Ed, "[Customers could] purchase the supply of electricity from other energy service companies - or "˜ESCOs,' - which sell that electricity for a certain price that comes through our supply."
Let's Do the Numbers
Prior to deregulation, "Long Island [rates] were higher than New York City, and New York City was higher than the rest of the state," says Greg Wortham, chief operating officer of 1st Rochdale Cooperative (FRC) in Rochdale. A cooperative utility, FRC was among the many groups pushing for change back in the "˜90s. "We were actively engaged in all of the debates with the Public Service Commission, Con Ed, and the government," says Wortham.
Wortham points out that had the energy market not split, New York City customers would have shouldered an $87 million increase in fees in 1998 alone, and a $435 million increase over the following five years. Deregulating the market stopped the spiraling prices and was projected to save the city $1.5 billion dollars within the first five years. As the five-year mark approaches, energy consumers have saved money, but whether it's $1.5 billion dollars-worth is a subject of some debate.
When deregulation started, the PSC approved a rate reduction plan benefiting both those who chose to stay with Con Ed and those customers opting to switch to a lower-cost ESCO. The plan was initially projected to have a substantial financial impact for consumers, but while new delivery companies moved to the service area, the demand numbers held steady, and there was little space to build more power plants - so although there were some savings, it was not quite the dramatic change that some predicted.
This is not to say that in light of general inflation deregulating the energy market wasn't a success, however. For example, the average monthly utility bill for 300 kilowatt hours of Con Ed juice in July of 1998 was $52.29. That number included all taxes, delivery, transmission, and distribution charges. After deregulation kicked in, the price fluctuated, but didn't outstrip inflation. In 1999, the price for the same 300 kilowatt hours dropped to $51.59, but shot up to $73.55 in 2000. The cost dropped again in 2001 to $67.37, ad this past July New Yorkers paid $61.42.
Wortham explains that aside from increased costs across the board, one of the overriding issues affecting the bottom line is supply. Although so far New York City's supply has been adequate, it's getting tight - and short supply will eventually drive prices up. "One of the variety of problems is that there [just aren't] enough power plants today," he says. "There's not that extra supply in the system that was there when the competition came "¦ now there isn't enough power to go around."
Help Us Help You
Just as the price of energy is set by the PSC, ESCOs have their own tactics to help reduce costs for the customer. Some offer consultations with building boards and managers to discuss their specific energy needs and tailor a delivery system and billing method to best fit the usage patterns within the building community. Other ESCOs provide buildings with tips on how to cut energy waste and improve the effectiveness of their heating, cooling, and electrical systems.
There are also different billing strategies consumers can use to save. Once customers switch, they have another choice on how they're billed: level, which is the same price per month, and long term contracts, both of which can make a utility bill decrease. "Some customers want some certainty of expense and some want some certainty of savings," says Wortham. "Some want a fixed price, and some will move with the market. It's like stock [market] money, customers have to determine if they want to play or go for the two percent return."
To Switch"¦Or Not to Switch?
When the idea of deregulation eventually came to fruition, pundits predicted that millions would leave Con Ed and that fuel bills would drop into the basement. Reality has been somewhat less dramatic. Although homeowners and commercial concerns are switching away from Con Ed, it has not been in a mass exodus. Since 1998, Clendenim says that Con Ed has lost just 20 percent of its customers to breakaway ESCOs.
To put that 20 percent into sharper focus, there are 3.1 million units - including single- and multi-family housing and office buildings - in New York City and Westchester that Con Ed provides for, just over a half-million of which have moved to other ESCOs. "Co-ops have switched," says Wortham, "but most single families have not. Commercial consumers started to switch in 1998, and they continue to switch."
Louis Romano, senior vice president of Castle Power, said that they now have a customer list in the multiple thousands - and new clients call to switch all the time. "Deregulation has worked out well for us and for the real estate business," says Romano.
On the other hand, Ed Yutkowitz - a spokesperson for Keyspan Energy Services, Inc. in Brooklyn - says that the gas company had 1.1 million customers in the city prior to deregulation, and their numbers haven't changed much since 1998. Keyspan offers gas delivery to Brooklyn, Queens, Staten Island, Long Island, and other New England residents.
Why Switch?
"The idea behind competition is to put a downward pressure on prices and provide more choices," says PSC spokesman Edward Collins. "Deregulation helps the city save money because [ESCOs] are competing with each other in terms of price and services."
Clendenim echoes PCS' sentiments. "Customers like having an option," he says. "People like to shop around and buy from a company that best suits their needs - and we encourage people to do that."
Clendenim says that Con Ed does not keep the bargaining process a secret from their customers. In fact, on the company Web site there is a list of available ESCOs with links to those businesses so customers can begin the decision-making process. Whether with Con Ed or working for one of the big utility's competitors, energy delivery experts agree that with choice comes risk - the same risk inherent in buying a new car or microwave oven. No one wants to bring something home that will malfunction or not live up to consumer expectations. To get the best deal for the most reliable service at the best price, the thing to do is shop around, compare costs versus benefits, and make sure you're asking enough questions to get an idea of the big picture. New Yorkers now have the ability to pick and choose among more than a score of companies competing for their energy dollar, and it's up to them to make the best choice.
Leslie A. Scott is a local news reporter from Newark, New Jersey.