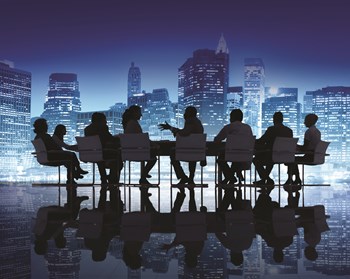 Of all the members of a co-op building's board, the treasurer is in a unique position to uphold the fiduciary responsibility of the corporation, similar to that of a chief financial officer in the corporate world.
Basically, "the treasurer is the watchdog of the entity that collects cash and pays bills," according to Carl M. Cesarano, CPA, of the accounting firm of Cesarano & Khan PC in Rego Park, Queens. Treasurers must be familiar with their building's expenses and keep watch over how residents' money is spent, in addition to organizing that information and keeping the board and shareholders informed about the building's financial standing. The position carries with it great responsibility and a requirement for precision and care - a wrong move or careless calculation can have dire consequences for the building's finances.
The Right Stuff
Ideally, a treasurer would have a background in finance or business to help them make quick work of financial statements, internal controls and budgeting and enable them to decode the language of investments, corporate taxes, yields, risks and costs in their sleep. The ideal treasurer would also have the dedication and the available time to fulfill his or her duties and maintain an open line of communication with management, the board's attorney, the building's accountant and financial advisers to ensure that the corporation's money is well spent and wisely invested.
But as most board members are well aware, most board positions are part-time positions held by volunteers, the duties of which vary depending on the size of the community. There's not always an MBA with tons of time on their hands around when you need one. According to Jim F. Quinn, a former president of North Shore Towers, a large co-op on the border of Nassau and Queens, "The president proposes chairs - including the treasurer chair - and it is voted on by each of the board members."
Quinn says a background in finance or accounting is not absolutely necessary to fill the chair, but he thinks it certainly helps. "I just think you can be a more effective treasurer if you have some of that knowledge beforehand."
Cesarano agrees, but adds that a person doesn't necessarily need an MBA to be an effective treasurer. "Although a financial background can prove very useful," he says, "it's often enough for the individuals acting as treasurers of their buildings to have a working knowledge of finance that will enable them to view financial documents - such as reports and budgets - without too much effort."
Cesarano also believes someone with little or no financial knowledge can be a successful treasurer if they're financially savvy and make it their mission to study and understand the information put before them. He adds that those with no financial background must be fast learners so that they can get up to speed quickly on financial matters. "If they strive to get an understanding, it becomes second nature."
Stephen Beer, a partner with Czarnowski & Beer, a Manhattan-based accounting firm specializing in co-ops and condos, says that although the board decides on officers, "Anybody who's got any kind of financial background can be a likely treasurer - that's the first priority - and the second thing is willingness to do the job, because [treasurer] can be the toughest job for them if it's done the way it should be." Beer says doing the job right involves a lot of work, and because of that, "A lot of people don't want to be treasurer."
Big Money
Building size determines the level of interaction between financial advisors and treasurers. Quinn says in a smaller building the treasurer acts as CFO as well. In a large co-op, he says, "There'll be less interaction, and the day-to-day functions would be handled by the controller and/or CFO."
Beer says an accountant acting as an outside auditor should be checking things independently of the board. The treasurer, he says, maintains internal control by ensuring that daily items are correct. Throughout the year, Beer says, there might be cases where the treasurer asks the accountant for suggestions regarding such matters as budget problems. "Towards the end of the year the accountants might have questions for the treasurer about certain things - they may need to get reserve fund accounts," Beer says, adding that the accountant and treasurer usually have to communicate with one another to access reserve fund accounts.
Although Beer says his company generally sends financial statements to the managing agent, sometimes the treasurers get them directly. "The treasurer acts as the conduit between the accountant and the board," he says, explaining that any questions from the board often come directly from the treasurer. From there, he says, his firm makes minor changes. "We like to work it that the managing agent does the base budget, and then we get involved in the process after that," Beer says. "We can look for things that the managing agent might not see, and that's where the managing agent, the accountant and the treasurer work together to put together a budget that will be presented to the board."
A Day in the Life
The treasurer's duties depend on the size of his establishment. Primarily, Quinn says, "they are looked to for financial guidance, and their opinions are going to carry greater value in the boardroom on financial matters." He says sometimes the treasurer and the president will interact on various matters, but that for the most part the former carries on independently.
Beer says the treasurer's most important role is to be "the quarterback on internal control and monitoring what the managing agent is doing." Most managers, he explains, issue a monthly packet including the management report and copies of the bills, which many board members don't review.
"The first and foremost role of the treasurer is to look at the bills that came in for services that were for repair and to question anything that doesn't look right to them - that's the best internal control there is," Beer says. "The most important thing the treasurer does is ask questions and bounce back things to the managing agent."
The board that doesn't get involved or ask questions is most susceptible to misappropriation and fraud, Beer cautions. Bills over a certain amount, he says, should be approved in writing. "Some managing agents resist this because it's harder for them - they have to prepare the checks and get them to someone, and they have to sign them and get them back, and this is a volunteer job, so it might not be the highest priority," Beer says.
Achieving transparency and establishing a system of checks and balances regarding financial matters differs from small to large buildings. "You're going to have a different set of guidelines and rules for a small co-op vs. a large co-op," Quinn says. For example, he says, if in a small co-op you have the treasurer paying all the bills and preparing periodic reports back to the board and the community, they'll probably have an outside accounting firm come in periodically and pull together financial statements. Most co-ops, he says, produce an audited year-end financial statement. "Transparency is going to be the goal of any treasurer - to get those numbers out to first, the board, and then periodically, to the community," Quinn adds. "That could be once a year, or it could be quarterly - it's the judgment of each treasurer and each board."
That changes in a larger operation. There, Quinn says, "You have all the checks and balances and things are transparent, but again we report to the community verbally throughout the year, and then with an auditor set our financial statements at the end of the year, at which point people have the opportunity to ask questions." Although the position of treasurer holds the potential for financially precarious situations, Quinn says, "I don't think there's any more protection needed for the treasurer than for anyone else. If they're responsible and they're doing their job, the coverage that's in place will protect them."
"One of the most important things for the all board members is a directors' and officers' liability policy, which almost all the co-ops carry," Beer adds. "Other than that, if you have some kind of fraud occur, it may not be something that the treasurer could have controlled - so the more active the treasurer is the easier it is to defend them."
The Last Word
Treasurers generally report to the entire board and discuss at meetings where the funds are at and issues that have arisen since the last meeting. Although they have access to the building's finances, they don't handle every financial interaction. Quinn says, "In a small co-op, that treasurer can sign off on everything. There may be a requirement for dual signatures over a certain amount when it comes to payment, and that applies in a big co-op as well."
Quinn goes on to say that in those instances, there'll be a cutoff where the controller signs certain checks, and then the board treasurer will sign with the controller at a certain level. "There's usually some controls in there that change as materiality of the payments change," Quinn explains.
As for such routine tasks as hiring contractors, paying building staff, and so forth, Quinn says, "When you hire a managing agent you hire him to do all those things. There's really only a review function and periodic discussions when something out of the ordinary is occurring. Payrolls and ordering materials and supplies are really the managing agent's function, and a treasurer should step back from it."
Generally the managing agent collect bids for projects over a certain amount and bring them to the board, so the treasurer doesn't have to pick the vendor. His or her job, Beer says, is to make sure the bill was approved and paid for the right amount. With smaller items, he says, either the agent or the superintendent just orders supplies. "I like the treasurers involved in supplies/inventory to know where the stuff is kept and to keep an eye on what's being purchased, that it doesn't seem unreasonable," Beer says.
Passing the Torch
Sometimes entire boards change from year to year, creating information gaps. That's why, says Quinn, "I think there's got to be total openness [in officer succession] - I don't think there are any restrictions in succession." He says treasurers in a small operation have a part-time job, and that they might even keep the books the outside accountant reviews.
"It's a very informal transition," Beer says. "I don't believe that other than talking to each other and explaining what you were doing [you need to do anything else]," according to Beer. His firm, he continues, tries to have the managing agent hold onto long-term planning files so that they're not all held by one person. "You could have a change from a very active treasurer to a very hands-off treasurer, and everything falls to the wayside," Beer explains. He says his firm often helps new treasurers understand what they should be doing.
It's not the easiest job, but if handled properly the position of treasurer can help keep a building not only cost-efficient but also fraud-free.
Michael McDonough is a freelance writer living on Long Island.