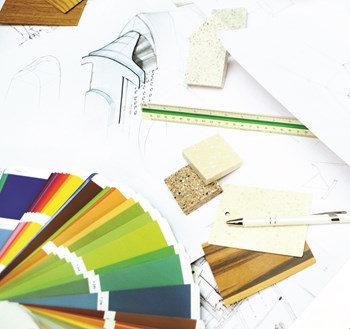 You don't need a calendar to know that the holiday season is almost upon us–just look around: from elaborate window displays in department stores to the subtle decorations like wreaths and lights, it's hard to ignore the various decorations this time of year. But perhaps your co-op or condo board is still contemplating how to convey the spirit of the season within your building. From simple to elaborate, co-ops and condos can feature an array of decorating ideas. What's right for your building depends on several factors including size, budget and whom you pick to decorate.
"The board should discuss decorating during the October or November board meetings," suggests Bram Fierstein of Gramatan Management in New Rochelle, New York. In the planning stage, the decorating budget will help determine exactly what can be done with the lobby and surrounding areas. "Boards have to decide how much money they want to spend. That price determines the limit to decorating," he adds. "I've seen buildings spend thousands of dollars on hiring a decorator to do it, and I've also seen buildings who leave it in the hands of the super."
In the case of holiday decorating, less is more. "Holiday decorations should be simple and tasteful," says Fierstein. Something simple gets the point across without looking overdone and also makes it easier to maintain the tastefulness of the decorations as well. Going overboard on one aspect and not another may offend some residents, so keeping it simple is a way to prevent potentially overlooking decorative possibilities.
The most common or traditional decorations are still wreaths and artificial trees for Christmas and menorahs for Hanukah. However, though Fierstein hasn't seen it himself, a growing number of lobbies are starting to include the African American celebration Kwanzaa as well. With several holidays occurring around the same time, you should be sensitive to all observers. Fierstein believes this can be accomplished by:
1. Keeping your plan simple.
3. Not waiting until the last minute.
The Decorating Whos and Whats
Using the allotted budget and keeping in mind the scale of the idea will help you decide who should decorate. Asking for a few volunteers at a board meeting can be a quick way to find a decorator. "Getting two or three board members to handle the decorating is usually sufficient," says Fierstein. For those who are looking for outside help, there are still other options. "I know of one building that looks for someone with an artistic eye and hires college students to decorate," he adds. "Another building hires a commercial artist who creates a scene on the windows."
Not every solution is right for every building. You probably won't need to hire a decorator if you have a tight budget and a small lobby. However if the opposite is true, a larger space may be too much for just a few shareholders to handle, and you may want to hire a professional.
Once you've got someone to decorate, be aware of your time span. "It's really important to check calendars," says Fierstein. Keep in mind that not every holiday falls at the same time. You can't decide to put all the decorations out around Christmas, because then you may end up neglecting other religions or observances. I usually buy quite a few decorative menorahs early, before the stores sell out of them, just in case the people in charge of decorating don't get them in time."
A survey could be one way to gauge what residents would like to see in the holiday decorations. But, cautions Fierstein, if you're planning to hand out a survey, timing is everything. "I think if a survey is given out during the holiday season, you may not get a lot of responses because that tends to be a busy time of year. Including questions about decorating in the year-end survey might yield a better response, and give the board plenty of time to prepare for next year."
Joe Scholes, vice president of Gumley Haft, a property management firm in Manhattan, agrees. "A small survey is always a good idea. It's a way to let the shareholders feel that they've got a say and that they're participating in the decision-making process."
Says Scholes, "Generally speaking, I've seen a whole range of lobby decorations, from almost nothing, to extremely elaborate displays. But you've really got to strike a balance, to represent the heterogeneous community of the building. And at the same time you've got to be sensitive."
It's crucial to keep in mind safety when putting together your holiday scene. Using common sense can help prevent accidents or dangerous situations. "You should find out what your municipality allows," suggests Fierstein. "Do things like use commercial stands for trees, keep decorations out of high traffic areas, check decorative lights."
"You have to use artificial trees in the lobby," says Scholes "Many buildings buy artificial trees because they're easy to set up." At the end of the season, artificial trees can simply be dismantled and stored away, which is another benefit.
Madelyn Simon, president of Manhattan design firm Madelyn Simon & Associates, Inc., emphasizes that not all traditional decorations are practical these days. "We used to put wrapped boxes under the trees, but we've stopped doing that because they may be prone to terrorism." Though the chances of such a severe occurrence may be rare, it's better to be safe than sorry.
"You have to be careful, and make sure you get a permit if it's needed for some types of decorations," she adds.
Keeping wires neatly tucked out of the path of residents and making sure cords and wires aren't frayed are also easy steps to ensure that your decorations won't become a hazard to those in the building. Don't display anything that you worry might be stolen or broken. Irreplaceable items should be secured.
"I recommend that people use top-class artificial greens when decorating inside," says Simon. Another option is ribbon. "Using wired ribbon is the best. It really sets the tone for the items you put it on, and it can be used year after year." She also likes to make use of lit birch branches within the lobby, which add a nice touch. According to Simon, if you're going to utilize plants, it's important to keep in mind the season. "It sounds simple, but I've seen some people use spring-like flowers during the holidays."
Leasing is an option for boards that want to avoid decorating decision-making every year. Simon's company offers decorations through leases as well. "A building can opt to lease for a one- or three-year period. At the end of the season, we come and take away the decorations, and bring them back again the following year," she says. Leasing decorations puts an end to that last minute rush to get the lobby decorated because it's already taken care of.
"It's really important to keep in mind the scale when you're planning," says Simon. "The basic design rule is that whatever you're putting in the room should be no more than two-thirds of the ceiling height."
Moving the decorations outside is another option for some buildings. "I've seen a few buildings, on a block located on 73rd Street between Second and Third Avenues, who decorate the trees outside along the block," says Scholes. "The trees are full of white lights and when they're lit it's really a beautiful scene." Decorating the exterior of the building will make the entrance more festive, as well as more inviting during the holiday season.
Decorating outside does require the use of different elements, Simon points out. For instance, different types of bulbs are used inside and outside. "Outside, special bulbs–usually a C7 or C9–are used because they're brighter."
If you're thinking of keeping the decorative lights around for more than just a few weeks, Simon suggests taking the decorations down by February. "You don't want to have wires wrapped around plants because they start interfering with growth."
As a way to enjoy the decorations even more, Scholes suggests moving the annual holiday party into the lobby. "It's nice for the whole building to gather for something other than the annual shareholders' meeting," he says. "It's a different kind of spirit, and holiday parties tend to be popular with the residents."
How ever you decide to decorate, Simon urges, "You need to plan now and use thought." With the right preparation, your lobby will convey season's greetings to all who enter and pass by. When the decorating is complete–no matter if it's done on a small- or large-scale–residents appreciate it. "When the decorations aren't there, people notice and want to know where they are," says Fierstein. A cleverly and safely decorated lobby is sure to make the holiday season brighter and more cheerful for all.
Ms. Mannino is a freelance writer living in Montclair, New Jersey.